"I don't invest in Chinese companies" is a statement made by many professional and retail investors.
In the past couple years, there has been widespread fraud among Chinese companies traded on U.S. exchanges. Investors have also done well these past couple of years shorting Chinese scams. Many of these fraudulent companies had a Big Four auditor sign off on their annual reports claiming the financial numbers were correct.
When buying or shorting a Chinese stock, it's important to look at the Chinese auditor and how reliable it has been in the past. The auditor that I've found to have an unblemished record is PriceWaterhouseCoopers Zhong Tian. It has so far never signed off on a financial report that contained fraudulent numbers. (Note: This is just a study on this particular branch of PWC, and doesn't include other branches like PWC Hong Kong for example.)
The following is a list of primarily fraudulent Chinese companies that have been halted last year which also includes their auditor. This is borrowed from TheForensicFactor's Seeking Alpha Instablog titled: Dear PwC - Do AutoChina's financials pass the smell test?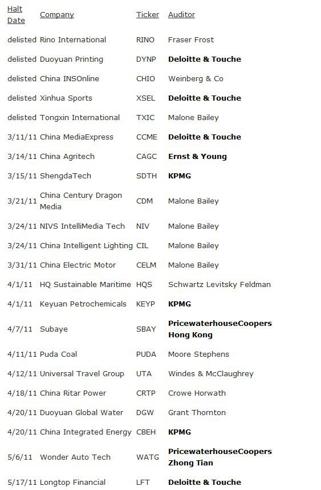 From this list, many auditors' names appear over and over again - Deloitte & Touche and Malone Bailey, for example. I wouldn't trust a Chinese company's financials with either one of them as the auditor. PWC Zhong Tian only comes up once on the list for Wonder Auto Tech (OTCPK:WATG). Since trading was halted on Wonder Auto on May 6, 2011, it has since been exposed as engaging in several related party transactions without disclosing them. Nasdaq later booted the company off its exchange to the pink sheets.
Wonder Auto appointed PWC Zhong Tian as its independent auditor in December, 2010. However, Zhong Tian has never signed off on an annual report for the company. Wonder Auto reported on December, 2011 that Zhong Tian resigned as their independent auditor.
A similar situation happened with Autochina (OTCQB:AUTCF). As explained in this article, Autochina had disagreements with the SEC about accounting procedures and moved off the Nasdaq and onto the OTC BB exchange. The company then dumped PWC Zhong Tian for another auditor before it had ever signed off on an annual report. The reason, quoted from the above linked article, is:
AUTC's CEO gave the rather lame excuse that they could not "come to an agreement on the timing of the completion of the audit." To translate from Scamtonese, "PWC is suddenly actually checking things, and that takes a very long time, these new guys we hired will be less thorough and fast."
Companies Audited by PWC Zhong Tian
Taken from the Public Company Accounting Oversight Board (PCAOB) the following are Chinese companies trading on U.S. exchanges that have PWC Zhong Tian as their independent auditor for the last two annual reports:
Companies that PWC Zhong Tian had signed off on at least one annual report but aren't listed above are Ambow Education Holding (AMBO) and China Automotive Systems (CAAS).
If you are short one of the above firms because you think the company won't do well and the stock is overvalued, then that's OK. However, based on the reputation of the auditor, if you're short because you think the numbers on the annual reports are false, then I would advise covering your short position.
Likewise, if you are looking for a legitimate Chinese company to invest in, you should be safe with one of the above. However just because they are all audited by Zhong Tian it doesn't mean the stock will go up or that it's a good company, it only means that the financial numbers are most likely accurate.
An auditor's job is to make sure that the financial numbers are correct, period. This includes not only making sure the math is done right by the company's internal auditors, but also to check the numbers are from third party sources to make sure they aren't fabricated by the company. An example is checking with the company bank's main headquarters to verify the balance instead of a local bank that could be in on the scam. Evidence has shown that Zhong Tian has a lengthy and thorough auditing process. On the flipside, auditors are not financial analysts. It isn't their job to figure out if management is doing a good job running the company, or if the management will make good decisions in the future.
One example of a company that Zhong Tian audited and is now biting the short sellers, is China Medical Technologies.
PWC Zhong Tian has signed off on its past three annual reports. I wrote about the company and its management's strange behavior here. Because of management's "going dark" and cutting off communication with its shareholders, I questioned whether its balance sheet and large cash balance is real.
However, the stock is currently on a tear - from a low of $0.62 after it got demoted to the pink sheets on February 29, to over $3.00 as I write this. Those that shorted the stock at around $2.00 before it got delisted from the Nasdaq and held on hoping the stock will reach zero are in a tough position right now. There's more than just dumb money pushing that stock up. Management has no doubt gone crazy, but the cash might really be there. Add to that an auditor that has so far never made a mistake, and it's possible this is a stock that will keep going up.
Disclosure: I have no positions in any stocks mentioned, and no plans to initiate any positions within the next 72 hours.