So we are looking at Powershares (QQQ) stocks in the NASDAQ 100. Many investors like using this exchange trade fund to essentially invest in all these NASDAQ stocks at the same time.
As the market continues to move up, investors become more and more concerned. We all have been making money since mid December when the market started its bullish run. We are going on 14 weeks of upward mobility in the markets and as we move the mood suddenly changes to concern. How long can this last? Should we get out soon? How do we protect ourselves from a down turn that will come?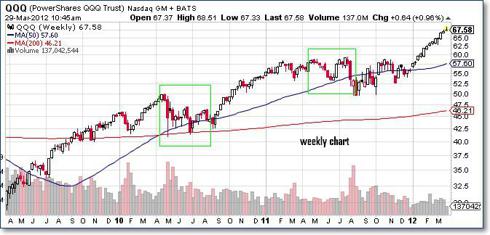 I cannot give perfect advice on how and when an investor should move back into cash but there are certain things that I look for that help me make a decision I will share.
Market History
It is important to be familiar with what the market does seasonally. This helps us grasp a hold of routinely when the markets go up and when they retreat. It is not set in stone what they will do, but it is important to be familiar; it may help know when to exit the market. You may have heard the old investors phrase: "Sell in May and go away."
In 2010, the QQQ changed direction and turned bearish in mid April. In May of 2011 it also stopped moving up and turned down. Seasonally, as we get closer to April and May we should be aware of this.
Chart Patterns
Looking at technical indicators, we can get a good idea of what the stock may be preparing to move in the future. The RSI on a daily chart has been showing an over-bought status since February. It has been over bought seven out of eight weeks. The longer it stays in this pattern, the higher the probability it will move lower.
(Click to enlarge)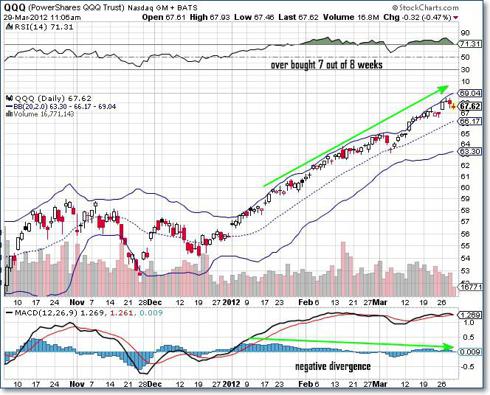 The MACD Histogram has been showing me a negative divergence since January - more pronounced in February. A negative divergence is a sign of a possible future directional change or a consolidating period.
We are getting closer to the season when the QQQ may change direction. We also observe signs that it has been over bought for sometime and a negative divergence is signaling a directional change or a pullback is highly possible.
With these signs and the season coinciding, it is probable that a directional change will be upon us soon. For this reason it would be appropriate to see about making some changes.