Yahoo's (NASDAQ:YHOO) OMG!, a new celebrity gossip site featuring windows into Hollywood's glamour grapevine, has surpassed an A-list of online gossip sites in a record rise to fame. The site, which was launched on the Yahoo's Homepage earlier this summer, exceeded 4M visitors for the month ended August 31st, beating out E! Online and TMZ.com, and bumping elbows with ultra hot People.com.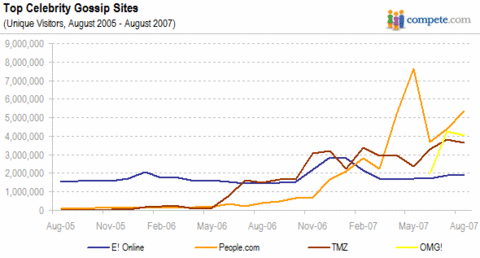 On June 11, the new OMG logo appeared on a sidebar on Yahoo's Homepage, alongside an all-star lineup of Yahoo services. The prime placement on the world's most popular webpage garnered millions of visitors and cast OMG into a leading role for Tanzilla sightings and other paparazzi potshots.
Last week, however, the OMG logo disappeared faster than you can say "secret pregnancy". An icon for Bix, the user-generated contest site which Yahoo acquired in September, 2006, now takes the prized spot.
Yahoo previously announced plans to accessorize OMG with Bix, suggesting a scheduled transition, but how long can OMG last out of the white hot spotlight?
Compete dug behind the scenes and found some very intriguing details. First, we discovered that 63% of OMG visitors didn't visit any other gossip sites, including less trafficked sites like perezhilton.com and thesuperficial.com, in the days since OMG launched.
Compete also uncovered that the average OMG visitor returns less often and devotes far less Attention, about 3 – 4X less, to Brangelina and the gang then do visitors to incumbents like People, TMZ and E! Online.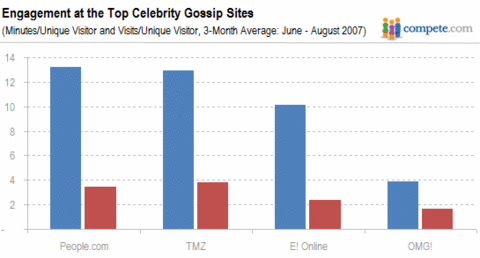 Unlike in the Spring of 2006, when TMZ ignited competition in online gossip after years of E! Online's flat-line growth, OMG's late entrance appears not to have grown America's overall Engagement with celebrities online.
So while OMG has had a blockbuster summer, the curtain may be falling on its 15 minutes of fame…