ETF Spotlight on iShares Russell 2000 ETF (IWM), part of an ongoing series.
Assets: $15.6 billion.
Objective: The iShares Russell 2000 Index Fund tries to reflect the performance of the U.S. Equities market as represented by the Russell 2000, which is comprised of the 2,000 smallest companies in the Russell 3000 Index.
Holdings: Top holdings include: BlackRock (BLK) 0.38%, Parametric Technology (PMTC) 0.27%, Nu Skin Enterprises (NUS) 0.27%, Clean Harbors (CLH) 0.26% and Kilroy Realty (KRC) 0.26%.
What You Should Know:
BlackRock's iShares ETF division sponsors the fund.
IWM has an expense ratio of 0.26%.
The fund holds 1947 securities and the top ten account for 2.65% of the overall portfolio.
Sector allocations include: financial services 23.4%, consumer discretionary 15.1%, producer durables 14.3%, technology 14.2%, healthcare 12.7%, materials and processing 6.9%, energy 6.0%, utilities 4.0% and consumer staples 3.0%.
The ETF has a 30-day SEC yield of 1.39%.
IWM is 7.0% above its 200-day exponential moving average.
"Small-cap stocks tend to be more volatile due to narrower economic moats and a greater sensitivity to macroeconomic risks, but with this greater volatility comes a higher beta and the expectation for higher returns," according to Morningstar analyst Micahel Rawson, CFA. "Small-cap stocks have earned a return premium about 2.0% over large-cap stocks since 1926."
"U.S. small-cap equities have outperformed over the past 10 years, providing an annualized return of 7.5%, easily outpacing the large-cap equity returns of 3.1% over the same period," Rawson added.
The Latest News:
The Russell 2000 Index has gained 14% year-to-date and jumped 27% since last Thanksgiving, reports Jonathan Cheng for the Wall Street Journal.
The Russell is currently trading around 2% shy of its all-time high.
Bank of America strategist Steven DeSanctis argues that it may be time for a break due to the rich valuations and uncertain fundamentals.
"For the rally to continue, we need to see further economic strength both here in the U.S. and overseas, as well as strong fundamentals," DeSanctis said in the article. "However, the recent economic data has been mixed."
He points out that small-caps have not been able to generate the same high levels profits as large-cap companies.
Small-cap valuations are relatively more expensive than they have historically been compared to large-cap companies.
DeSanctis wonders if it is time to "sell in March and go away," or at least if we will witness a "pause to refresh."
iShares Russell 2000 ETF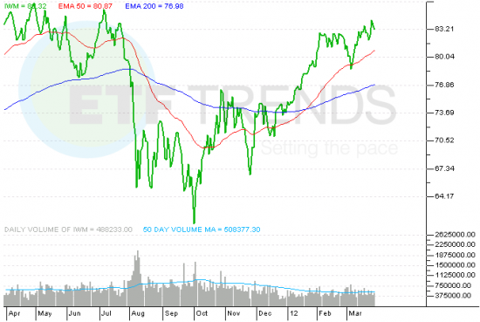 Max Chen contributed to this article.