When I write about options, I stress the following:
I'm happy to see that readers consider those tidbits important. And, yes, the first one deserves repeating. Consider the context, though. When I write about options, I target both long-term investors and/or individuals with limited or no experience using options.
I consider the single biggest tragedy in investing the all-too-obvious fact that investors rarely get properly introduced to options. It seems that all of the "experts" want to stroke their egos by throwing around big words, the Greeks and complicated math in lieu of the things you actually need to know to get started. While I do not mean to diminish the importance of more complex factors, it's best for beginners - and even many of us who have been at it a while - to render those potential pitfalls as moot as possible.
Consider time decay. I use the 4-6 month cushion rule, as a rough guide, because it helps eliminate, for a while anyway, the profoundly negative impacts time decay can have on a long options position. Almost every day I read something where a beginner asks about how he or she should get started with options, because he or she believes Apple (AAPL) will crush its next earnings report.
Inevitably, people tell the beginner to "learn the Greeks." Most people do not have the time, the inclination or the will to dive into such dense material and actually learn it. Instead, emotion and impatience take over and they snag themselves some OTM AAPL calls that expire the day after earnings. Sometimes you get lucky and this works out; sometimes it does not. At the very least, buy yourself some time so that the information you cannot possibly consume and comprehend on the spot has less of a chance of coming back to bite you.
Consider an options trade I have on now in Lululemon (LULU). I went OTM on my LULU calls. Here's my rationale behind breaking my own convention, using Amazon.com (AMZN) and other high-flying stocks as examples:
AMZN, meantime, was and still is relatively deep OTM, but, honestly, given the way this stock performs, I don't think it's unrealistically deep OTM. Look at how AMZN came out of the gate Friday morning with the market down. Other than silver and oil ETFs, some leveraged, AMZN outperformed everything else on my watch list. And that takes place with some consistency.

In a nutshell, on stocks like AMZN ... I like to use the leverage OTM options can provide. That veers from my normal thought process on using calls to play upside. Here's why.

I am fairly confident that stocks like AMZN, over the next 6-9 months, will attain new highs, regardless of the broad market environment. As such, I want to take advantage of the lower-priced premiums OTM calls offer. If I am correct and the stock continues to power ahead, my calls end up ITM and I begin to reap the benefits and relative comfort of being ITM.

I stress - I do not haphazardly use this strategy. That does not mean I will never be wrong. That said, I am only willing to go this route on a handful of stocks that, over time, have proven to be market leaders during times of strength, weakness and when the dust settles.
On AMZN, buying deep OTM calls a couple of weeks ago would have worked out. The way things developed make me look like a genius. That said, it does not always work out that way. With LULU, I entered some June $85 calls after earnings on weakness. The trade started off looking good as LULU rebounded quickly post-earnings. However, it felt pressure in the following days, putting my position down by roughly 30% at one point.
I watch LULU closely and feel like I have a pretty good handle on how it moves. That prompted me to break another rule and go less than 4-6 months out. Now, again, this is the exception to the rule. It's a somewhat speculative trade. I use it here because I think it helps open the door to an understanding of time decay. A quick glance at LULU's chart shows a pretty obvious pattern of considerable weakness followed by meaningful rallies.
Click to enlarge (Courtesy of FreeStockCharts.com)


Look at the chart for my LULU June $85 calls compared to the chart for the LULU April $85 calls.
Click to enlarge (Courtesy of BigCharts.com)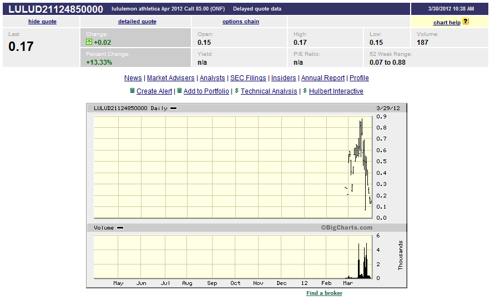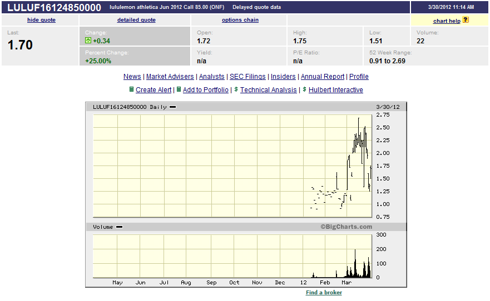 If you figure the difference between the "52-week" highs and lows on these contracts, you see that the LULU April $85 call plummeted 92% between the two, while the LULU June $85 call dove a still scary - but much less scary - 66% from high to low. At this point, my OTM June call will actually "decay" more quickly than the April one, simply because of the impact of time value. But, bottom line, by going further out in time, I gave myself some room for near-term error. If my theory on how LULU behaves is correct, and the stock rallies, I should be in good shape in 2-4 weeks, which will provide more than enough time to turn a profit on my trade.
Put another way, if LULU rockets to $80 next week or the week after, I am in much better shape in an $85 call with a June expiration than I am being in one with an April expiration. (Of course, your entry price matters. If I buy the bottom of an April $85 call and the stock all of a sudden moves from $75 to $85, I could be in pretty sweet shape).
This is a relatively simplistic and specific look at time decay. At the end of the day, the further out in time you go when selecting a long call, the more you can potentially relegate time decay to non-factor status. In this coming Tuesday's edition of my options investing newsletter, we dig deeper into time decay with a discussion of the Greek Theta, which measures the rate of time decay you can expect, in the theoretical sense, from an option contract.
Disclosure: I am long LULU.