Earlier this week I outlined the various reasons why the hostile bid by Panoramic Resources Limited (OTCPK:PANRF) for Magma Metals Limited (OTC:MMTDF) is inadequate and probably will not be accepted by most shareholders.
Following the hostile bid in February, Magma released various statements arguing the inadequacy of the hostile bid and asking shareholders to reject the offer. Today (March 30), Panoramic released a response to those arguments that are weak at best and hardly convincing.
In the response letter, Panoramic claims that the substantial premium of about 86 percent to Magma's pre-offer closing price is an attractive price and warrants the acceptance of the offer. The letter adds that Panoramic exceeded the independent expert report, which it commissioned, by an additional 56 percent. Lastly, the letter seeks to scare shareholders into tendering their shares by stating that Magma's share price would regress to pre-offer levels if the offer expires.
The reasoning given by Panoramic is neither motivating nor persuading. For once, the so called 86 percent premium comes on the back of extreme weakness in Magma's shares, as the entire junior resource sector is experiencing. In fact, the offer represents a discount of about 26 cents, or 186 percent to where the price was this time last year- before the Euro debt fiasco started.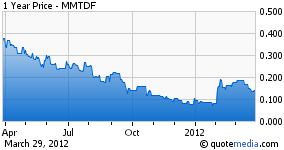 In addition, the independent expert commissioned by Magma reported a fair value of $0.37 per Magma share. The discrepancies between the two independent experts commissioned by the two companies simply illustrate that those so called experts produce what their paying clients wish to see and nothing of real value.
Threats of a declining share price might work on retail, uneducated shareholders, which have probably mostly sold their shares to arbitrage hedge funds and Anglo Pacific. As the chart below shows, Anglo Pacific was quick to purchase additional shares of Magma at the open market when Panoramic made the hostile bid. The royalty streaming company purchased about 9.36 million shares, pushing its interest in Magma to about 16.98 percent. Given that Anglo's average cost for the 30.475 million shares it began purchasing in December 2009 is roughly $0.338 per share, it is hard to see how an offer of $0.14 will persuade the company that is now the largest shareholder of Magma.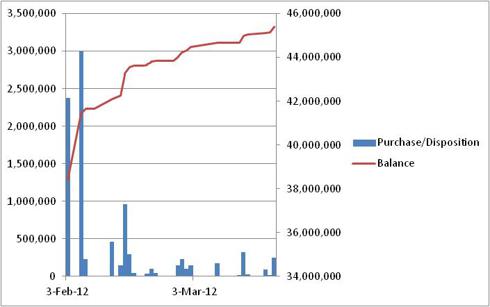 The $40 million offer for a company with $12 million in cash, no debt and obviously attractive assets to Panoramic is therefore, insufficient and the reasoning behind is hardly persuading.
Shareholders should take note of what a more sophisticated shareholder like Anglo Pacific is doing with their shares and request a more adequate offer.
Disclosure: I am long MMTDF.PK. I am long Magma Metals Limited on the TSX.
Disclosure: I/we have no positions in any stocks mentioned, and no plans to initiate any positions within the next 72 hours.
I wrote this article myself, and it expresses my own opinions. I am not receiving compensation for it (other than from Seeking Alpha). I have no business relationship with any company whose stock is mentioned in this article.