The big news from technology retailer Best Buy (BBY) -- that the firm will close 50 stores in the U.S., lay off 400 employees, and reduce costs by $800 million -- is a key milestone that reveals several key trends in the global economy. In this post we'll take a look at those trends, as well as potential opportunities created for investors.
1. Collapse of U.S. Consumer Spending. For many years now -- I would argue the cycle was really set into motion when the dollar officially left the gold standard in 1971 -- the global economy has been driven by U.S. consumption. As savings rates are gone and debt levels are too much, the U.S. consumer is tapped out. This is a part of a transition that involves a decline in the U.S. dollar, and the transformation of Asian economies -- namely China -- towards being more consumption-oriented. It's not bullish for Best Buy, or many U.S. retailers in the U.S. retail ETF. And it's part why gold remains such an opportunity, as real growth is likely to be slow until the currency/debt crisis gets resolved.
2. Consumer Technology Belongs to Integrated Ecosystems. The collapse of Circuit City several years ago and the currently unfolding collapse of Best Buy reflect an important trend in consumer technology -- which is that technology solutions will increasingly be integrated across devices and applications. In other words, a store that sells a wide variety of devices and software will lose to stores that sell a wide variety of devices and software that are designed to work together. Apple (AAPL) is of course the leader here, and their Apple stores are likely to be an innovation that others copy. Indeed, Amazon (AMZN) will soon be testing its own retail locations focused on selling and servicing its line of Kindle computers, and Google (GOOG) is opening an online store to sell Android-powered tablets. As such, expect retailers like Best Buy to continue suffering in areas like media, software, and computer sales -- and expect this trend to continue as Google's Android finds its way into appliances and even automobiles.
Below is a chart of Best Buy (the candlesticks in the chart below) plotted against Apple (yellow line), Google (blue line), and Amazon (white line). The opportunity in Apple has already been actualized and the stock is a bubble getting ready pop, but I think Google and Amazon are well-positioned to at least keep up with price inflation. For those who want to play sector trends, I think long Google/Amazon and short Best Buy is an opportunity worth considering.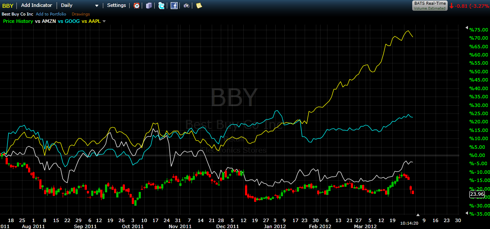 Click to enlarge
(Click to enlarge)
Disclosure: I have no positions in any stocks mentioned, and no plans to initiate any positions within the next 72 hours. I am long physical gold.