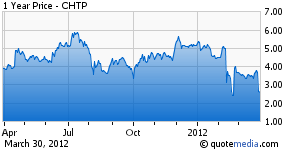 Trading around Chelsea Therapeutics (CHTP) got busy Thursday, with the shares down 29% on the day. The FDA determined it would need more data before potentially approving Chelsea's drug Northera. The decision was almost as bad as an outright rejection for the mostly optimistic audience. While the volatility play is played out for now, longer term interests in CHTP need to know what to do with the stock moving forward. Therefore, I'm putting my stock-picking prowess to work for you, after reviewing the news and listening to the conference call.
First a Review of the Volatility Play
In a recent report, we discussed a volatility play on the FDA decision regarding Chelsea's novel drug Northera. With the report, we noted that the risk to this strategy would be a "push" scenario, which would limit volatility, but likely still drive the stock lower (like an outright rejection would). Thursday, the FDA effectively pushed forward its decision, indicating it would need more data before approving the drug. The volatility, though big, was not quite enough to net a profit for straddle holders. If the stock was approved or killed outright, we would likely have seen solid gains. That said, the big move on the worst case scenario for volatility seekers still limited the losses on the straddle, as investors were hopeful for an approval.
Forecast for CHTP
Investors in CHTP, and believers in Northera, will be more interested in where the stock might travel over the course of the next few months and years. This is the kind of investment call that benefits from industry expertise, so be sure to read the reports of any strong biotech analysts covering CHTP and its peers. That said, you would be wise to also read what I have to say about the company, because I have a successful stock picking track record on Wall Street covering emerging growth ideas and small cap plays like this and of all sorts.
There are some important questions to answer before one can make the buy, sell or hold decision about CHTP today. Given the importance of Northera to the company's success, the 29% discount Thursday is understandable. Over the short-term, I expect some of management's credibility has been lost with investors, given their expectation of approval on a relatively light data submission. Of course, that expectation was based on the precedent set by Shire plc (SHPGY) and its drug Midodrine. Still, you can expect that the company's hopeful conversation in print and via its audio record of its conference call will be mostly ignored near-term. Investors are also likely to be less enthusiastic about what analysts with buy recommendations on CHTP are saying about the stock today. That's because capital losses tend to sour the taste buds and add a cynical note to the eardrum.
Over the very short term, because of the sour tasting disappointment and with little to look forward too, capital should continue to flow out of CHTP. The only catalysts with potential to move the stock higher over the next week will be any reiterations of buy recommendations by analysts noting the new valuation and with their perspective of a still solid opportunity for the company. Such reports could be successful in supporting the stock after its deep dive, but they should stink of desperation to the discerning nose given the nascent facts and investor discontent. Therefore, I expect the stock will then drift lower or settle between $2 and $3 per share.
The next real catalyst will likely not come for roughly 60 days, after Chelsea's management team speaks with the FDA. They'll glean important information via the meeting and be more capable of gearing toward an eventual drug approval. Not long after, the company will likely issue a press release hopefully simultaneously with its advisement of the analytical community. If the stock starts edging up before any release it could be on speculation, but you'll want to call your analyst to see if he's learned anything new and advise him of his fiduciary responsibility to share that information with all clients simultaneously. I expect the stock will find some life sometime in May because of the meeting.
Before that though, and after it, there are risks to consider. First and foremost, the timeline to this company's prospective positive cash flow streams has been moved out. Therefore, it will continue to bleed cash and for at least a year more than was previously expected. That's the best case scenario, assuming the company's trial study #306 proves adequate enough to the FDA for drug approval in the first quarter of 2013 at the earliest (based on conference call discussion). If, however, the company learns little, misunderstands or is misled by its FDA meeting, and banks on its 306 trial, then it'll face another dangerous pivot point on the next FDA decision. If the company begins a new trial based on FDA advice or as an insurance policy, it may require as long as two years to present data. Assuming its need and a continued positive result with regard to the disease in question, it's that much longer to reaping rewards for CHTP shareholders. So, the stock should have little going for it through summer, in my view, as there exist other places for capital, and aggressive investors tend to find them.
Given its extended timeline to profitability and its current cash burn rate, which should intensify if a new study is begun, capital adequacy comes into question. An analyst on the call tested management on the time and cost of study question, and based on comparison to study #301, the comparable turned out two years time and $20 million to $25 million in new costs, excluding savings from overlapping operating expenses. If CHTP has to come back to the capital markets for funding, diluting shareholder interests or raising its debt profile and expense structure, then the company's shares should reflect it. In other words, the stock price should pay the penalty. Company management noted an expectation to close Q1 with more than $50 million in cash, and said that was enough, but my sense from the tone of the discussion and my expectation is that the company will raise capital again soon enough. It's always wise to raise capital before you are desperate for it, because it's harder to get at that point.
There were some questions raised regarding inconsistencies in sub-groups of study patients, but the company seemed to clear those up by noting factors that tied them together. The FDA expressed specific interest in learning more about the durability of benefits, asking for a study covering a 2 to 3 month relative period. Also, there was some interest in testing at higher dosage than Chelsea is most likely to produce the drug, but it appears Northera works at its targeted dosages in terms of reducing dizziness and in cutting down the falls of patients. That's an important reason for long-term investors to consider adding to positions at points of share weakness…
Still, the new and longer timeline allows for competitive drugs and treatments to develop, or for the condition itself to be better understood and perhaps otherwise resolved. Clearly, there exists an opportunity for other novel solutions to develop while Northera lies in limbo. As far as its patents are concerned, its orphan drug status protects it, as the drug's countdown doesn't begin until after it is approved. Only thereafter would its patent protection begin to run down for seven years in the U.S. and ten years in Europe.
There exist other risks unrelated to competitive drug development. Practitioners like those at the Mayo Clinic note that NOH symptoms are often the result of other prescription drug use and combinations or other underlying health issues. As the disease and its causes are better understood, prevention efforts will likely develop and non-traditional treatments increase. As non-drug resolution possibilities like this are perhaps increasingly employed, drugs waiting approval have another risk to bear, and shareholders, to consider. Though, Northera clearly addresses the issue where there seem to be no other natural resolutions, nor perfect synthetic cure.
Important Conclusion
Clearly, this company's ceiling is tightly tied to its market opportunity with Northera. Considering its novel nature, patent protection, and what I believe to be soft competition from other drugs, that opportunity is still significant if it can gain FDA approval before long. Pushing cash flows forward a year affects valuation a bit, but is more important when considering risk vulnerability to those shelved cash flows, which could be disrupted or changed before reaching fruition. Therefore, applying simple valuation metrics to CHTP is futile. This company requires a complicated, intrinsic, cash flow based, and industry-expert infused model, steered by scenario analysis. Also, it is a dynamic valuation that requires close watching, for it can change significantly on developments within its environment. Thus, without applying numerical calculations, I can say that over the short-term, I would mostly recommend avoidance of the shares. Over the next week or so, CHTP may benefit (or suffer) from analyst support (or downgrade), and in May or early June, it could find strength as a result of the company's meeting with the FDA. Then, depending on the timeline to its next FDA judgment, it will likely lose favor to other capital destinations, not based on the company or the product, but due to the many options available to the type of investors who tend to flow into biotech stocks.
Disclosure: I have no positions in any stocks mentioned, and no plans to initiate any positions within the next 72 hours.