No amount of head banging is going to recover data once it's lost, which is why companies enlist the help of CommVault. With a name that neatly encapsulates the company's twin philosophy of solving enterprise data management and interface problems now and for the future, while locking the information on which it depends into an unassailable virtual strong room, CommVault Systems Inc (NASDAQ:CVLT) has come a long way since its 1996 founding based upon a single backup software product. Its 13,500+ data management customers now include large companies like Newell Rubbermaid (NYSE:NWL), Rooms to Go, and Raymond James Financial (NYSE:RJF), as well as international organizations, government agencies and small-to-medium size businesses.
The company's Simpana software modules include backup, archive, replication, search and resource management capabilities, sharing a single code and common function set. The aim is to reduce costs, increase operational efficiency, promote data recoverability and mitigate risk, in not only physical but also virtual and cloud storage environments, whatever the applications, networks and protocols a customer may be using. CommVault has formed strategic partnerships for joint solutions with Dell (DELL), HP (HPQ), Microsoft (MSFT), Oracle (ORCL), and Japanese-owned Hitachi Data Systems, among others. (Corporate Brochure - pdf)
According to its website, CommVault remains the only company to offer this seamlessly-integrated single-platform solution for not only current but also future methods of data and information management. This achievement was the result of forward thinking and an aggressive product shift that began years ago, in anticipation of today's data center transformation. This unique product architecture, which has been recognized by significant industry awards, is the company's key differentiation point from its competitors, which include CA Technologies (CA), EMC (EMC), HP, IBM (IBM) and Symantec (SYMC).
CommVault's major competitors have been around for much longer and generally have a more recognizable brand and a larger customer base, and many are able to bundle software products with hardware systems, which CommVault does not do. As a global business, the company is subjected to the risk of international economic downturns and fluctuating foreign exchange rates. Its North American commercial and government sales are largely conducted through a distribution agreement with Arrow Enterprise Computing Solutions, a private company, accounting for 25% of CommVault's fiscal 2011 revenue and 32% of accounts receivable at year end. Sales through reseller and original equipment manufacturer agreements with Dell were responsible for a further 23% of revenue and 25% of accounts receivable. That's a lot of eggs in just two baskets.
Customers may buy directly from CommVault, although evidently they are more likely to work with one of the company's resellers or strategic partners. Software sales are backed up by global assessment, design, implementation, training and support services, with main bases in Oceanport NJ, as well as in India, Germany, Australia and China. The company has around 1,300 employees servicing customers not only in the Americas but also in Europe, the Middle East and Africa, Australia and Asia. Over 300 employees are involved in research and development, and CommVault spent $37 million on R&D in 2011. At the end of fiscal 2011 the company held 173 issued patents and 250 pending patent applications. They mitigate but do not eliminate the risk of unauthorized copying of intellectual property by customers or employees. (2011 Form 10-K)
Revenues have grown every year since 2003 - not even stalling in 2008-2009 - to reach $315 million in fiscal 2011 (year ended March 31 2011), a 16% increase over the previous year. Software revenue, a high gross margin contributor, accounted for $150 million of the total, service revenue for the remaining $165 million. Net income was $21 million ($0.45 per diluted share), a 14% increase on 2010. (Fact Sheet - pdf), (Q4 2011 Earnings News Release)
Fiscal 2012 is already three-quarters complete, and Q3 results were announced on February 1. Record quarterly revenue of $103.6 million brought the year-to-date total to $293 million ($143 million software, $150 million services), a 30% increase over comparable 2010. Operating margin improved to 12.1% (10.4% in 2010). Net income for the nine months was $22 million ($0.47 per diluted share), $2 million more than the entire previous year. (Q3 2012 Earnings News Release)
CommVault president and CEO Robert Hammer offered some further insights during the Q3 earnings conference call. There had been strong growth during the quarter in the Americas, Europe and China, but, in spite of past limited negative impact from the macroeconomic climate, the company is now cautious about the weakness of the Eurozone and the uncertainty in customers' IT budgets for calendar 2012 and beyond.
However, the company has at present no plans to curtail its intended spending to achieve FY12 targets and further growth in revenue and market share in FY13, while continuing to aim for more improvement in operating margin. Recent focus on reorganizing the sales team to concentrate on the large enterprise market sector (customers spending $100,000+ on software) appears to be paying off, with average enterprise deal value now standing at $269,000 compared with $219,000 a year ago. (Q3 2012 earnings call webcast )
CommVault does not disclose its revenue by geographic region, other than distinguishing between United States revenue (about 60% in 2011) and "Other." Clearly there is some concern about the immediate future of Europe, even though the company actually increased its revenue during the 2008-2009 global financial downturn.
CommVault's stock has increased significantly over the last six months and has recently pulled back and appears to be forming a base for a potential next leg up as shown below: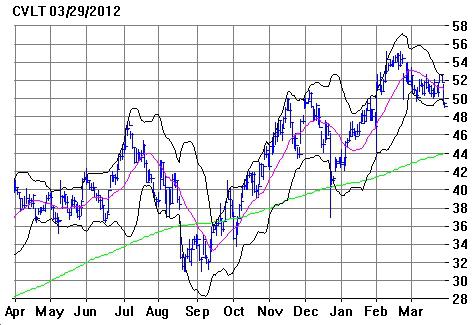 CommVault's trailing Price-to-Earnings (P/E) ratio and forward P/E, 86 and 44, respectively, are at a premium. An investor might consider a married put strategy for CommVault, as it enables an investor to participate in the upside of a stock and also protect the downside. A married put can be entered by purchasing a put option against a stock. The put option provides protection in the event of a significant drop in the stock's price. Additionally, RadioActiveTrading.com income methods can be used to manage the married put once the price of the stock increases to the strike price of the put option or above.
Using PowerOptions tools, an appropriate married put can be selected based upon the maximum potential loss desired as shown below :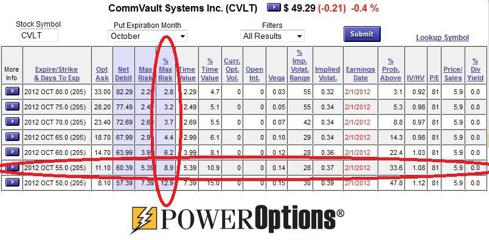 The married put using the 2012 Oct 55 put option at $11.10 has a maximum potential loss of 8.9%. A loss in the neighborhood of 8.9% can typically be recovered using an option income generating strategy fairly quickly. A profit/loss graph for the 2012 Oct 55 married put is shown below: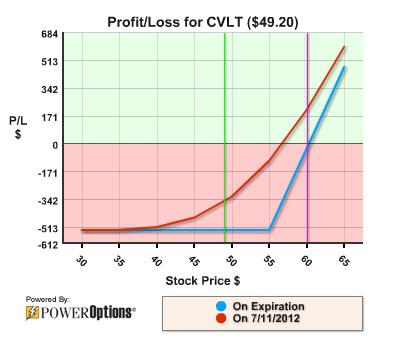 For a stock price below the $55 strike price of the put option, the value for the married put remains unchanged (at expiration), even if the price of the stock goes to zero. If the price of the stock increases to or above the $55 strike price of the put option, income methods can be used to manage the position for generating income and reducing risk.
Disclosure: I have no positions in any stocks mentioned, and no plans to initiate any positions within the next 72 hours.