The Buyout Offer
After hours on March 26, 2012, Ista Pharmaceuticals (ISTA) agreed to a buyout of the company by Bausch & Lomb. The agreed upon price was $9.10 a share- a 9% premium over the closing price on the 26th. The deal makes a lot of sense for Bausch & Lomb because it manufactures almost all of Ista's product line. Bausch & Lomb will continue to buy up companies that compete with it in the eye care business.
Lawsuits Against Ista Pharmaceuticals
Lawfirms Levi & Karinsky, Howard G Smith, Brower Piven, Weiss & Lurie and others are investigating the board of directors of Ista Pharmaceuticals for possible breach of fiduciary duty and other violations of state law in connection with the sale of Ista to Bausch & Lomb. The shareholder attorneys maintain Ista failed to adequately shop the company before entering into this transaction - underpaying for Ista shares and thus harming Ista shareholders. The medium analyst had a price target of $10.50 a share and one analyst in particular set a price target of $12.00 a share. Maybe the lawsuit will stop the sale at such a low price.
Ista Pharmaceuticals,Inc.
Ista Pharmaceuticals, Inc. is a pharmaceutical company with the third-largest branded prescription eye care business in the U.S. and an emerging allergy drug business. The company's current products and developing candidates address the $7.5 billion ophthalmic pharmaceutical market and the $2.5 billion nasal allergy market. The company sells its drug to drug wholesalers, retailers and distributors such as chain drug stores, clinics and government agencies. The nasal allergy drugs should offer a new market for Bausch and Lomb. The lawsuits might be right since Bausch and Lomb is gaining nasal allergy drugs.
Analysis of Ista Pharmaceutical's Drug Sales
Ista Pharmaceuticals has four marketed products in the U.S. The first drug Bepreve is for the treatment of itching eyes associated with the signs and symptoms of allergies. Bepreve 2011 sales were $28.6 million, 2010 sales were $15.7 million. Sales of Bepreve nearly doubled in 2011 and it seems to be gaining market share. The second drug, Bromday, is for the treatment of inflammation and pain associated with cataract extraction. Bromday 2011 sales were $87.9 million, 2010 sales were $105.8 million. Sales of Bromday have done pretty well in replacing the expired patent of Xibrom but could probably do better if the company added different size bottles. The third drug Vitrase is for increasing the absorption and dispersion of injected drugs such as radiopaque agent. Vitrase 2011 sales were $15.5 million, 2010 sales were $13.0 million. The final drug Istalol is for the treatment of elevated intra-ocular pressure in patients with ocular hypertension or glaucoma. Istalol 2011 sales were $28.3 million, 2010 sales were $22.0 million. Overall sales were $160.3 for 2011 and $156.5 for 2010. There was no significant change over the two years. Sales for 2012 are predicted to be substantially higher, $180 million - $195 million. These higher sales would have come at the expense of Bausch and Lomb since they sell many of the same drugs. Perhaps Baush and Lomb did offer a low price for the buyout and Ista management jumped at the first offer it received instead of shopping the company around more - the lawsuits might have some merit.
Income Statement-- all in thousands of dollars income statement
Q1 2011- revenues 36,720; cost of rev. 9,216; research 10,344; selling and admin. 26,931; Operating income or loss (9,771)
Q2 2011- revenues 37,138; cost of rev. 9,084; research 8,850; selling and admin. 23,353; Operating income or loss (4,149)
Q3 2011- revenues 41,386; cost of rev. 10,140; research 7,720; selling and admin. 19,645; Operating income or loss +3,881
Q4 2011- revenues 45,089; cost of rev. 10,669; research 4,714; selling and admin. 19,648; Operating income or loss +10,058
Ista Pharmaceuticals has turned the ship around and become profitable, mainly through cost cutting. The reduction in selling and administration costs is the backbone of the turnaround; 26,931 in Q1, to 19,648 in Q4 (even though Q4 sales were higher). The next important thing was revenue inching higher; 36,720 in Q1 to 45,089 in Q4. Finally the reduction in research played a part in the turnaround; 10,344 in Q1 to 4,714 in Q4. Research costs are variable as new drugs enter Phase III trials but it is important to keep them under control. In the final Q4 the company has profits of over $10 million! (Note there are too many one-time charges to look beyond Operating Income or Loss). The profitability offers Bausch & Lomb the chance to instantly gain cash from its buyout of Ista. Perhaps the buyout does undervalue Ista given its huge turnaround and chances of even better profits in 2012.
Ista Pharmaceutical's Future Drugs
Ista has six drugs in trials, several different eye drugs and a couple of allergy product candidates. Included are treatments for dry eye, nasal allergies, and ocular inflammation and pain. In a Phase III trials it has OTC eye products for dry eye with a potential market of $300 million and Prolensa in a Phase III trial for Ocular Inflammation and Pain with a potential market of $500 million. Ista has 340 employees; 165 are sales territory managers. Sales managers call on ophthalmologists, optometrists and allergists across the U.S. These drugs will offer Bausch and Lomb the chance to jump into the allergy market and update some of its medications.
The Bidding War for Ista Pharmaceuticals
Valeant Pharmaceuticals' (VRX) bidding war for Ista brought the price back up after it had sold off to $4.00 a share. Valeant had to give up on its takeover attempt after Ista management could not come to an agreement. Finally a takeover bid by Bausch and Lomb of $9.10 a share was accepted by management on March 26, 2012. This takeover will occur in the second quarter of 2012 unless blocked by lawsuits.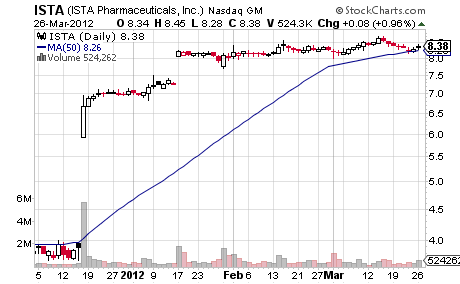 This chart clearly shows the Valeant takeover offer and the price staying above $8.00 a share since then. Some people thought that Ista could crash back down to $4.00 a share but I think its new profitability gives it support at the $8.00 a share level and makes it an attractive buyout candidate. Furthermore, next year's higher sales estimates along with the reduced costs could lead to some improved profits and higher stock prices. These higher sales would have come at the expense of Bausch & Lomb, which is its largest competitor and sells many of the same drugs. The buyout was a good deal for Bausch & Lomb since it removed its main competitor at a reasonable price. Given the new profitability and future revenue of Ista perhaps a higher price may be agreed upon.
Disclosure: I have no positions in any stocks mentioned, and no plans to initiate any positions within the next 72 hours.