Rexahn Pharmaceuticals
Rexahn Pharmaceuticals (RNN) is a clinical pharmaceutical company dedicated to developing and commercializing drugs for cancer, CNS disorders, sexual dysfunction and other unmet medical needs. In January, Rexahn decided to focus on their cancer drugs and ignore all of their other drugs. In the next 12 to 18 months Rexahn will advance their oncology pipeling by taking multiple compounds into human trials as well as aggressively seeking partnerships for several of their cancer drugs. (the January report)
Rexahn has dramatically cut its costs by stopping all other trials and focusing on smaller Phase I & II cancer trials. As of December 31, the company has slightly over $12 million in cash which they feel is sufficient money to do one year of research at their new lower expense level. In a year's time they hope to advance the development of their drugs sufficiently to gain a new partnership, which will give them enough money to continue their research.
Rexahn's Cancer Drugs
Rexahn's cancer drugs include Archexin in stage II trials. RX-3117 in Phase I trials; partnered with Teva Pharmaceutical Industries Limited (TEVA). Drug RX-5902, Rexahn will file in the second quarter an Investigational New Drug application for a first-in-human trial. Drug RX-8243, Rexahn will file in late 2012 or early 2013 an Investigational New Drug application to start trials.
Archexin
Rexahn has completed enrollment and started the Phase II metastatic pancreatic cancer trial of the drug Archexin. It's a two stage, single arm, open label study in combination with gemcitabine; it enrolled 35 patients at sights in the U.S. and India. The primary efficacy endpoint is overall survival and tolerability. Rexahn expects to report the results of the trial in the third quarter of 2012. Archexin is a first in class, potent Akt protein kinase inhibitor with the potential in inhibit cancer cell survival. The drug has Orphan drug status for five different cancer types, including renal cell carcinoma, glioblastoma, pancreatic, stomach and overian cancers. If this metastatic pancreatic cancer trial goes well, Archexin has a good chance at finding a partner to finance further studies. Furthermore, Rexahn may suddenly surge in price with a successful Phase II trial.
RX-3117
Rexahn has just enrolled its first patients in a Phase I trial for RX-3117. Patient enrollment will continue through the first half of 2012, with data for this trial expected in the second half of 2012. This drug is partnered with Teva Pharmaceutical Industries limited, so all development expenses are paid by Teva. This means that Rexahn will push RX-3117 through its trials quickly. The drug has shown potent anti-tumor effects in xenograft human tumor models; and it is a nucleoside compound that inhibits DNA methyltransferase, a cyclin-dependent kinase. Preclinical trial studies has discovered that the drug has high bioavailability and a good safety profile. Rexahn can receive development, regulatory and sales milestone payments, as well as royalties on worldwide sales. As this drug advances through trials it could lead to a higher stock prices.
RX-5902 & RX-8243
Finally we note the drugs RX-5902 and Rx-8243. Both drugs need to file an Investigational New Drug application, then if it is approved, start Phase I trials on patients. RX-5902 is an orally available, first class inhibitor of p68 RNA helicase, for the treatment of various solid tumors. The application for this drug's trial will be filed in the second quarter. RX-8243 is a small molecule inhibitor of Ark 1 kinase and other Ser/Thr kinase for the treatment of various solid tumors. This second drug's application for trials will be filed in late 2012 to early 2013. Both of these drugs are in the early stages of development and unlikely to attract a partner at this time. If they reach Phase II development in a year or so then finding a partner becomes a distinct possibility.
Chart Analysis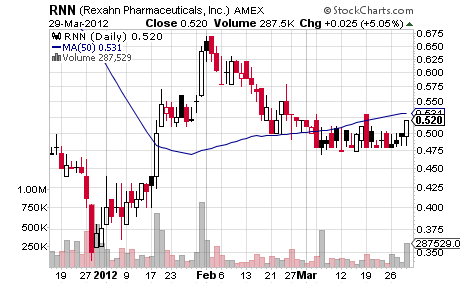 This chart of RNN shows the current situation at Rexahn Pharmaceuticals. The price collapsed in December 2011 after the failure of Serdaxin (Depression Disorder Drug) in a Phase IIb trial with 300 patients. Then the stock started to rally after Rexahn announced that they would turn their focus to their cancer drugs. RNN shot up to $0.65 a share on the news. Then it sold off some and finally it found support around $0.47 a share. Since March 1, it has been in this support area of $0.47 and is now trying to inch upward in price. A jump in price would offer Rexahn the opportunity to raise some capital to cover future research expenses.
Disclosure: I have no positions in any stocks mentioned, but may initiate a long position in RNN over the next 72 hours.