One of the most important issues facing the world in the next few decades is the availability of water. Since our bodies are comprised of 72% water, the world's survival depends on the ability of the water supply meeting the demand for water now and in the future. The world's water consumption rate is doubling every 20 years, outpacing the rate of population growth by two times. Water demand is expected to exceed supply by 56% by the year 2025.
The factors that are of concern with respect to water shortages are: Population growth, drought conditions and environmental concerns. According to a United Nations study, the world's population is expected to grow to 9 billion people by 2050. The current world's population is about 7 billion people. Drought conditions are affecting large portions of the world in Africa, the Middle East, India and southern sections of the U.S. and China. Keeping a sufficient availability of environmentally clean water throughout the world will also be a continued concern.
Click to enlarge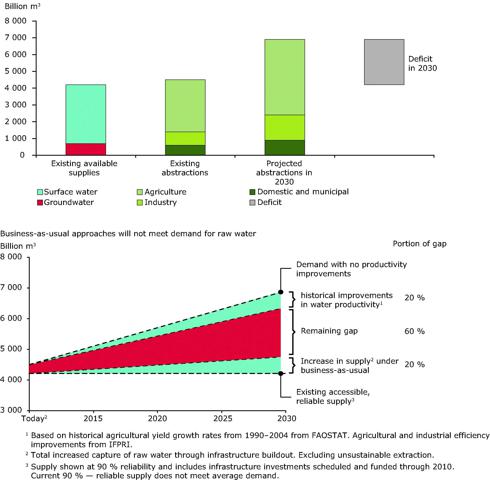 Chart Source: Here.
The good news is that the earth is made up of 71% water, primarily in our vast oceans. The oceans make up 97% of the world's supply of water. However, the challenge with this supply is separating the water from the salt. The solution to this dilemma is the process of desalination.
I have a list of large companies that provide desalination and other water solutions. These companies are diverse in that they provide much more than just water solutions. These companies should be market outperformers for the long-term (looking out beyond 10 years into the future).
At the top of the list is General Electric (GE). GE is an industrial powerhouse and the world leader in supplying desalination systems. GE handles large projects such as 200,000 cubic meters of fresh water per day with the Hamma Desalination Plant which supplies drinking water to 20% of the population of Algeria's capital city. GE also handles small projects producing 2,000 cubic meters per day of fresh water for hotels and resort complexes. GE already has 20 years of experience with seawater desalination processes.
General Electric pays a dividend of 3.4% and is expected to grow earnings annually at 12.43% for the next five years. GE is undervalued with a forward PE ratio of 11.34, a PEG of 1.05, and a price to book ratio of 1.82. The company's growth among its diversity of businesses should allow the stock to outpace the market over the long-term.
Another company with desalination solutions is Siemens (SI). Siemens has the largest portfolio of technologies and solutions for water reuse systems. Siemens has created a solution for the city of Scottsdale, Arizona, known as Memcor. Memcor is a continuous micro-filtration system which maximizes water resources.
Siemens has discovered a method of desalination that combines electrodialysis (ED) and continuous electrodeionization (CEDI), both applying an electric field to draw sodium and chloride ions across ion exchange membranes and out of the water. This process is known as electrochemical desalination. This new method can be run at low pressure with lower power consumption than the typical reverse osmosis method.
Siemens pays a dividend of 2.8% and is expected to grow earnings annually at an aggressive 37.7% for the next five years. The company has an upward earnings revision for 2012 and another upward revision for 2013. Siemens is currently undervalued with a forward PE ratio of 10.41, a low PEG of 0.31, and a price to book ratio of just 2. Look for Siemens to be another market outperformer over the long-term.
Another company to look at would be Paris based Veolia (VE). Under its subsidiary, N.A. Water Systems, Veolia has the capability of treating more than 1.9 billion gallons of water per day (7.2 million cubic meters per day) for potable water uses. This company has over 100 years of desalination experience. Veolia uses the following methods for desalination: reverse osmosis, nanofiltration, ultra and microfiltration and thermal.
The company currently pays a dividend of 8.7%. However, I don't know how safe this dividend is since the company has negative free cash flow of $1.01 billion. Veolia looks like the more speculative pick as the company reported negative earnings per share of $1.30 in Q4 2011. Despite the negative earnings reported in the past quarter, Veolia is expected to grow earnings annually at 15.7% for the next five years. Personally, I would keep my eye on this one and wait for two quarters of positive earnings before investing.
The Shaw Group (SHAW) is another company that provides water solutions, offering water filtration solutions. Shaw is currently overseeing the construction of the $ 2 billion Croton Water Filtration Plant. This plant is designed to treat 10% of New York City's daily water requirements.
The company just reported a 43% increase in net income for Q2 2012 over last year. The company met analysts' expectations are for an EPS of $0.46. Revenue increased from $1.42 billion last year to $1.47 billion in Q2, a 3.5% increase.
The Shaw Group does not pay dividends, however it is a diverse company that is expected to grow earnings annually at 20% for the next five years. Shaw looks undervalued with a forward PE ratio of 12.51, a PEG of 0.73, and a price to book ratio of 2.32. It should be a market outperformer for the long-term.
Conclusion:
The world has an increasing need for potable water. This need will continue to grow over the next few decades. These companies provide vital solutions for the world's fresh water supply that will be paramount for the continued survival of the world's growing population. There are sure to be growing needs for the solutions that these companies provide.
Disclosure: I have no positions in any stocks mentioned, and no plans to initiate any positions within the next 72 hours.