I identified 2012 as the year of the special dividend, listing seven likely candidates to hand out gigantic one-time dividends to shareholders. The reasoning: Tax-advantaged dividend treatment ends Dec. 31, motivating boards to push as much cash as possible out to shareholders. It's only March and Armstrong World (AWI) just delivered a healthy special dividend of $8.55, or about 15% of the share price.
Thank you, AWI for validating my thesis.
Six highly motivated companies remain on my list: Buckle (BKE), Limited Brands (LTD), MTOX Scientific (MTOX), Stamps.com (STMP), Werner Enterprises (WERN), and Wynn Resorts (WYNN). In 2010, they all handed investors large one-time-only dividends as listed in the chart below (favored dividend tax treatment was scheduled to end in 2010, but was extended at the last minute).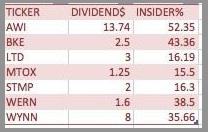 Not every company can give a special dividend. It takes a very special company with a very special set of circumstances. For instance, it didn't make sense for Apple (AAPL) to do so, even with its $98 billion cash bundle -- too much money tied up overseas, with the remaining domestic dough needed for acquisitions and expansion. The 1.8% Apple dividend, while respectable, isn't as appetizing as the 7% or 8% gifts some uber-generous stocks can throw off on a regular basis.
It's worth identifying those companies that could hand out big paychecks to loyal stockholders. Not only could they mail fat dividend checks out, but they also could pop on the news, often big-time as short sellers scramble to buy their way out of positions.
The companies who do the check writing? Which ones are they?
First, you have to have an abundance of free cash. It's got to be accessible: no cash parked in foreign subsidiaries. And you've got to be motivated, really motivated.
The remaining six remain "motivated" -- they all have huge insider positions, nicely aligned with the general shareholder base to push out excess monies.
Top on my list is Buckle, the twenty-somethings apparel retailer, with a giant insider position of 43%. It just reported a sizable increase in available cash. Buckle now has $196 million in cash and $40 million in long-term investments, above its usual cash position. The last time it handed out special dividends, Buckle left itself $80 million in cash. The company expects capex between $32 million and $36 million. That leaves a bountiful $80 million in potential special dividends, or $1.70 a share, and we have three more quarters to go of possible cash accumulation. Buckle may top its previous special dividend of $2.25. The company has a 28% short position, providing a gigantic group of potential "future" share buyers.
Since I believe in sharing and you've got my list of potential dividend "donors," perhaps you'd like to share your candidates.
Disclosure: I am long BKE, AAPL.