PF Chang's China Bistro (PFCB) was a market darling prior to 2005. Its growth, however, has a hit a roadblock since the financial crisis in 2008. With 204 China Bistro restaurants, PF Chang's doesn't seem to have an ambitious plan for expansion anymore. It has become a small cap company with not much growth. In other words, it is boring.
However, it can become exciting: With a decent balance sheet and healthy cash flow, I argue that at sub-$40, PF Chang's is an attractive acquisition target for the right suitor: for example, Darden Restaurants (DRI), which could spin off Pei Wei restaurants, and start a new phase of expansion.
Click to enlarge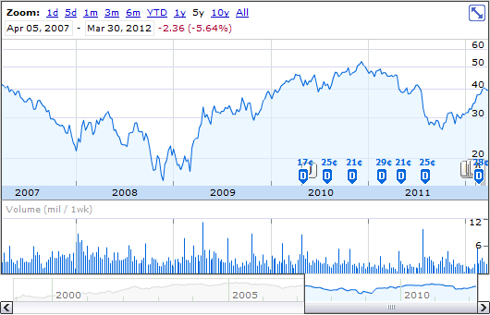 PF Chang's has three major problems that negatively influence its stock value:
1. Slow growth
PF Chang's has been posting a single-digit growth rate in opening new restaurants for years. From 2009 to 2011, in two years, it added seven China Bistro restaurants and four Pei Wei restaurants. So it is not really the market's fault that PF Chang's is no longer valued like a growth company.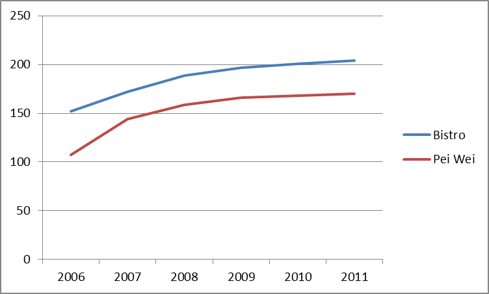 2. Pei Wei
Pei Wei, PF Chang's lower end quick-casual dining restaurants, has been a terrible idea. The low-end operation hurts the margin, and hence the efficiency of capital for PF Chang's. More recently, PF Chang's has even expanded into frozen ready-to-eat food in supermarkets - another terrible idea that cheapens the image of the China Bistro concept. In turn, the stock valuation gets hammered.
3. Margin
PF Chang's operating margin in 2011 was 3.31%, down from 5.23% in 2010. Both numbers are miserable - compared to Darden's 9.98% in 2011.
At a market cap of $850 million, each PF Chang's China Bistro restaurant is valued around that of Darden's Red Lobster or Olive Garden at around $3.5 million. Its enterprise value/EBITDA ratio is 5.95, lower than that of Darden's 8.08. PF Chang's is fairly valued.
The reason why I have been comparing PF Chang's to Darden Restaurants is because the latter is operating restaurants positioned very similarly to China Bistro. Darden owns 1,894 restaurants in the United States and Canada, including 670 Red Lobster, 748 Olive Garden, 354 LongHorn Steakhouse, plus a small number of The Capital Grille and Bahama Breeze. Darden's expertise is in finding a semi-formal dining concept and developing it into a big successful national chain, the capability that PF Chang's desperately needs.
The next question is how many China Bistro restaurants can the U.S. market support? Benchmarking against Olive Garden or Red Lobster, I believe it's safe to assume a potential of at least 400 China Bistro restaurants. Valued at $3.5 million each, it gives a $1.4 billion market value. If as successful as Olive Garden or Red Lobster with around 700 restaurants, the China Bistro restaurants themselves can be worth $2.5 billion at the end of the expansion cycle.
Growing at 15% a year, it will take five years to reach 400 restaurants and ten years to reach 800 restaurants. If the China Bistro restaurant is worth $700 out of $860 million market value, the long-term return for Daren's acquisition is more than 10% per annum. In addition, with Darden's expertise, it should be able to lower the cost for PF Chang's and enhance the margin, which should further boost value of the restaurants.
Should Darden acquire PF Chang's at this price? The answer is definitely yes.
Disclosure: I have no positions in any stocks mentioned, and no plans to initiate any positions within the next 72 hours.