After traders packed up for the weekend, Groupon (NASDAQ:GRPN) issued two warnings during the evening of March 30th.
First, Groupon discovered it under-estimated its refund rate for the previous quarter. As a result, the company revised downward its revenue and earnings numbers:
"The revisions resulted in a reduction to fourth quarter 2011 revenue of $14.3 million. The revisions also resulted in an increase to fourth quarter operating expenses that reduced operating income by $30.0 million, net income by $22.6 million, and earnings per share by $0.04."
This means GRPN actually had a greater loss for the last quarter. GRPN claims in its 10K filing released in parallel with the restatement that it has fixed its refund model to include a change in deal mix and higher priced offers. GRPN does not indicate whether these shifts represent a one-time change or an on-going, dynamic change. GRPN is holding firm on its guidance for the current quarter, so the company is implying the shift could be temporary and/or seasonal/cyclical. It is of course possible GRPN got blindsided with a higher number of low-quality merchants. For now, I expect overall refund rates to trend upward, and I expect analysts to ask a lot of questions about this during the next conference call. Refund dynamics will get the spotlight as a source of potential uncertainty in GRPN's revenues and profits.
Second, GRPN warned that it "..identified a material weakness in [its] internal control over financial reporting which could, if not remediated, result in material misstatements in our financial statements." The details are included in the company's 10K filing. GRPN is now expanding the scope of a review of its internal controls mandated by its IPO filing so that it can understand the source of the weakness and fix it. The 10K makes it clear that the conclusion of this review could uncover more financial surprises at an as yet undetermined time:
"Although we plan to complete this remediation process as quickly as possible, we cannot at this time estimate how long it will take, and our initiatives may not prove to be successful in remediating this material weakness. If our remedial measures are insufficient to address the material weakness, or if additional material weaknesses or significant deficiencies in our internal control over financial reporting are discovered or occur in the future, our consolidated financial statements may contain material misstatements and we could be required to restate our financial results."
Until this issue is resolved, the implied risk premium for GRPN grows larger. GRPN's stock dropped as much as 10% in after-hours trading. Curiously, GRPN's stock rallied into these revelations.
(Click to enlarge)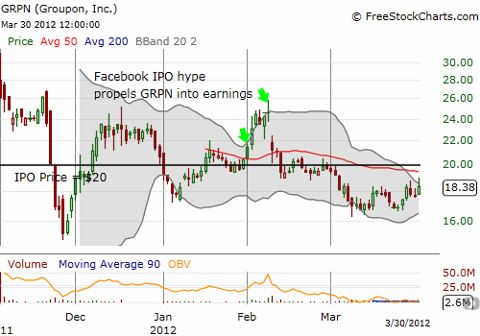 Click to enlarge
Groupon is still trading below its IPO price
This latest news just increased my skepticism regarding GRPN's stock, and I continue to recommend investors avoid it. The press release does contain one small bit of good news for stockholders who do find value in these shares: GRPN extended its lockup period from May 2nd to June 1, 2012. That is a one-month delay for an event that will likely generate immense selling pressure as insiders rush to take profits while they still exist.
Be careful out there!
Disclosure: I am short GRPN.
Additional disclosure: I am short GRPN through put options