That the chance of gain is naturally over-valued,
We may learn from the universal success of lotteries.
-Adam Smith, The Wealth of Nations (1776)
After emptying your pockets this week on the record $540 million Mega Millions jackpot, we thought you might be in the mood for a little gambling in your portfolio. So we put together a list of stocks that are sure to spark your upside. They aren't the safest investments in the market, but you'll be hard-pressed to find another list of stocks more likely to double your money (or halve it) over the next six months. So roll the dice and watch the beta rise. It's time to pick the top 'lottery ticket' stocks of 2012.
1. First Solar, Inc (FSLR)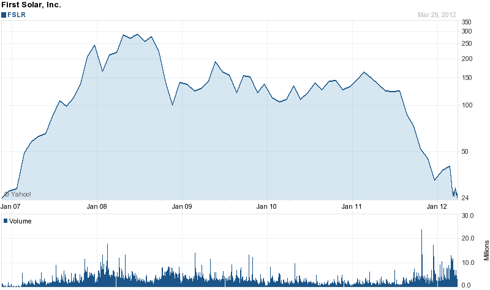 Click to enlarge
Truth be told, we could have effortlessly interchanged a number of solar companies here. But First Solar ultimately stood out in its sector. Given how things have gone with the solar industry of late, that's saying a lot. The sheer magnitude of First Solar's rise and fall has been its special sauce. From darling of Wall Street rocket stocks to the trappiest value trap of the discount bargain bin, FSLR has undergone a bipolar transformation of erratic grandiosity, and therein lies the promise: a risk-reward profile fit for a lottery ticket. At $25 a share, it would need to gain over 1,000% to reach its '08 high of $311. We put the odds of that happening at slim. But if January '07 through January '08 taught us anything, it's that when the sun shines on First Solar, the stock makes a lot of heat.
It is a common assumption that solar power will be a material component of future global energy policy. First Solar is better positioned than most in the industry to profit once we see a reversal of current trends, particularly given its recent restructuring away from subsidy-driven markets. There is also always the possibility that the company could be bought out - and with a share price well below book value and a relatively mild debt load, FSLR)+is+Getting+Cheap+Enough+to+Get+Bought/7038958.html" rel="nofollow">that may not be such a far-fetched notion.
Alternative Tickets: Yingli Green Energy Holding (YGE), Renesola (SOL), Suntech Power Holding (STP), JA Solar Holding (JASO), LDK Solar (LDK), Trina Solar (TSL)
2. Renren Inc (RENN)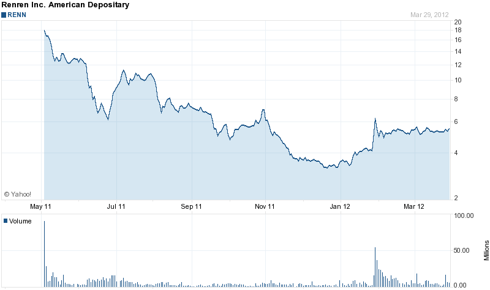 Click to enlarge
Widely heralded as the "Facebook (FB) of China," Renren hasn't quite lived up to its nickname. And therein lies the 'Mega Millions'-sized opportunity: Facebook is currently banned in China. As a result, China's internet population of over 500 million (and rapidly rising) is up for the social-networking taking. With 147 million active users by last count, Renren has emerged as one dominant player in what has been called a crowded Chinese social networking market. Perhaps on account of Facebook's absence, the space is not yet streamlined in China, where the shape of social networking itself, particularly in light of government censorship, is still evolving and considerably unpredictable.
But there is reason to be optimistic about Renren. Since Renren IPO'ed in the U.S. market last year, it has been met with excitement by investors, who initially priced it at $18 but quickly brought it down to low single digits as earnings reports uncovered a company struggling to sustain profitability. But in 4Q11, the outlook brightened as Renren reported earnings of 14 cents per share, an improvement from its 46 cents per share loss a year before. Renren also reported that a high percentage of its usage now derives from mobile computing, which bodes well for user retention in an economy increasingly marked by smartphone usage. The company forecasts 2012 revenue between $177 and $183 million, also an improvement over its $118 million in revenue in 2011. With over $1 billion in cash on its balance sheet, which on a per share basis approximates half the value of its current share price, Renren stock would certainly seem to have breakout growth potential at a discount valuation.
Given the size of China's internet population, should Renren in fact assume the role of a Chinese Facebook, its share price is bound to multiply. Renren's shares have already advanced with the buzz surrounding Facebook's May IPO, and we expect to see additional gains between now and May as a result of the ensuing social networking publicity. The dark side of Facebook's public emergence for Renren, however, is the possibility that Facebook could broker a deal with China that would allow it entry into the country. The effect on Renren would likely be catastrophic.
Alternative Tickets: E-Commerce China Dangdang Inc (DANG), Youku Inc (YOKU), SINA Corporation (SINA), Sohu.com (SOHU), Tudou Holdings Limited (TUDO), Perfect World (PWRD)
3. Popular, Inc. (BPOP)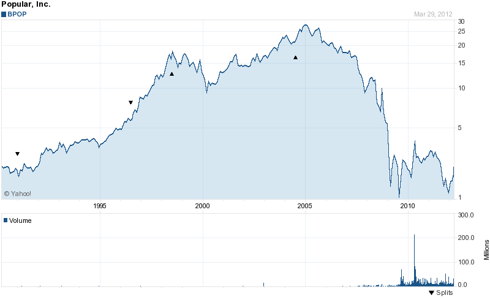 Click to enlarge
This last lottery ticket of a stock, Popular, Inc., is a regional bank headquartered out of San Juan, Puerto Rico with branches throughout Puerto Rico (offering services through its principal banking subsidiary, Banco Popular de Puerto Rico) and the mainland United States. We own this stock. We also own a pocketful of 'Mega Millions' tickets. What can we say: we're risk takers. But Popular, Inc. is an intriguing play - a leveraged play, really - on a fuller recovery in financials. With a market cap of only $2 billion and still on the hook to the federal government for TARP money, this is a small institution that was crippled more than most by the '08 financial crisis. Needless to say, it still carries sizable risk.
But the upside here is undeniable. Popular, Inc trades at half its book value, less than seven times its 2013 earnings, and has a chart that shows a clear breakout from a bottom of $1.08 in December '11 with sizable technical upside. It is also a stock that several analysts rate favorably, including Goldman Sachs (Buy), Morgan Stanley (Overweight), and Cantor Fitzgerald (Buy).
With Popular, Inc, your 'lottery winnings' come if the bank can pay down its TARP money, fortify its balance sheet, and return operations to a profitability on par with pre-crisis levels. That's asking a lot, including sustained economic vitality in a Caribbean commonwealth.
Alternative Tickets: Doral Financial Group (DRL), First Bancorp (FBP), Regions Financial Corp (RF), Huntington Bancshares (HBAN), Citigroup (C), Bank of America (BAC)