Cypress Sharpridge Investments (CYS) calls itself a specialty finance company. I call it 'the great American Housing Bubble profit maximizer and capital markets equalizer for the small investor'.
The National Association of Realtors recently noted that nearly one third of all existing home sales in 2011 were made to investors. Forty-six percent of these sales were cash transactions. For the homeowner that has been foreclosed on, due perhaps to a job loss, those figures certainly offer little comfort. Matter of fact, it's almost obscene when one discovers that the rich really do get richer during recessions being they are generally the only ones with the economic firepower who can swoop in with cash to buy up real estate at depressed prices.
But this is a well known fact of the U.S. business and economic cycle and it has been going on since since the days of the American Revolution when the founding fathers had to come up with a way to pay back the debt that had been racked up during the process of achieving economic "freedom" from Great Britain. However, the wealth accumulating, destruction, and disparity results of this cycle have been much more pronounced since 1913 with the founding of the Federal Reserve Banking system. (An event that has led to the gradual destruction of the U.S. dollar's buying power over the 99 years.) One only has to note the dramatic decrease in family-owned farms as further evidence of this fact.
Take any chart showing the increase in wealth gap between rich and poor in this country over that same time frame and it darned near perfectly mirrors any chart displaying the reduction in the buying power of the U.S. dollar. Banks and wealthy investors love depressions and recessions because they are truly able "capitalize" on this phenomenon. The Federal Reserve's own historical data also clearly shows that the profitability of the twelve banks that make up the Federal Reserve Banking System swells during and immediately after recessions and depressions. This is indisputable fact.
What is much less well-known is that in today's stock market era, the astute small investor may also participate in the destruction of the U.S. Dollar and get his cut of the wealth extraction pie with some outstanding results, if he only knows where to deploy his investment dollars.
Let me show you how.
Most investors are fully aware by now that with ex-Federal Reserve Chairman Alan Greenspan's devilish encouragement, creative mortgages and other unique financing instruments were created during the run-up of the housing bubble to facilitate the American Dream of home ownership. Using "deliberate obfuscation" and other forked-tongued, snake oil selling techniques, Greenspan was able to cleverly articulate a sort of code to the mortgage industry and investment bankers that it was OK to gamble away the American Dream.
Fifty year mortgages, so-called liar loans, and other extreme financial novelties suddenly came into existence. And behind the whole shooting match stood the the bloated housing agencies Fannie Mae (OTCQB:FNMA) and Freddie Mac (OTCQB:FMCC), and a U.S. Congress willing to play ball with the financiers and facilitate the destruction. After all, what can possibly go wrong when one has the full faith and credit of the U.S. Government (taxpayer) to bail one out of one's folly?
What Alan Greenspan and other great men belonging to the Top Secret Order of Pontificating Bankers and Snake Oil Salesmen never mention is that the 30 year mortgage was in fact designed to be the Banker's Dream, whereby the astute banker locks in 30 years worth of steady returns. In fact, on a 30 year mortgage, the banker has been fully remunerated by year 14 or so and is able to parlay the American Dreamer's house payments into obscene profits. By the time the American Dreamer has paid off his 30 year note, the banker has redeployed his profits two or three times over into other money-making schemes. In my opinion, it has to be the greatest financing scam ever cooked up next to Ponzi's scheme of creating money from nothing.
The result of Greenspan's housing expansion was that disaster ensued and taxpayer bailouts followed. During the later part of 2009 and the first quarter of 2010, Dr. Ben S. Bernanke, the new face of the U.S. Federal Reserve, wisely stepped in and mopped up the spillover by purchasing $1.25 trillion dollars worth of mortgages and mortgage-backed securities from Fannie Mae, Freddie Mac, and Ginnie Mae. As a point of reference, the value of all U.S. homes fell by $1.25 trillion dollars in the fourth quarter of 2009. Yes folks, Dr. Bernanke and the U.S. Federal Reserve Bank of New York now own more real estate than any other bank in America- which leads to the question: Just what do they intend to do with all of it?
This is where a few well-heeled capitalist hit squads such as Cypress Sharpridge Investments come into the picture, and where the astute small investor, should he wish to buy shares of their stock, may also profit from the aftermath of the housing bubble.
And quite frankly, small investors are entitled to a piece of the action. In my view, it's sort of like being the underdog and playing in the overtime inning of the American Dream, so to speak.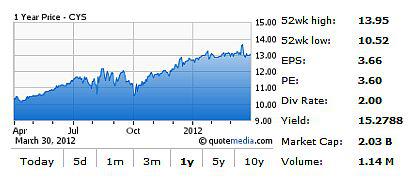 Firms such as Cypress Sharpridge Investments (NYSE:CYS), American Capital Agency Corporation (AGNC), and others are setting up shop as REITs and cutting deals with the Ben Bernanke and the Fed and scooping up chunks of the Fed's real estate portfolio at deep discounts not readily available to the average man on the street. Unless, of course, his credit score is spitting out gold plated-bullets north of 720. By taking advantage of low interest rates and leveraging up the purchased Fed assets, these firms are now generating eye-popping returns to investors with the fortitude to stomach a foray into the world of Agency RMBS', CMOs, interest rate swaps, and a gamble that a turn-around in the high dollar value U.S. real estate market is close at hand. These companies basically buy up the assets from the Fed at extreme discounts and hope to collect on the interest and principal that is due on the notes.
From the CYS 2010 Annual Report:
The Company's investments in Agency RMBS consist of whole-pool pass-through certificates backed by fixed rate, monthly reset adjustable-rate and hybrid adjustable-rate residential mortgage ("ARM") loans guaranteed by Fannie Mae, Freddie Mac and Ginnie Mae. Hybrid ARMs have interest rates that have an initial fixed period (typically three, five, seven or ten years) and thereafter reset at regular intervals in a manner similar to adjustable-rate mortgage-backed securities and loans.

Our income is generated primarily from the difference, or net spread, between the interest income we earn on our investment portfolio and the cost of our borrowings and hedging activities. We believe the most prudent approach to generate a positive net spread is to manage our liabilities to mirror, as closely as possible, the interest rate risks of our investments. To seek to achieve this result, we employ short term financing for our Agency RMBS portfolio in combination with interest rate swaps and caps to hedge all or a portion of the interest rate risk associated with the financing of our portfolio. In the future, we may, subject to maintaining our REIT qualification, also employ other hedging techniques from time to time, including interest rate floors, collars and Eurodollar and U.S. Treasury futures, to protect against adverse interest rate movements.
Cypress then leverages up these investments by using them as collateral in the repo market to finance the purchase of additional Agency RMBS notes and other investments such as interest rate swaps and other derivative products they hope to profit from. A portion of the additional investments are purchased for the sole purpose of hedging portfolio risk. It can be a highly profitable endeavor if properly managed. Like in other real estate investment trusts, 90% of the REIT's taxable income is then required by law to be paid out to investors as dividends.
Cypress Sharpridge Investments, for example, has paid out a dividend hovering at around 15% or better range since the inception of the trust back in 2009.
Caveat: Investors need to be fully aware of the risks inherent in leveraged real estate investments and it is highly advised that they read the annual reports and any and all financial data on each firm prior to committing investment dollars. Investors also need to have a certain level of comfort with the notion of high risk/high reward. This type of investment is not for conservative investors.
However, this type of investment vehicle can be highly profitable to shareholders depending upon the U.S. regulatory environment to include the possibility of the U.S. Congress mandating mortgage principal reductions, the interest rate environment, the possibility of early pre-payment by homeowners, and the number of competitors that choose to enter the market. The real risk from my point of view comes with taking Fed Chairman Bernanke at his word on how long he intends to pump out easy money. These risks are fully discussed in Cypress' Annual Reports. Therefore, anyone going into this type of investment needs to sleep with one eye open and the other on Ben Bernanke. An extreme reversal of current Fed policy or if the world suddenly stopped purchasing U.S. Treasuries, would be detrimental to Cypress's profitability. A shift in government policy could also have a negative impact on the trust.
Cypress attempts to hedge against such possibilities by purchasing interest rate swaps and other Treasury securities. Interestingly enough, counter-parties to Cypress' interest rate swaps include the likes of Goldman Sachs (GS), Deutsche Bank (DB), and the Royal Bank of Scotland (RBS). This may be a curious fact to the layman investor or perhaps a Goldman shareholder that might be wondering just whose interest Goldman Sachs is serving considering they are also a major shareholder of Cypress. But this would not be the first time Goldman is involved in such controversy.
Also interesting to note is that in 2010, Cypress borrowed over $135.7 million dollars from John Corzine's now defunct MF Global (OTC:MFGLQ) with $6.1 million of that at risk in the credit repo market. However, most of Cypress' repo borrowings are closed out in relatively short time frames, averaging from 4 to 60 days. Repo risk is a key spot where Cypress might run into trouble should Bernanke's current interest rate scheme suddenly go haywire due to inflation suddenly rearing its ugly head or if China starts buying euro bonds instead of U.S. Treasuries.
Below are a few pertinent and eye-opening notes to this regard from CYS' 2010 annual report, along with one closely guarded industry secret regarding loan modifications:
-If Fannie Mae or Freddie Mac were eliminated, or their structures were to change radically, we would not be able to acquire Agency RMBS from these companies, which would drastically reduce the amount and type of Agency RMBS available for investment, which are our primary investments. As of December 31, 2010, 99.7% of our investments had the principal and interest guaranteed by either Fannie Mae, Freddie Mac or Ginnie Mae.

-Our income could be negatively affected in a number of ways depending on the manner in which related events unfold. For example, the current credit support provided by the U.S. Treasury to Fannie Mae and Freddie Mac, and any additional credit support it may provide in the future, could have the effect of lowering the interest rate we receive from Agency RMBS, thereby tightening the spread between the interest we earn on our portfolio of targeted investments and our cost of financing that portfolio. A reduction in the supply of Agency RMBS could also increase the prices of Agency RMBS we seek to acquire by reducing the spread between the interest we earn on our portfolio of targeted assets and our cost of financing that portfolio.

-In March 2010, our board of directors amended our investment guidelines to allow us to invest in CMOs. CMOs are securitizations issued by a government agency or a government sponsored entity that are collateralized by Agency RMBS that are divided into various tranches that have different characteristics (such as different maturities or different coupon payments), and, therefore, may carry greater risk than an investment in whole-pool Agency RMBS. For example, certain CMO tranches, such as interest-only securities, principal-only securities, support securities and securities purchased at a significant premium, are more sensitive to prepayment risks than other tranches or whole-pool Agency RMBS. In addition, the yield on floating rate and inverse floating rate tranches are sensitive to changes in the interest rate index used to calculate the coupon on such classes. If we were to invest in CMO tranches that were more sensitive to prepayment risks relative to other CMO tranches or whole-pool Agency RMBS, we may increase our portfolio-wide prepayment and interest rate risk.

…loan modification programs, as well as future legislative or regulatory actions, including amendments to the bankruptcy laws, that result in the modification of outstanding mortgage loans may adversely affect the value of, and the returns on, the Agency RMBS in which we invest.
Ah ha, so now we finally learn the dirty little secret as to why our nations' bankers have been ardently against any type of loan modification for U.S. taxpaying homeowners, what?
DRIP investors will be pleased to know that CYS has a dividend reinvestment and direct share purchase plan that is available through its registered agent, Computershare Trust Company, N.A.
What makes me a believer in Cypress and other REITs like it is the reality of the historical payout, the reality of the great depression the nation is now in, the iron-clad word of honorable Federal Reserve Chairman Ben S. Bernanke that he will not raise interest rates until 2014, and the fact that the major investors owning the majority of the shares of these firms are some of my favorite investment banks, market gurus. Fund management companies such as John C. Bogel's well-respected Vanguard Group, Goldman Sachs, Blackrock Institutional Trust Company, N.A., FMR LLC, and Oppenheimer Funds, Inc. are also investors. One thing I have learned over the years is that one never bets against the house.
The top notch management team running CYS is also impressive and includes Kevin E. Grant, CEO, Frances Spark, CFO and Treasurer, Richard E. Cleary, COO and Assistant Secretary, and Thomas A. Rosenbloom, Executive Vice President of Business Development, General Counsel, and Secretary.
This investment should not be considered for conservative investors. Please do not let the high dividend payments fool you. However, aggressive investors and speculators may wish consider a play here.
Disclosure: I have no positions in any stocks mentioned, but may initiate a long position in CYS over the next 72 hours.