The 12% return of the S&P 500 (SPY) in the first quarter of 2012 was notable for both its magnitude and breadth. Only eight years since Standard and Poor's signature equity benchmark went to 500 constituents in 1957 have begun with better starts than 2012. All eight of those years posted positive full year returns; although the October 1987 stock market crash significantly limited gains in that year. The average return over the last three quarters of years that have started better than 2012 was 7.22%. No year that has begun with a first quarter return of greater than 2.4% has produced a full year loss.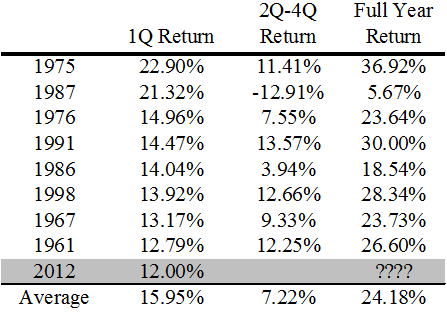 This year's first quarter return was the 22nd best quarterly return on record for the index, placing it at the edge of the 90th percentile. Of the 22 quarters with better returns, only two quarters have posted negative returns over the next quarter (and only one was significant). On average, the market has returned 5.89% over the next quarter.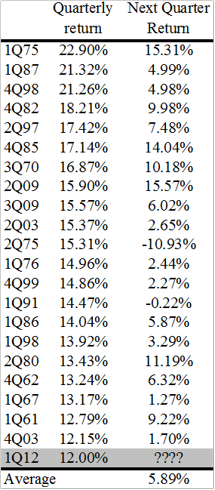 Click to enlarge
Looking at these same 22 quarters which outperformed 1Q12, the returns over the next four quarters averaged 16.1%. The standard deviation of these four quarter returns is 10%, much lower than the historical variability of U.S. equity market returns. The four quarters succeeding quarters that have outperformed the first quarter of 2012 have produced higher risk-adjusted returns on average.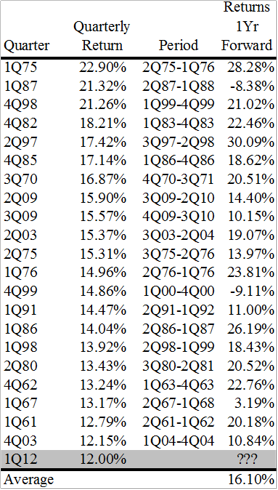 Click to enlarge
With the first quarter returning 12% on the heels of the fourth quarter 2011 return of 11.8%, the market has seen double digit quarterly returns in successive quarters for only the ninth time. On eight instances, the next quarter produced positive returns. On average, the quarter following two quarters with double digit gains has seen a 6.89% return. Even the lagging 1975 quarter saw 8.6% and 15% gains in the two subsequent quarters after the 10.9% decline.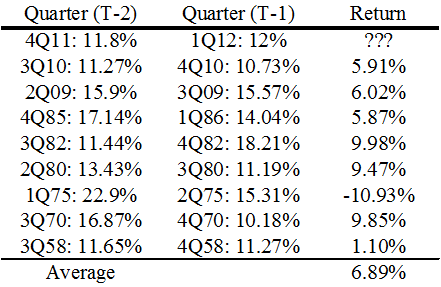 Momentum, as I have written previously, is a powerful force in financial markets. Precedent points to continued strong U.S. equity market performance over the next several quarters.
Disclosure: I am long SPY.