Over the last several trading weeks, we have seen Coca-Cola (KO) rocket from the $68 range to $74.01 as of Friday's close. Coca-Cola is an outstanding company, with great fundamentals, a dividend, and a rich history. This stock is also known for its low volatility and the "safety" it provides investors when the market begins to have its mood swings. However, I think the parabolic movement in Coke is overbought, and I have an options play to go along with it.
Some may argue that a bearish play on equity stocks would best be used in the form of selling calls, in order to collect premium. While I have no issues with this particular strategy, I feel that Coca-Cola does not have a high enough premium in which to collect. Due to the low volatility (not necessarily a bad thing) of Coke, it makes the option prices very low. This is good for buying options, and not as good for selling them. For instance, as of today, you could sell the April $75 strike call and collect .50 in premium, or $50. By buying the April $77.5 strike call for protection for .11, or $11, you now risk $2.50 in premium, or $250, should the rise continue. Should Coca-Cola finish below $75 on April expiration, your maximum gain of .39, or $39 will be realized. To me, risking $250 to make $39 is not the easiest way to make money.
I think the best approach would be purchasing outright put options, or running a debit put spread, and below I will show two examples. The expiration months can be moved back, but for simplicity I will use the May expiration. A later dated option will most likely be priced slightly higher, but will allow more time for the intended move, as well as limit time decay.
Option 1: Buying the May $72.5 put options for .75.
Net Debit (Max Risk): $75
Delta: -.31
Days until expiration: 48
In this scenario there will be 48 days to allow for Coke to retreat from its quick run and will profit nicely should it return to the low $70 range. It would be most beneficial for Coke to pullback quickly, so the option contract would still have a significant amount of time premium built into it.
Option 2: Buying the May $75/$72.5 put spread. Buy the May $75 put option for 1.86, or $186, while selling the May $72.5 put for .73, or $73.
Net Debit (Max Risk): $113
Max Gain: $137 ($250 - 113 = 137)
Days Until expiration: 48
In this option, you are buying one put contract, and selling another. Though this will limit the potential profit, it will limit one's risk. The maximum gain is seen when the price of the underlying security, in this case Coca-Cola, goes below the second put, or below the short May $72.5 strike put. Another advantage to this strategy, is the long put (the $75 strike put), is already in the money by 1.00, or $1.
The reason that I chose the May put spread instead of April is simple. When you compute the prices of both spreads of either month, the difference comes out to very little; $1 to be exact, or in options terminology, .01. So it would make much more sense to pay the extra dollar, and get another month before expiration. However, it is important to note that both months will be effected by earnings, which are reported on April 17th.
Coca-Cola 1-Month chart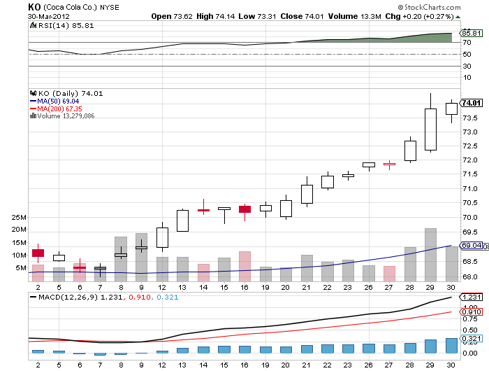 While looking at the chart above, we see high buying volume in the final three trading days of the month. Coke has quickly exploded nearly $5 over its 50-day simple moving average. In my opinion, the main thing to take from this chart is the RSI. The RSI (relative strength index) measures the overbought and oversold conditions of a particular asset. A reading of 70 and higher on the RSI indicates an overbought condition, while a measurement of 30 and under would indicate an oversold condition. Clearly at 85, Coca-Cola is severely overbought.
I would suspect Coke will have to come back down, sooner rather than later. Outright shorting 100 shares would cost nearly $7500, and expose one to unlimited upside risk. Both option strategies above cost roughly 1-2% of the underlying security, while limiting one's risk. It's quite possible Coca-Cola could continue this dominate run into the upper $70 range, and using options will help limit one's losses. In this scenario, it is both safer and less expensive to partake in the downward move suspected in Coke.