This year I decided to participate in a contest among bloggers with financial-focused websites. The rules are simple:
Four stocks picked at the beginning of the year
No trading allowed (buy and hold)
Canadian or USA stocks
Dividends count in end-of-year yield calculation
Since I do not promote individual stocks on my blog, I chose a diversified ETF portfolio instead. My choices were:
My logic for this selection of ETFs can be found here. For a benchmark, I am using Vanguard's S&P 500 ETF (VOO).
The first quarter for CY2012 is already over---hard to believe. Here is the performance of my four-ETF portfolio for the first quarter (click to enlarge images):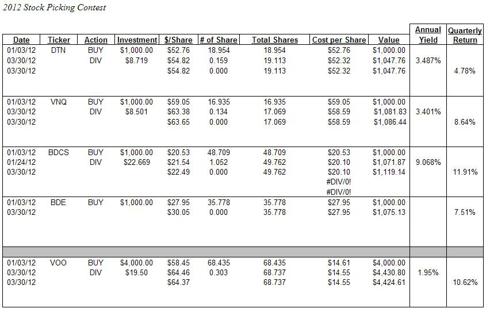 My three dividend-paying ETFs have stronger dividends than the benchmark, which is good. My only holding to outperform VOO is BDCS, which is a basket of Business Development Companies. The dividend payment from BDCS for the first quarter is equivalent to an annual yield of just over 9%. I would have expected the WisdomTree Dividend ex-Financials ETF to perform better than or on par with the S&P 500, especially with the stronger yield. Unfortunately for this portfolio, one of the strongest sectors in the S&P 500 this quarter was the financial sector. The chart below is courtesy of thumbcharts.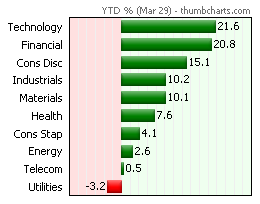 The PowerShares DB Energy ETF performed well with a 7.51% return for the quarter, outperforming Gold (GLD) and Inflation-Protected Treasuries (TIP).

Finally, Vanguard's REIT performed well at 8.64%, but it may have matched the S&P 500 performance more closely if Apple hadn't performed so well.
Overall, my portfolio did underperform the broader S&P 500 for the first quarter. I think the compounded effect of a higher dividend on three of the four holdings will help make up some ground over the rest of the year.

Disclosure: I am long VNQ.