A strong Q1 ended on a mostly positive note, though there was not a great deal of window dressing in evidence. As we look to Q2 and another earnings season we all wonder, is there more upside to come, or is it time to take some profits? This week's article takes a bit of a longer view as we try to get some insight on where the markets might be going.
Perspective
Stocks: It was another positive week overall for U.S. equities, with a large cap bias. The Dow Industrials led the major indexes with a 1% gain, with the NDX 100 just slightly behind. As we get to the broader indexes the gains are smaller; the Russell 2000 was nearly flat for a second week. This was the reverse of the quarterly results, where the Industrials were the only major index to advance less than 10%, while the NASDAQ put up an impressive 18.67% gain. The quarter had a slight value tilt, but both growth and value participated in the rally. The NASDAQ finished above 3,000, the Dow above 13,000, and the S&P above 1,400.
S&P sector action was again quite interesting: during a week when the U.S. Supreme Court heard arguments on the Affordable Care Act, the health care sector put up the best performance with a gain of nearly 3%, far outpacing all sectors. Defensive utilities and consumer staples were the best of the rest, and tech put in another solid week, while energy was the only loser as oil prices moderated somewhat. For the quarter tech was the leader, with a nearly 19% gain.
Nine of the twelve of the foreign equity indexes we follow posted weekly losses, with continuing weakness in Europe and China, as well as selling in energy heavy Brazilian and Canadian markets. The Shanghai Composite took a particularly sharp hit as evidence of decelerating growth and concerns for the banking sector are driving the index back toward its December low.
Bonds: U.S. Treasury bond yields continued to fall after a considerable rise in the first half of March, although Friday saw yields back up vigorously. The long bond yield closed above 3.3%, the ten year above 2.2% and the five year above 1%. For the quarter the benchmark ten year rose nearly 18% as markets return to more normal footing as the U.S. recovery gains traction and European debt fears recede. It was a tough quarter for some bond funds: the iShares long Treasury fund (TLT) was off more than 7%. Corporate, municipal and inflation protected paper fared much better, corporates in particular, as the typical fund appreciated in the 2-3% range to go along with the higher yields.
Commodities: Commodities had another down week, with the CRB index off nearly 2% and appearing headed back to re-test the 300 level. Oil led the way down as WTI spot closed under $103 (the futures were a couple of pennies over) for the first time this year, even as the dollar pulled back. Slumping natural gas fell again - now trading under $2.20 - and was down nearly 30% for the quarter. Gold had a volatile week but again closed nearly flat; for the quarter the barbarous relic was up more than 6% even as it seems to have had a difficult time. The industrial metals index had a down week and appears to be rolling over, but the agricultural commodities fared better as grain prices are firming quite nicely.
Currencies: The U.S. Dollar index was off for a third week, as the euro rose to finish well above $1.33 and appears headed for a re-test of $1.35. The British Pound also rose and is above $1.60 for the first time in four months. Japanese Yen has settled into a near term 82-83 range. The Aussie was down nearly 1% and the Loonie was flat.
Outlook
The week's U.S. economic brought a variety of data that shed some light on the recovery. Durable goods orders fell somewhat short of expectations, and unemployment claims show the momentum in the employment recovery slowing a bit. In the real estate sector, the Case-Shiller 20 City Index was in line with negative expectations, as prices are back to late 1990s levels. The MBA mortgage index was down as well, with refinancing applications at their lowest level of the year even at 4% rates. Residential real estate shows few signs of robust health and still has a long way to go.
Stocks: With Q1 now in the books, where do we go now? This was the subject of a very timely and helpful article from fellow SA author John Cofran. His work shows that we can expect, based on historical examples, for the stock market advance to continue. At this point I would like to remind readers that those of us who operate in the markets are really in the probability business. None of us can predict the market's direction, but we can study the data, estimate the probabilities of various outcomes, and position appropriately. This, along with a sound risk management process - I can't stress that enough - is really the foundation of successful investing in my experience.
Having looked at John's work on historical returns after a quarter like the one just ended, let's look at a few characteristics of the current market, and introduce a couple of cautionary pieces of evidence. First let's consider a couple of non-confirmations: while most of the major indexes made new post-crash highs in Q1, the small cap Russell 2000, the Dow Transports, and the NYSE Composite did not. There are different and valid reasons that can be given, such as the effect of energy prices on the transports, or the listing of closed end bond funds on the NYSE, but the facts are presented for what they are worth. Dow theory in particular may seem outdated, for example, in terms of looking for the transports to confirm a breakout in the industrials, but it is rooted in sound business theory. Consider for example the railcar loading data that shows softness in commodity movement, or the recent weak outlook from FedEx .
Now let's look at another set of divergences in terms of market breadth. Note in the charts below that while the markets have pressed higher, the percentage of stocks above their 50 day moving average on both the S&P 500 and NASDAQ topped in early February and has been moving lower. We can also see the deteriorating market breadth in the McClellan summation index, an oscillator based on the advance-decline line. Finally, we should look at market volume, particularly over the three years since the post-crash bottom. Trading volumes have generally been slowing, suggesting that the current rally is a late stage move in the overall market cycle.
(click on charts to enlarge)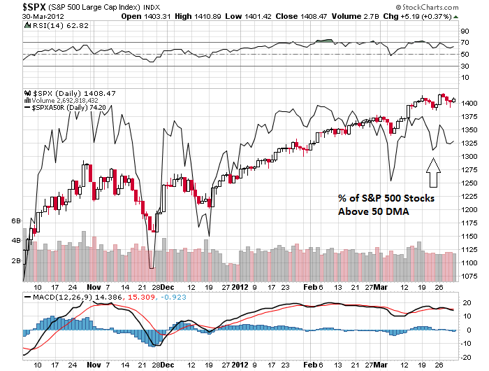 Click to enlarge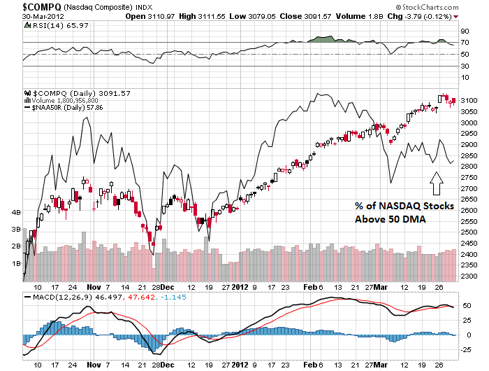 Click to enlarge
Having reviewed these data points, here is my take: I still see upside to selected blue chips and remain cautiously bullish. This rally has been quite powerful, at least in terms of price if not in terms of volume, so I have not been inclined to fight the tape or the trend. My level of caution however is increasing. We've seen summer slumps in each of the last two years, and a third this year would come as no surprise. We're not cutting back on long positions yet, but have at least mentally prepared to do so should the evidence warrant it.
Bonds: As noted above, some bond investors, particularly in long dated U.S. Treasuries, have taken a bit of heat in Q1. I don't expect Q2 to be quite so difficult, though I still don't find good value in that sector and have been staying away from it. Overall bonds look like a fairly decent hold for the next few months, and we may even see a run up should the stock market correct. One area of possible concern I would like to point out is the high yield market. Quite a few current income investors have reached for yield, as we have ourselves in our income portfolio, to below investment grade paper. I have repeatedly stressed to readers that we really need to be vigilant there. Note on the chart below, showing the spread of junk to Treasuries, that (1) the current spread is approaching a recent low - a lot of the gravy is gone from this trade, and (2) when the going gets tough - as in the previous recessions - junk gets hammered. Use proper risk management.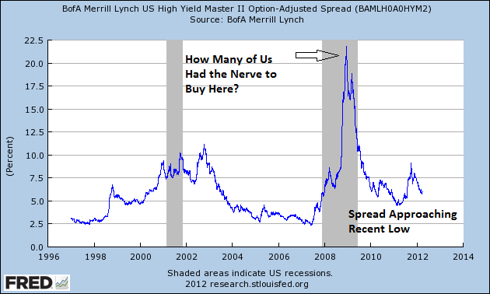 Click to enlarge
Commodities: Crude oil came back to the $102-103 area, a previous resistance level that I suspect is now support, so the coming weeks will be important. If this level doesn't hold we could be looking at significantly lower prices, in the low $90s, going into summer. This would be a boon to the economy, but not to most energy company shares or many commodity funds. From a trading perspective, I would be on the sidelines here, until the next directional move shows. The risk/reward is not favorable. Copper and the industrial metals also look soft; we could see a re-test of Q4 2011 lows if 395 on the GYX doesn't hold.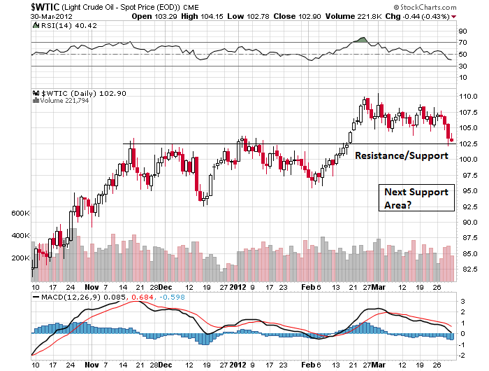 Click to enlarge
Gold is back to choppy, volatile trading. This is another market where support has turned into resistance - in the case of gold the 200 day moving average. Monday saw another close above that level, but it failed to hold the next day, and remains underneath the 200 DMA. There is no resolution apparent yet, we just have to keep watching and waiting. It's not much fun, but sometimes patience is rewarded.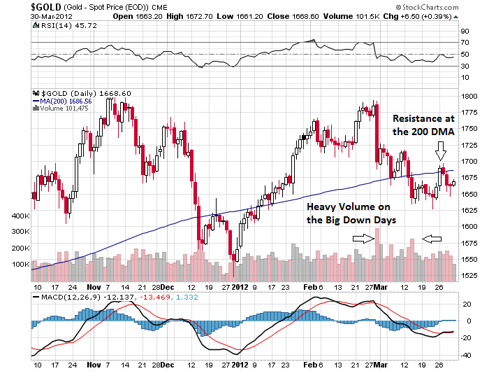 Click to enlarge
Currencies: Volume in currency and U.S. Treasury futures has dropped recently, and we are seeing the dollar just drift sideways in a range beneath 80 on the index. There has been a great deal of activity in recent months in the global credit markets and my sense is that things are settling down for a bit, so that everyone can take stock of the changes and re-calibrate their outlooks going forward. We could see continuing strength and Sterling and renewed weakness in Yen but I don't expect to see much of market moving significance for the next few weeks. That will be a welcome respite for many of us.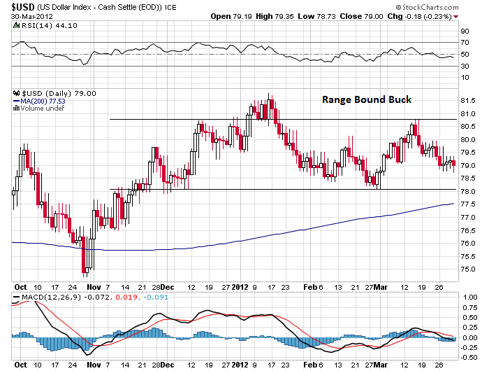 Click to enlarge
Disclosure: I have no positions in any stocks mentioned, and no plans to initiate any positions within the next 72 hours.