After Research In Motion (RIMM) announced its recent fourth-quarter and annual results for the year ended March 3, 2012, analysis has proclaimed the company alternately a gloom-busting cash machine or a worse-than-expected horror show. Can both be true?
The Good
Sankrant Sanu's article looks at the whole-year results the the last several years, and shows growing cash and growing earnings. The article also points out that services revenues have increased until in the just-completed quarter, service revenues had become nearly as large (at $1.34B) as the entire revenues for 2009 (at $1.65B). Cash over the quarter was up $0.6B. Given that the company presumably intends to continue pricing its differentiated handsets to sell at a profit, the cited figures suggest a company with growing services revenue and increasing cash ... attractive, no?
The Bad
Looking at quarter-sized periods instead of year-sized periods paints a less flattering picture. Bill Maurer's article highlights that although Research In Motion's revenue is up from the comparable quarter in 2010, it's down from the year-ago quarter. Shrinking gross margins - affected by competition with makers of other handsets - combined with high operating costs to hammer what had been a steady profit. The company swung to negative earnings of $0.24/share in the just-finished quarter. What's worse, the unexpectldly-bad results are disappointing guidance that had already been lowered.
Mr. Maurer points out that Research In Motion - whose fulll-year results show sequential declines in sales and margin while costs have increased - has ceased giving earnings guidance. Considering the expected increase in competition from Microsoft-funded manufacturers selling a phones and tablets running Microsoft's new operating system, and Google's move to market tablets online and to build them itself, pressure on margins should only increase.
The Recent Past
Research In Motion's increasing cash may look bullish, but not all cash flow is equally attractive. Discounted sales following substantial inventory writedowns can generate cash - and if the inventories are not replaced in the same volumes because demand for existing products has collapsed, this can mean net cash even while losses are booked. The pressure on Research In Motion gained a little perspective recently when Nielson published U.S. smartphone operating share data depicting Apple (AAPL) and Google (GOOG) as sharing 80% of the installed base, but 91% of current purchases (ie, purchases within the last 3 months):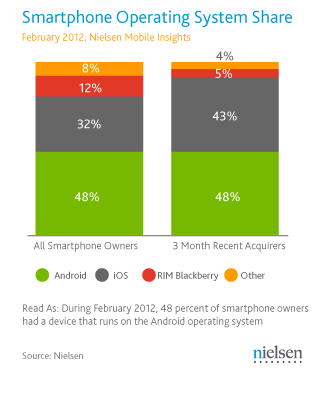 This accelerating share domination leaves little room for competitive platforms: BlackBerry share of the installed base wasn't holding steady with sales equal to its 12% share of the installed base; new sales were only 5% of the U.S. smartphone market.
Are the company's best days behind it?
The Immediate Future
In Research In Motion's fast-growing India market, where poor networks make Apple's product features less exciting, the company is cutting handset prices to maintain share against competitors. The next big product release - version 10 of the BlackBerry operating system, to be derived from the microkernel-based QNX operating system acquired by Research In Motion in 2010 - has been delayed into the second half of 2012. To bolster carrier placement and maintain sales, Research In Motion may drop monthly fees it receives from carriers.
Existing BlackBerry tablets sell poorly, and its smartphone share isn't what it was. CEO Hines believes that the BlackBerry's "traditional strength in security, effeciency, and push" are no longer adequate differentiators for some of its customers. Enterprise Bring=Your-Own-Device programs erode the market in which BlackBerry's strengths were most appreciated, and enterprises don't reverse these programs overnight. What product or service can Research In Motion offer to stem the tide of defections?
The Long Run
Now that the company's new leadership and recent ejection of VP-level executives suggests that it finally recognizes there's a problem to address, one looks for the ensuing solution. What is it?
In a word: quality.
If Research In Motion is to succeed with its BlackBerry v.10 transition, it will be because it continues to find users who believe quality - security, performance, usability - makes an attractively-differentiated product. The performance of the QNX-based operating system - the speed of the microkernel architecture and its ability to re-start most subsystems invisibly to users in the event of crash - has the potential to attract customers demanding reliability and security. Unlike some of the BlackBerry's competitors, Research In Motion's products have an excellent security reputation.
But is quality enough? Microsoft (MSFT) dominated the desktop software industry in the 1990s with products whose very architecture seemed specifically engineered to cause catastrauphic failure. Font-handling and GUI code in the kernel? Word processors that routinely open network connections? Email clients configured to execute attachments on receipt so users didn't even have to be tricked in to launching trojans? Web servers sold for interface with a hostile Internet, but which ran code in the kernel for performance so that bugs led to better-than-administrator privileges in the hands of successful attackers? The list is too long - and too awful - to describe. The catalog of horrors may say something about the culture and values at work in Redmond, but does it also say that customers can't tell quality when they see it -- or that they don't value quality?
The experience of Apple seems to suggest that customers can, at least in some circumstances, disciminate on the basis of quality. Marketed as crashing less and being more secure, Apple's Unix operating system powers fewer overall computers than Microsoft's various versions of its Windows operating system - but it powers the computers on which the most profit is made. Not every customer in the market is equal, and by targeting customers who are worth more to the ecosystem a company like Research In Motion that offers a differentiated product can enjoy nice profits without shockingly-large market share. Research In Motion doesn't need the business of the masses to succeed, it needs the business of a literati willing to pay for a top-quality product. If Research In Motion reaches these customers with a high-quality product - from packaging to app execution - it stands a chance to thrive on a differentiated niche market that enables profits that outstrip market share.
To get to that happy point, Research In Motion must first release the next-generation products on which its future apparently relies. Will it survive long enough to reap the success that could follow? In the same 2H2012 time frame in which Research In Motion is scheduled to release its first BBv10 products, Microsoft will reportedly release Windows 8 on phones and tablets (including three ARM tablets), Apple will likely release its next smartphone, and Google will enjoy the benefits of having had another six months to improve the ecosystem that currently captures the greatest slice of the mobile market by unit sales.
It's that cutthroat environment - not today's - in which Research In Motion will release its next-generation products. The question is whether, by the time it's available, there will be enough uncommitted market left on which the company can found its next mobile empire.
Conclusion
The rear-view mirror no longer offers a rosy view of continued profit. Significant inventory write-downs amidst dropping market share are not one-time problems, but symptoms of the major threat faced by the business. However, projecting the future of Research In Motion following the QNX purchase may be as challenging as projecting Apple's after the NeXT purchase: the future could be so unlike the past that it is worthless as a guide to the future.
The real question for shareholders is whether worsening margins and a turn toward quarterly losses is merely an effect of the transition to the QNX-based operating system or is the picture of things to come. Research In Motion has long-term agreements with numerous corporate clients, and regional strongholds of significant market share (such as in the UK, where it recently enjoyed double-digit share, and India in which it has significant brand value among youth), so good reason exists to think it will still have customers to impress in the second half of 2012. The test for success will be how thoroughly the BlackBerry impresses them when version 10 is delivered. If it's a great platform for developers and performs well for users, we know from the experience of Apple that one need not have enormous share to enjoy enormous profits.
Disclosure: The author entered a long/short position of +AAPL/-RIMM while the article Apple: The Long And The Short Of It was pending publication. As described in the article and its comments, the author's position is based not on a conclusion that RIMM will fail but on conclusions related to the relative competitiveness of the firms in the mobile market and in China. The RIMM short is subject to being closed without notice if short put positions are exercised by the holders of the options.