If there ever is a financial stock to own right now, it is Wells Fargo (WFC). They have been the most productive of the big banks and are on the verge of offering traders a nice options play.
Wells Fargo is the fourth largest holding company in the United States. Like most banks, Wells Fargo was negatively impacted by the credit crunch. While it was not forced to write down large losses like other banks were, it did get a credit write down after it acquired Watchovia. Currently, it is the nation's largest mortgage lender and the housing market will likely have an impact on the stock this year.
So if you are interested in the financial sector, there is a good reason why Wells Fargo should be on the top of your list as an investment, for it may have fared better than all the other banks.
It is in a neck-and-neck race with JPMorgan (JPM) to be the most profitable bank in the United States for 2012. The fourth quarter of 2011 was its breakout point as it surpassed all its rivals in earnings and ended the year 30% in the black compared to the big three: [JPMorgan, Citigroup (C), and Bank of America (BAC)]. The fourth largest bank beat the big three!
Projected profits for 2012 are said to be $17.5 billion and that rivals JP Morgan's profits set at $18.5 billion. Of the four big banks, it is the only one with a share price gain in the last year. Look at the difference in prices.
Wells Fargo (2011- $31.96; 2012 - $34.14)
JP Morgan (2011- $46.35; 2012 - $45.98)
Citigroup (2011- $44.50; 2012- $36.55)
Bank of America (2011 - $13.37; 2012 - $9.57)
Click to enlarge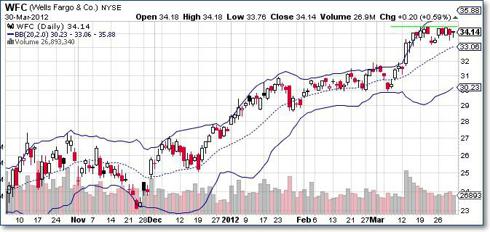 2012 should be a great year for the bank. Not only is owning the stock preferred, but it is on the verge of presenting a short-term opportunity using options too. Presently trading at $34.14, it has reached a critical junction in its quest to move into bullish territory. We believe it will move higher this year, but its present direction is in question. Because of this, we are suggesting a look at two different option plays, a bear put spread or a bull call spread.
It is presently moving sideways, unable to push above the $34 mark. If it breaks out above this level on increased volume, look at this Bull Call Spread play:
Buy an October 2012 '35' call (priced at $2.08)
Sell an October 2012 '36' put (priced at $1.61)
Net Debit to Start: $0.47
Maximum Profit: $0.53
This is a significant resistance level. If the stock cannot push through (like it has failed to do two other times in 2010 and 2011), then look at a Bear Put Spread. As an example:
Buy an October 2012 '33' put (priced at $2.42)
Sell an October 2012 '32' put (priced at $2.01)
Net Debit to Start: $0.41
Maximum Profit: $0.59
Wells Fargo is a great stock to own this year and will continue to offer opportunity to make money on a short-term basis also. Watch for the directional breakout with volume before a short-term trade is made.