The basic materials sector refers to companies involved in the discovery, development and processing of raw materials needed for creating products or to use in their raw form. The sector is also sometimes referred to as the basic industries sector.
The basic materials sector includes industries involved in the production of chemicals, metals and mining, paper and forest products, containers and packaging, specialty retail and construction materials. The sector is considered highly sensitive to changes in the business cycle.
Basic materials companies are often affected by changes in demand for the raw materials they offer and demand for the products made with those materials. Higher raw materials prices and/or lower demand for the processed materials they make will often hurt this sector and its components.
This is a review of the most heavily weighted basic materials companies within the S&P 500. I have included those components that have over a 5% weighting/allocation within the basic materials sector. The resulting six companies make up around 50% of the total weighting of the S&P 500 basic materials sector. I have provided their present yields and sector weighting, as well as their 1-month, Q1/2012-to-date and 1-year performance rates.
E.I. DuPont de Nemours & Co (NYSE:DD): DuPont produces specialty products for use in various disciplines, including agriculture and industrial biotechnology, chemistry, biology, materials science and manufacturing.
· Yield: 3.1%
· 1-month: 2.81%
· 2012-to-date: 15.55%
· 1-year: -3.77%
Monsanto Co. (NYSE:MON): Monsanto is a global provider of agricultural products for farmers. Our seeds, biotechnology trait products, and herbicides provide farmers with solutions that improve productivity, reduce the costs of farming, and produce better foods for consumers and better feed for animals.
· Yield: 1.5%
· 1-month: -1.19%
· 2012-to-date: 13.83%
· 1-year: 10.38%
Freeport-McMoran Copper & Gold Inc (NYSE:FCX): Freeport-McMoran is one of the world's largest copper, gold and molybdenum mining companies in terms of reserves and production.
· Yield: 2.7%
· 1-month: -3.7%
· 2012-to-date: -2.14%
· 1-year: -29.16%
Praxair Inc (NYSE:PX): Praxair is the largest industrial gas supplier in North and South America, with strong market shares elsewhere. Praxair's primary products for sale are atmospheric gases (oxygen, nitrogen, argon, rare gases) and process gases (carbon dioxide, helium, hydrogen, electronic gases, specialty gases, acetylene).
· Yield: 1.9%
· 1-month: 4.5%
· 2012-to-date: 7.24%
· 1-year: 12.83%
Newmont Mining (NYSE:NEM): Newmont is primarily a gold producer with primary assets or operations in the United States, Australia, Peru, Indonesia, Ghana, Canada, New Zealand and Mexico.
· Yield: 2.7%
· 1-month: -13.03%
· 2012-to-date: -14.56%
· 1-year: -6.05%
Dow Chemical Co. (NYSE:DOW): The Dow Chemical Company provides basic materials that are used in multiple growth sectors and industries, including electronics and other technology, energy, coatings, plastics and agriculture.
· Yield: 2.9%
· 1-month: 1.29%
· 2012-to-date: 20.44%
· 1-year: -8.24%
The basic materials sector is often the lowest weighted sector within the S&P 500. The 30 companies that make up this portion of the S&P 500 can also be tracked via the Materials Select Sector SPDR ETF (NYSEARCA:XLB), as well as several other tracking funds.
See a recent performance chart for XLB: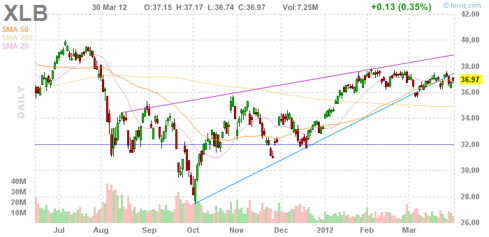 Click to enlarge
So far this year, the basic materials sector has appreciated about 10.35 percent. The sector has slightly underperformed the broader S&P 500, which appreciated 12.13 percent during the first quarter. A good deal of the sector's underperformance appears related to poor performance by precious metal miners.
Generally, the industries in the basic materials sector will not cycle into or out of favor simultaneously, but such can occur due to global recessions, severe commodity price volatility or other economic factors. Additionally, these industries do further sub-divide indo sub-industries that also may not cycle together. For example, within the metals and mining industry, the industrial metal and precious metal producers often not highly correlated.
Disclosure: I have no positions in any stocks mentioned, and no plans to initiate any positions within the next 72 hours.
Disclaimer: This article is intended to be informative and should not be construed as personalized advice as it does not take into account your specific situation or objectives.