The consumer discretionary sector is composed of companies involved in manufacturing products and/or providing services that are not considered necessities. This sector includes industries such as media, restaurants, hotels, luxury goods, automobiles and online retailers, among others.
Several of the industries included within the consumer discretionary sector are considered sensitive to business cycles, as the products and services are not essential and consumers may choose to limit their consumption during periods of economic weakness or uncertainty. Over the last several years, growth within the consumer discretionary sector has largely come through international expansion and recovering domestic media advertising.
This is a review of the most heavily weighted companies within the consumer discretionary sector of the S&P 500. I have included those components that have over a five percent weighting/allocation within the sector. I have provided their present yields and sector weighting, as well as their 1-month, Q1/2012-to-date and 1-year performance rates.
McDonald's Corp (NYSE:MCD): McDonald's operates 'fast-food' restaurants in the food service industry in more than 100 countries around the world.
· Yield: 2.9%
· 1-month: -1.4%
· 2012-to-date: -2.22%
· 1-year: 28.92%
Comcast Corp (NASDAQ:CMCSA): Comcast is a leading provider of video, high-speed Internet and phone services within the United States.
· Yield: 2.2%
· 1-month: 2.62%
· 2012-to-date: 26.57%
· 1-year: 21.39%
Walt Disney Co (NYSE:DIS): Disney is a diversified worldwide entertainment company with operations in five business segments: Media Networks, Parks and Resorts, Studio Entertainment, Consumer Products and Interactive Media.
· Yield: 1.4%
· 1-month: 3.55%
· 2012-to-date: 16.75%
· 1-year: 1.6%
Home Depot Inc (NYSE:HD): Home Depot is the world's largest home improvement retailer based on net sales.
· Yield: 2.3%
· 1-month: 6.12%
· 2012-to-date: 19.67%
· 1-year: 35.75%
Amazon.com Inc (NASDAQ:AMZN): Amazon.com is the world's largest online-only retailer.
· Yield: N/A
· 1-month: 7.92%
· 2012-to-date: 10.9%
· 1-year: 12.21%
The 78 companies that make up this sector's representation within the S&P 500 can also be tracked via the Consumer Discretionary Select Sector SPDR ETF (XLY), as well as several other tracking funds.
See a recent performance chart for XLY: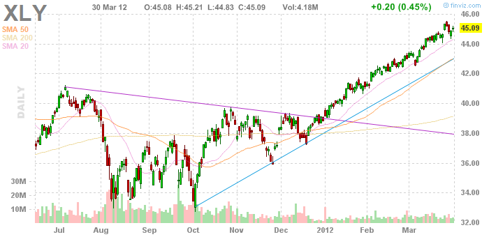 The XLY ETF appreciated 15.58% so far in 2012, outperforming the 12.13 percent that the S&P 500 appreciated through the first quarter, despite the heaviest weighted holding, MCD, depreciating 2.22 percent since the start of the year.
Some members of the discretionary sector are far less discretionary than the name would indicate. Retailers such as Amazon.com and Target (TGT) generally offer consumers competitive prices on a wide spectrum of products that run the gamut from true essentials to leisure and luxury goods. Such retailers may be better categorized as consumer staples, but they are not currently included in that S&P 500 sector. The best performing discretionary sector member within the first quarter of 2012 was Priceline.com (PCLN), which appreciated 53.41 percent.
Disclaimer: This article is intended to be informative and should not be construed as personalized advice as it does not take into account your specific situation or objectives.