Fossil (FOSL) has seen an explosion in the value of its stock over the last 3 years, and has gained 67.15% this year-to-date. In my previous article on Fossil, "Fossil Continues to be a Global Winner", I expounded on the reasons I believe Fossil is still a good buy. Value investors will argue that a 28.72 P/E ratio is a bubble and too much to pay for future growth. I agree that there is a significant risk of overpaying for entrance into a long position. When entry risk is juxtaposed with the short-term economic uncertainty in the market, the risk of value loss becomes too great for a risk adverse investor.
The market eventually will give the patient investor a good entry price into Fossil. I personally believe that the market is due for a downward short-term adjustment. When it does adjust downward, be ready to buy Fossil. The exact same organization with the exact same cash flows and growth prospects that was selling for $133 today, will be on sale when the overall market enters a downward cycle.

The most resent update on Fossil is the stock's recent addition to the S&P 500 (SPY). Fossil's stock has been selected to take the place of Medco Health Solutions Inc. (MHS). Medco Health Solutions Inc. is being bought out so it can no longer be listed as an independent equity.
I decided to look at the current performance of a few companies which had been added to the fund approximately two years ago, to see what kind of value impact being added to the S&P 500 has on an equity. Two years was selected as an appropriate timetable because two years is too short a time for a large company to alter its core operations, but still a long enough to identify strong trends in the company's stock price. These were my results:
S&P 500 Additions and Deletions (Approximately 2 years ago)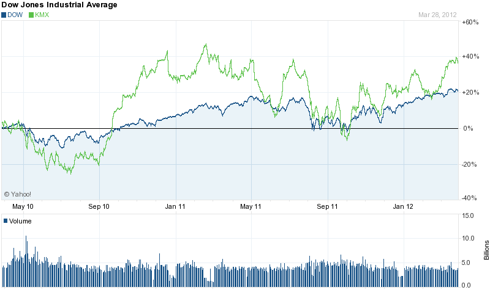 Click to enlarge
Carmax (KMX) replaced XTO energy on the S&P 500 on June 25th, 2010. Carmax's stock closed on that day with an adjusted value of $21.35. Carmax closed today at $34.17. The stock gained 64.73% over the last 2 years.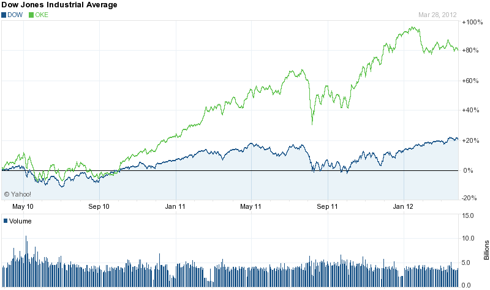 Click to enlarge
On March 12th, 2010 the S&P 500 replaced Black and Decker with Oneok (OKE). On March 12th, 2010 Oneok was trading for an adjusted value of $43.64. It is currently valued in the market at $81.83. That is an 87.51% increase over 2 years.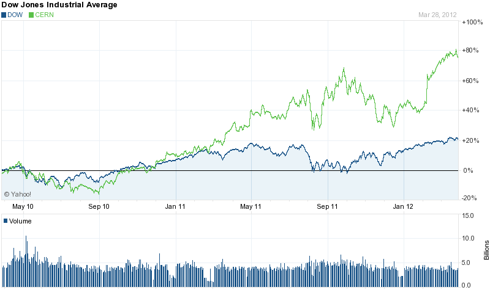 Click to enlarge
The Cerner Corporation (CERN) joined the S&P 500 on April 28th 2010, after BJ Services was bought by Baker Hughes Inc (BHI). On April 28th, 2010 Cerner Corporation's stock closed at an adjusted value of $41.85. On March 28th, 2012 Cerner Corp.'s stock closed for an adjusted value of $75.79. Cerner Corporation's stock gained 81.1% in a little under 2 years.
I was skeptical of the "too good to be true" nature of these results and decided to look at companies which were added during March 2006 or 6 years ago. The year 2006 was chosen instead of 2008 because of the market turmoil in 2008. Also, the market conditions of 2006 are similar to the markets we observe today. I won't post graphs, but the results were:
Google (GOOG) was added to the S&P 500 on March 2nd, 2006.
Today's Price: $655.76

Price when added: $376.45

% Change over 6 years: 74.20%
Juniper Networks (JNPR) was added to the S&P on June 2nd, 2006.
Today's Price: $22.41

Price when added: $16.95

% Change over 6 years: 32.13%
Cognizant (CTSH) was added to the S&P 500 on November 15th, 2006. Today's Price: $76.40
Price when added: $40.05

% Change over 6 years: 36.35%
Conclusion:
A company's stock value benefits from being a member of the S&P 500. To clarify, I am not arguing that every S&P 500 entrant is a winner, that would be overly optimistic. I am arguing that The S&P 500 provides many advantages to stocks which are selected to join the ranks. Being a part of the S&P 500 provides increased institutional investment, decreased perceived risk, and more publicity. All of these factors are positive catalysts for a stock's market value. Carmax, Oneok and Cerner Corporation's operations did not change in two years, instead the market sentiment changed around the companies. As a result, the stock values rose.
Trade:
The addition of Fossil to the S&P 500 increases the stock's inherent value, but because of the short-term uncertainty in the market, I cannot suggest an immediate purchase of Fossil. I suggest a purchase of Fossil stock during a general market downturn. A long call with a long expiration date, or a stock position would allow for potential capture of long-term uncapped gains.
In the short-term, there is a strong probability of small gains, but you will be playing with fire. America's slower-than-expected recovery has a the potential to drop the market like a stone with the release of disappointing economic data. If you're willing to risk it and still want to get your hands dirty, I suggest:
APR 12 130 / 140 Call Spread
Break-Even: 134.65

Total Risk: $435

Max Profit: $535

Return-on-Risk:115.15%
Or
APR 12 135 / 140
Break-Even: 136.95

Total Risk: $195

Max Profit: $305

Return-on Risk: 156.41%
Disclosure: I am long FOSL.