Europe is not the only major commerce center that is trying to balance its budget. India is trying to balance its budget, and it is trying to keep inflation in check. Indian inflation ramped up in February to 7.57% (CPI-IW) from January's 5.32%. On top of that, the Indian Trade Deficit grew from $14.7B for January 2012 to $15.2B for February 2012. The Indian Trade Deficit has racked up $166.8B in debts from April of 2011 through February 2012 (greater than $180B+ for the Indian fiscal year). India imported 930 tons of gold for FY2011. If you use a ballpark average price of gold of $1650/oz. for the full year, this means India imported $49.1B in gold alone in 2011.
This is a non-negligible part of India's Trade Deficit. To combat this trade deficit (and to raise tax monies), India raised its import tax on gold bars and coins to 4% from 2% in India's budget plan for the coming year which starts in April 2012 (this Monday). India also levied an excise duty of 1% on jewelry. This includes sales of jewelry produced in India, not just imported jewelry. Trade groups are currently striking against these new taxes, but the taxes remain. The government has shown some willingness to discuss the new tax on all jewelry, but it has shown none to discuss the new tax on the gold bar and coin imports. A Reuter's poll of retailers, jewelers, and brokers suggests that Indian gold imports might slide by more than 30% to about 600 tons this year. This is effectively a huge 300+ tons of gold that is being dumped on the world market. Plus, keep in mind that the 2% import tax on gold bars and coins had only been in force since January 2012. I don't think the realization of the effects of these taxes has really sunk in with most investors yet. It doesn't make me want to invest in gold. All those looking for safety in gold this year might want to take another look.
Is there any chance the government will substantially change its position? It seems unlikely. The government recognizes that the gold imports are a Catch 22 situation. Indian citizens buy gold to protect themselves from the dangers of inflation. However, they buy so much gold that they end up substantially contributing to inflation through a huge addition to the Indian Trade Deficit. This could easily degenerate into a death spiral. The Indian government will want to avoid that at all costs, no matter how fervent the protests are. A roughly $180B+ yearly trade deficit for India from April 2011 through the end of March 2012 has assuredly put some steel in the government's backbone. The Indian economy does not depend on gold to grow in the same way it depends on energy.
Unfortunately this is not the only headwind gold faces. The coming EU recession will add to gold's woes. The "sell everything" attitude will likely pervade Europe if only for the short term. If the EU recession leads to another recession in the US and a hard landing in China, those headwinds will turn into a class 5 hurricane. A quick look at the five year chart of the SPDR Gold Shares ETF (GLD) shows the downtrend in gold prices from when the US recession became an almost certainty in early 2008 until just after it was confirmed as a fact in the fall of 2008.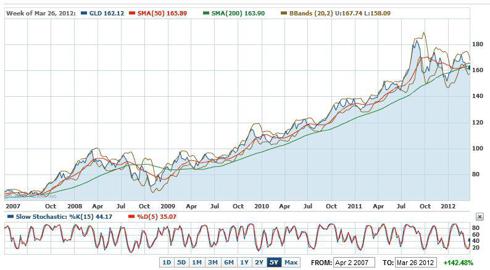 The EU recession has not yet been confirmed. We are still months away from the earliest date at which this can occur. We still do not know if the US will follow the EU into recession. We still do not know if China will have a hard landing. China's GDP growth rate has already slowed from 10.3% in 2010 to the latest forecast of 7.5% for 2012. It may slow further. As China's growth rate slows an increasing number of loans made with expectations of 10%+ growth will sour. An increasing number will have to be written off, and this does not just affect construction businesses and banks. Construction got so profitable in the last decade that a lot of businesses started up their own side businesses of construction. If their real estate investments go bad, a whole line of dominoes could fall. It is hard to even estimate how bad the situation could get.
The wildcard in this whole scenario is the SPDR Gold Shares ETF , the iShares COMEX Gold Trust (IAU), and other funds like them. If Indians, finally decide that paying a roughly 5% premium to invest in gold is too much, they may turn heavily to equities alternatives such as the GLD, which invest in gold for them. As far as I know, these are immune from the new Indian taxes on gold, as their gold is never imported to India. However, reason says that the Indian people will not change their behavior quickly or easily. Such a change in investing behavior would likely take years, if it occurs at all. I am sure the GLD and IAU ETFs may see some added interest, but that interest will be tempered near term by a likely downward trend in the price of gold.
I do not mean to say or imply by this article that the long term bull case for gold is over. However, the Indian situation should present a significant bump in the road. It is a bump that I as an investor choose to avoid. Others can make their own decisions. I would exit gold positions here, but I might return in the fall?