Within money management, there are two distinct styles of asset allocation - top down and bottom up. The top down framework utilizes macro trends in order to make sector allocations, typically with the belief that allocation to the appropriate sector will help create alpha relative to a benchmark (think of PIMCO, generating a macro framework and the rest trickles down from this). The bottom up framework utilizes asset selection with the belief that investing in the right assets (companies) will help create alpha relative to a benchmark (think of Dan Fuss at Loomis, the portfolio is a collection of cheap assets).
Then there are the hybrid models, which start out with a macro framework and find the right companies to drive alpha. Most managers I have spoken with (either as a researcher for a consulting firm or as a peer in the investment management industry) consider themselves to be top-down/bottom-up managers. It is very difficult to accomplish both tasks well, but intuitively, you have to have a macro idea to select cheap securities.
With the first quarter of 2012 behind us, it is a good time to take a look at the landscape and see whether changes are necessary within portfolios. This article focuses on the REIT sector and explores whether investors might generate alpha by reallocating their exposure within the sector.
Let me begin with my macro framework. I believe that the domestic (US) economy is recovering and that employment and corporate profits will grind higher. I also believe that housing is dead money for the near future and the demographic shifts that have taken place will not change significantly in the near future (homeowners will be homeowners, renters will be renters and the transition between the tow should be almost flat). I also believe that commercial real-estate (and its derivatives) will outperform the broader markets (or else a swap out of REITs in the entirety would be in order).
The following table (from NAREIT data) shows performance data across REIT sectors:
click to enlarge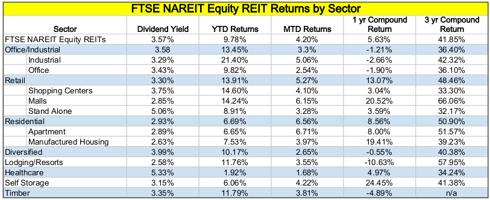 Click to enlarge
Source: NAREIT (REIT.COM)
A large part of my recommendations are based on the premise that outperforming sectors will not always outperform and it is often wise to take gains in the outperformers and reinvest the proceeds into those sectors which have lagged, but stand to benefit within the macro framework.
It is also important to keep in mind that name specific swaps are utilizing more widely held "high grade" companies. This, for the time being eliminates "credit stories". I do realize that within the "credit stories" there is value and upside, and I will be reviewing these for future potential swap ideas.
The following table summarizes my reallocation/swap ideas: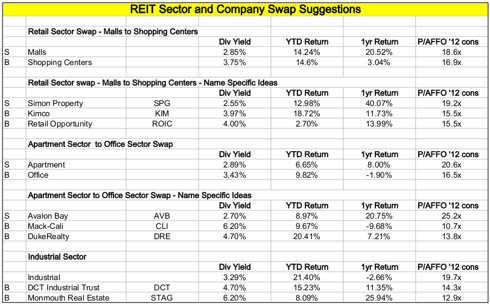 Click to enlarge
Data from BMO, Morningstar and Yahoo!
One of my first swap ideas is coming out of malls into shopping centers. The retail shopping center was punished during the downturn and has not yet recovered, whereas malls have fared better. As I believe that the economy has bottomed and begun to rebound, retail centers stand to benefit from increased employment levels, higher discretionary income and consumer confidence generally. The performance gap between the two sectors should, therefore, narrow.
One swap that can be done to take advantage of this is out of Simon Property (SPG) and into Kimco (KIM). Simon has performed well and is, undoubtedly, a best in class REIT. Kimco has not fared as well due both to its shopping center nature and their repositioning of their portfolio. I believe the heavy lifting within Kimco has been done and the company should outperform the sector. Retail Opportunities Investment Corp (ROIC), being one of the newer kids on the block, has fewer legacy assets to reposition and should be able to take advantage of increased traffic and spending within the shopping center space.
My second sector swap is selling apartments and redeploying that capital into office. The rationale for this is straightforward: the massive shift from owning to renting has mostly occurred. While there is certainly more to go, the bulk of the shift has happened and outperformance going forward will be harder to achieve. The office sector has not fared well due to the economic downturn and the resultant belt tightening within corporate America. As the economy grows, business should be more comfortable increasing their office space which should help stabilize and then grow rents within the sector.
One swap that can be done to take advantage of this is selling Avalon Bay (AVB) and buying Mack-Cali (CLI) or Duke Realty (DRE). Avalon is the big daddy of the apartment sector and plays within the high end of the sector. If the bulk of the owning to renting has occurred, the high end of the market will have a more difficult time driving rents higher in order to outperform. Conversely, Mack-Cali and Duke (which is more of a mixed office/industrial) have had a harder time coming back due to corporations limiting expansionary capital into the industrial space. That said, as we enter an expansionary phase of the economy, industrial properties should be well placed to increase base rents and achieve higher square foot values.
Industrials can also be utilized on the buy-side of the swaps, as it has underperformed over the last year, but should do well within the macro framework. As a result, I have listed two REITs within the industrial sector that could be outright buys or bought on swap out of the mall/apartment space.
The rest of the sectors I am comfortable with at their current valuations and outlook. One other idea might be positioning the "specialty" REITs like Digital Realty (DLR), Alexandria Real Estate Equities (ARE) or Biomed Realty (BMR). Due to the specialty focus of these REITs (datacenter, research facility and life sciences, respectively), they can be used as a compliment to various other sectors within a REIT or income portfolio.
While I believe that REITs will continue to outperform, the tactical allocation among and across sectors in response to a macro-framework is a necessary function and process within portfolio management.
Disclosure: I have no positions in any stocks mentioned, and no plans to initiate any positions within the next 72 hours.