In Al Reis and Jack Trout's best-selling book, The 22 Immutable Laws of Marketing, the globally-recognized marketing strategists offer a compendium of twenty-two innovative rules for understanding and succeeding in the international marketplace. In this exceptional book, the co-authors describe valuable insight into many leading brands that are also categorized into rules that are distinguished by principles of marketing success. As Reis and Trout wrote,
When a company makes a mistake today, footprints quickly show up on its back as competition runs off with its business. To get the business back, the company has to wait for others to make mistakes and then figure out how to exploit the situation.
Avoiding mistakes is an essential element to risk-control and developing a successful marketing strategy is a fundamental attribute to long-term survival. Conversely, brand awareness is directly correlated to profitability and the strength of a brand is identified by at least one law of marketing.
The Law of Focus (Rule #5)
The most powerful concept in marketing is owning a word in the prospect's mind. As Reis and Trout wrote,
A company can become incredibly successful if it can find a way to own a word in the mind of the prospect. Not a complicated word. Not an invented one. The simple words are the best, words taken right out of the dictionary.
In the law of marketing, a company narrows its focus to a few select words and the differentiated leader owns these words and the words are so simple they are practically invisible. For example, when you think of overnight, you think of Fed Ex (FDX). When you think of cola, you think of Coca-Cola (KO). Or when you think of ketchup, you think of Heinz (HNZ). The essence of marketing is narrowing the focus and brands become much stronger when they reduce the scope of operations so they stand for one thing - not everything.
Extra Space - A REIT with a Narrow Focus Summed Up In Two Words
A brand is a set of differentiating promises that link a product to its customers and the most powerful two words that describe the self-storage industry is extra space. One such name-sake REIT with strong brand identity that has made a strong connection with consumers is Extra Space Storage (EXR).
With around 882 properties in 34 states (and Washington, DC), Extra Space is the second largest self-storage REIT in the U.S. and the differentiated space provider continues to build its 35-year-old brand (founded in 1977) with strategically aimed customer service and innovative risk management. Built on a systematic product platform as well as exceptional customer service, the differentiated REIT has proven that it does not just earn money (for investors) but it also provides strategic value to its diverse customer base. These distinguishable attributes make Extra Space an exceptional risk-aligned investment choice characterized by sustainable income and principal preservation.
Based in Salt Lake City, Extra Space Storage owns and manages a growing portfolio of around 882 properties that include 356 wholly-owned facilities (40 percent of portfolio), 341 joint venture facilities (39 percent of portfolio), and 185 managed facilities (21 percent of portfolio). Extra Space's strategic growth and expansion platform has been a direct result of the highly fragmented business fundamentals that has led to industry-wide consolidation. By exploiting the law of focus, Extra Space has gained a competitive advantage over its peer group and built a powerful brand-name along the way:
click to enlarge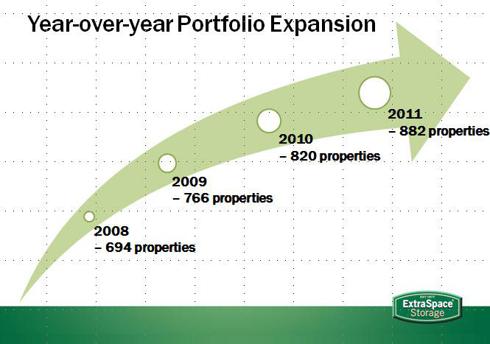 Click to enlarge
During the last quarter of 2011, Extra Space acquired 28 properties for a purchase price of $189.9 million (of the 28 properties purchased, 19 came from a previously announced portfolio acquisition located in California) and also increased the company's third-party management program to 185 properties. As evidenced by the map below, Extra Space owns and manages a diverse portfolio with leading presence in many of the top markets: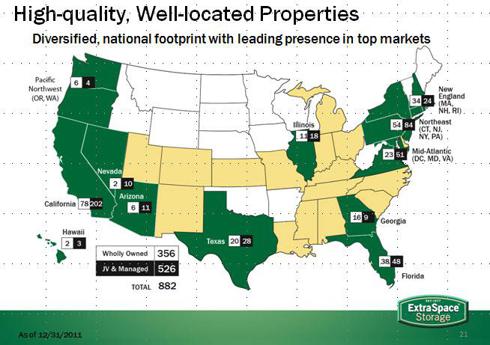 Click to enlarge
Clearly, demographics play an important role in brand identity and Extra Space has demonstrated its strength with its leading indicator of population density. Based on SEC filings, Extra Space enjoys a strategic advantage in its average three mile population radius. Here you can see how the risk-aligned REIT compares with the publicly-traded peers: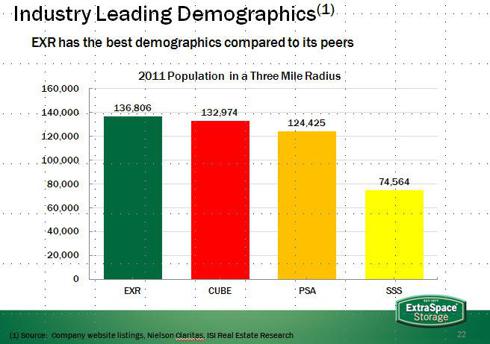 Click to enlarge
In addition, Extra Space enjoys a leading advantage with its three mile average household radius. Again, the quality of income (customers) is directly correlated to the strength of the REIT brand.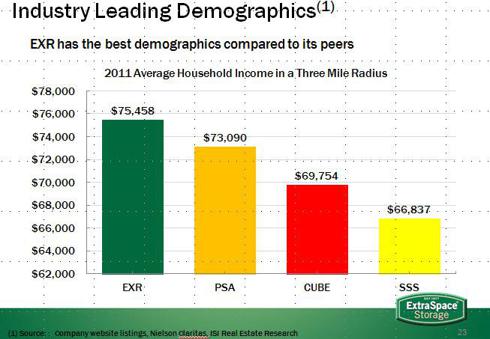 Click to enlarge
A REIT Focused on Results
As an indicator of the most recent trends, Extra Space is focused on results. During the last quarter (Q4-11), Extra Space increased same-store revenue and net operating income ("NOI") by 5.8 percent and 9.3 percent, respectively, as compared to the same period in 2010. In addition, the durably attractive REIT grew same-store occupancy by 310 basis points to 87.8 percent at December 31, 2011, compared to 84.7 percent as of December 31, 2010. This consistency is achieved by focusing on revenue maximization as opposed to a model that is focused solely on pricing or occupancy. The snapshot below demonstrates the consistency of the Extra Space rental trends (2006-2012):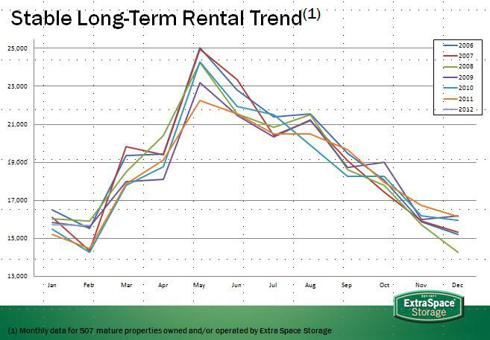 Click to enlarge
This focused revenue maximization model has allowed Extra Space to achieve $1.20 in FFO for the year and 7.6 percent annual same-store NOI growth (an increase of 310 basis points in same store occupancy). Here is a snapshot that illustrates the consistently focused revenue model for Extra Space (and its publicly-traded peer group):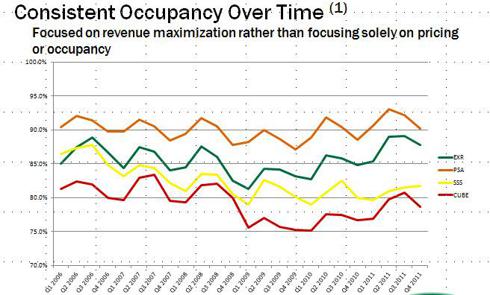 Click to enlarge
By focusing on revenue performance, Extra Space has led the self-storage REIT sector for the last 24 quarters in average same-store performance. Spencer F. Kirk, Chairman and CEO of Extra Space Storage Inc., commented on the REIT's most recent results:
With strong property performance and robust acquisition activity we produced 32 percent annual growth in our FFO per share over 2010 and delivered an excellent return to our stockholders. We are intensely focused on the fundamentals that drive our business. Strong execution on the basics and continued innovation will drive our success and allow us to capitalize on an environment marked by higher occupancy, stronger pricing and limited supply.
Here is a snapshot of the Q4-11 leading storage sector performance (note: NOI growth went thru the roof):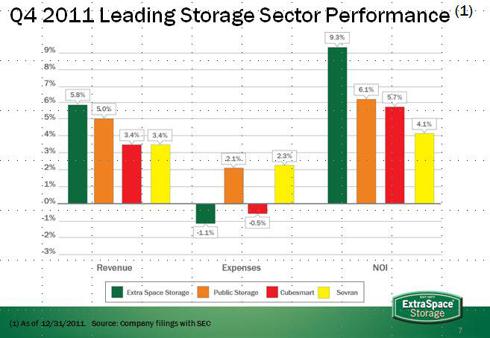 Click to enlarge
Extra Space has a market cap of around $2.6 billion and total debt of around $1.4 billion. The debt structure allows for considerable flexibility as the REIT has fixed-rate debt of around $819 million (61 percent), variable-rate debt of around $118 million (8 percent), lines of credit of $215 million (16 percent), trust preferred shares of $120 million (9 percent), and convertible bonds of $88 million (6 percent).
In addition, Extra Space has well-staged debt maturities: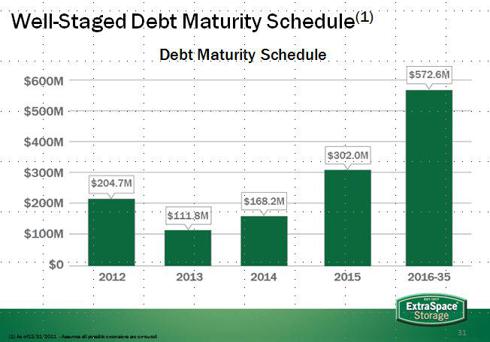 Click to enlarge
Cutting Edge Innovation
NAREIT lists four self-storage REITs with a combined market capitalization of around $27.995 billion and within this storage sector the average dividend yield is 3.0 percent. Extra Space and its peer group, consisting of CubeSmart (CUBE), Public Storage (PSA), and Sovran (SSS), should all continue to benefit from industry consolidation; however, Extra Space has focused on its "cutting-edge" revenue and occupancy model. This strategic initiative has allowed Extra Space to achieve occupancy levels that meet customer demand while also providing lease rate optimization.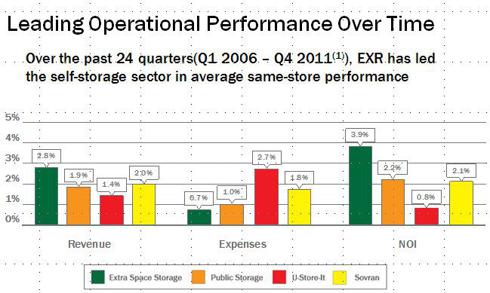 Click to enlarge
This strategically deployed cutting-edge platform is built on sound revenue management, innovative marketing, and sophisticated information technology. Accordingly, Extra Space does extensive statistical and analytical testing on every aspect of the business to drive optimal results. In turn, this leads to maximized efficiency and results in greater brand awareness that leads to enhanced profitability.
Extra Space's stock price has been climbing nicely for the past two years. The current price is $28.79 a share and that is close to its all-time high of $28.92. In addition, the Russell 3000 REIT (provides special status as one of the largest 3000 companies on the U.S. stock markets) is paying a 3.0 percent dividend and the company's total return in 2011 was forty-three percent.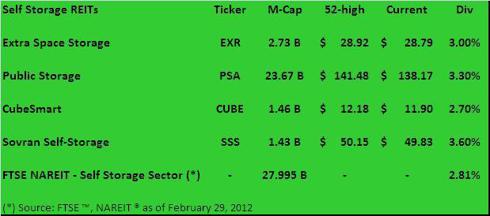 Click to enlarge
The "Extra Space" narrowly focused strategy is also the essence of its differentiated brand. Because of its reduced scope of operations, Extra Space gains broad recognition as a sustainable REIT brand. The power of this well-balanced platform provides sound diversity while also providing a unique identity as one of the best managed REITs in the industry. With a risk-aligned platform distinguished by the law of focus, Extra Space should continue to provide sound income and growth - making it an extraordinary SWAN (sleep well at night) investment choice.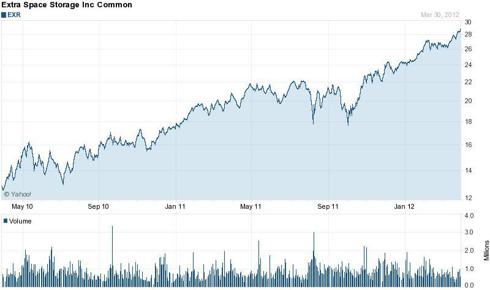 Click to enlarge
Disclosure: I have no positions in any stocks mentioned, and no plans to initiate any positions within the next 72 hours.