Recently, many restaurants such as Chipotle Mexican Grill (CMG), which I covered in an earlier article, are doing fairly well in the stock market,. In this article I analyze BJ's Restaurants (BJRI), another high flyer in this bullish run. In my opinion, it is a great restaurant business but a very lousy stock to invest in.
Click to enlarge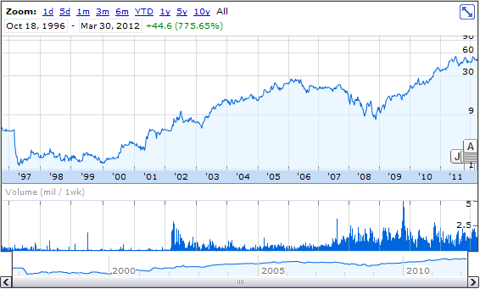 The first time I visited BJ's, I was quite impressed with its long menu and large variety of foods. The offerings on the menu are perhaps 2~3 times those at the Olive Garden. The food was pretty good, and each restaurant also has a full bar, offering a spectrum of BJ's beer with different brewing styles. I couldn't help noticing the waiters / waitresses were all very young-- they all appear to be in their earlier 20s. I liked the restaurant, and when I came home, I checked and found that BJ's was a public company. I took a look at its income statement, which turned me off -- that expensive? Let's examine BJ's stock and its business.
BJ's currently has 116 restaurants. It opened 13 new restaurants in 2011 and plans to open up to another 16 in 2012-- not a very fast growing pace. Yet BJ's current market cap is $1.41 billion, valuing each restaurant at more than $10 million. Since BJ's incurs high capital expenditure in its expansion phase, the high price/earnings (P/E) ratio of 46 can be misleading. So I'll use BJ's operating cash flow of $88.62 million to calculate its valuation. Given the current situation, I don't expect BJ's operating or profit margin (10% and 5% respectively) to become very different from similar restaurants.
To consider the long term investment return, it is easier is to simply estimate how big BJ's can become eventually. For this purpose, given BJ's restaurants' size and positioning, I benchmark it against two different chains for an upper and a lower bound of its restaurant count potential. Darden Restaurants' (DRI) Olive Garden and Red Lobster chains have about 700 restaurants each. So I use 700 as BJ's upper bound growth potential. PF Chang's China Bistro (PFCB) has about 200 Bistro restaurants and it is not growing much anymore. So I use 200 as BJ's lower bound growth potential. Personally, my judgment is that the lower bound is more realistic than the upper bound. Nevertheless, at the BJ's planned expansion rate of 11% and a price/operating cash flow ratio of 8 (current ratio for Darden's), here are the projections:
| | | | |
| --- | --- | --- | --- |
| Projected Numbers | Best Scenario | Worse Scenario | Average |
| Restaurant Count | 700 | 200 | 450 |
| Operating Cash Flow ($million) | 535 | 153 | 344 |
| Market Value ($million) | 4280 | 1224 | 2752 |
| Years Need (11% Restaurants Growth) | 17 | 5 | 10 |
| Long Term Return | 6.75% | -2.79% | 6.92% |
| If growing faster (12 and 8 years instead of 17 and 10 years in the two scenarios) | 9.69% | -- | 8.72% |
Even from a vastly optimistic point of view, at the current valuation, the long term return of BJ's is below 10%, at 9.69%. Mind you, S&P 500 index's average long term return is around 9%. This is not an impressive investment at all. If things turn sour (PF Chang's scenario), the eventual market value of BJ's may never become consistently higher than $1.41 billion, its current value.
Given the analysis above, the conclusion is obvious: BJ's stock is currently overvalued. It is not a worthy long term investment. With the way insiders are selling their shares, they seem to agree.