Celgene (NASDAQ:CELG) has a 62% difference between its current 52-week high and low. What's impressive about that is the fact that there are almost 52 weeks between those two marks. Celgene has been a diamond in the rough-patch that has been big-cap biotech over the past year, returning 70% since September 14, 2006.
While big-cap biotechs Amgen (NASDAQ:AMGN) and Genentech (Private:DNA) have seen their stock prices flounder (AMGN has fell 20% over the past year; DNA is flat), Celgene has continued to give investors what they want when investing in biotech--growth.
Celgene grew its earnings per share 475% over the past 12 months versus the previous 12 months. Revenues have grown 76% over that same time. Analysts expect the company to post 100% growth in EPS for the fiscal year 2007, as well as 58% growth in revenue.
Celgene's growth has been fueled by booming sales of Revlimid, which treats myelodysplastic syndromes [MDS] and myeloma, which are types of bone marrow and blood cancers. Its other lead products are Thalomid and Alkeran, which also treat blood cancers. The company also receives royalty revenue from Novartis (NYSE:NVS) for sales of Ritalin and Focalin, which treat attention deficit disorders. The company also has several clinical trials for drugs treating various cancers as well as psoriasis and arthritis.
Trading around $69 currently, Celgene is at some lofty levels. It trades with a P/E of 185, although forward P/E estimates are 42. I think investors need to trade cautiously with Celgene up here. Personally, I would not be a buyer here. However, investors love growth and as long Celgene keeps providing the numbers, the stock could continue its upward move. The next earnings date for Celgene is October 25.
CELG 1-yr chart: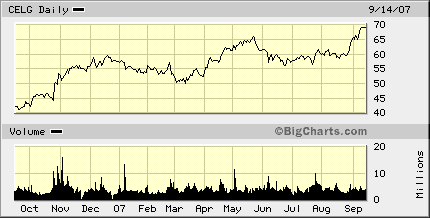 Disclosure: I do not have positions in any of the stocks mentioned.