In an earlier article, we recommended buying Philip Morris International (PM) over the other popular tobacco stocks like Altria Group (MO), Lorillard (LO), and British American Tobacco (BTI). We wanted to evaluate how these stocks have done since that article was published here. The results are given below, for the time period between January 17th 2012 (opening price) and March 30th 2012 (closing price). While one quarter need not be the "be-all end-all", a promising start is encouraging. So here are the results (including dividends):
Philip Morris has returned the highest at 15.93%

Lorillard comes mighty close at 15.08%

British American Tobacco at 12%

Altria has gone up 7.5%

Reynolds American Inc (RAI), which was not included in the original article has done the worst with 1.4%
Ironically, the timing of the original article almost exactly coincided with the lowest point in the price chart shown below. From that point on, PM has broken through various technical resistance points and has gone to $88. Without meaning to blow the horns, another article on PM being overbought was published on March 4th. That coincided exactly with PM's recent highest overbought level. And since then, the RSI has cooled off for PM and the stock seems to be forming a strong base in the $85 range.
Click to enlarge: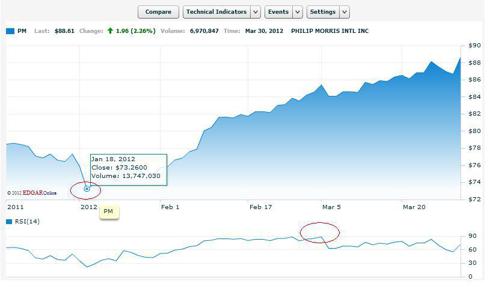 (Source: Nasdaq.com)
The Future:
We continue to believe PM will outperform the rest of the stocks due to its international growth. PM is the only international tobacco company with a partnership in China, a fantastic market due to its population.

Dividends and share buybacks are in PM's genes and investors can feel very confident about another increased dividend coming their way in September 2012. Based on the last few increases, we expect the new dividend to be 85 cents a share, at least.

While there is no denying the market in general has gone up too far recently, investors who are already with PM will still be better off reinvesting their dividends and letting their holdings run for the long run, instead of trying to time the cycle.

If you have no position in the stock, a good strategy will be to buy a few at current price levels and average down if the stock goes down. You can do much worse than buying a growth stock yielding 3.6%.

Even though Lorillard has performed well and has higher current yield, we believe the company's over-reliance on Menthol cigarettes is a red flag.