Weekly Outlook: The last week of the quarter did was not as bullish as we thought. It may be due to some issues surrounding economic data that was not as solid as expected and a lack of buying heading into Q2. So, what can we expect in our first week of Q2 and moving forward for the entire quarter? Our overall take is that Q2 may be a time when we see some flat to weakness in the market that will allow for another second half rally to finish off the year.
We do need some stocks to pull back from these levels they are at currently to provide an incentive for the market to continue higher from here. It may not be a terribly volatile market into earnings, but that will be what provides the next major move for this market.
There is a lot of economic data coming out this week and after a disappointing week of data last week, this week's data will need to be very good in order for us to avert a continuation of weakness in the market. Here is some of what we will be watching this week. Monday, we get the ISM Index and Construction Spending. Tuesday, we will get information on Factory Orders and Auto/Truck Sales. Wednesday, will be ADP Employment and ISM Services. Thursday will be Jobless Claims.
Friday will finish up with Nonfarm Payrolls, Unemployment Rate, and Consumer Credit. All in all, it is a very busy week for data. It all leads to the employment data that provided a significant catalyst for the market one month ago. Therefore, we believe that downside will be limited to start this week into the report as long as the economic data is cooperative. The markets are closed on Friday, so the data that is released on Friday will not be able to be reacted to until Monday.
Outside of data, the situations in Europe and Asia will continue to be very important to the market. Europe and Asia will not be as dominant with so much data at home to sift through this week. The key reports for Europe and Asia are China's Manufactuing Index on Monday, the EuroZone Producer Price Index on Tuesday, the EuroZone Retail Sales report and ECB rate decision on Wednesday. The Bank of England rate decision and asset purchase target are going to be announced on Thursday as well as the Great Britain's GDP estimate. A good report from China's manufacturing data will be important to start the week, and the rate decisions from the ECB and BOE as well as their commentaries will also go a long way.
So the market will be facing a pretty fascinating week ahead. The market is setting up much like last year where things appeared better before the summer before quickly trailing off. The unemployment numbers need to stay down and employment numbers need to stay in moderate growth to keep things moving in the right direction. We have a ton of economic data to deal with this week as well, and it is earnings season right around the corner. We cannot expect a huge decline with jobs data and earnings coming up soon, but weak China manufacturing data, along with other weak data, will not allow for the market to continue higher.
We do have some interesting earnings this week to look at for the market, and it is definitely important to keep these earnings in mind as we head into earnings season. Monsanto (MON), Bed Bath and Beyond (BBBY), CarMax (KMX), and Pier 1 Imports (PIR) are the four main reports that we will be looking at for some analysis. MON gives us a look into agricultural fields, BBBY and PIR a look at the conusmer, and KMX a look at the health of the automotive industry. Earnings are limited before the big season starts, but a continued look at how these small samples are doing in comparison to estimates as well as guiding will be key.
Overall, we see the market as definitely having a key week to decide where it will go next. Bad data and employment numbers that are weak could be devestating for some time. At the same time, China and Europe are definitely always on the radar. To keep this bull rally going, we need good data. A pullback, though, may be better for the longrun as long as the economy is not ruined.
Stocks To Watch:
Two stocks we will be watching this week are Bed, Bath, and Beyond as well as Nordstrom (JWN). We are excited to see the earnings of BBBY. The company is supposed to see earnings at 1.33 vs. 1.12. The company broke out last month, but it has had trouble getting over 70. We believe the company has a lot of upside from these levels. The company is operating at just under a 15 forward P/E and just over 17 current P/E. The 0.21 increase in FY EPS will bring the stock price to around 17 keeping P/E the same.
We believe that the company continues to operate as the leader of market share in home goods, and with spending increasing as well as employment, we like the future for BBBY. Nordstrom, as well, looks quite compelling right now. A recent upgrade from Goldman Sachs is helping keep JWN going along, and the stock is on an amazing uptrend. The stock has broken out from an upward wedge in February, and it has not looked weak for quite some time. We are looking for them to increase any further.
click to enlarge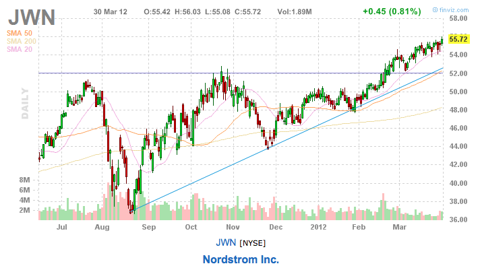 Click to enlarge
Oxen Group Holdings:
We have the following positions. In our Short-Term Equity Portfolio we are long Nordstrom . In our Options Portfolio, we are long Visa (V), PetSmart (PETM), Google (GOOG), IBM (IBM), Starbucks (SBUX), and short Apollo Group (APOL) and iShares Russell 2000 (IWM). In our Earnings Portfolio, we are long Coinstar (CSTR), Canadian Pacific (CP), Panera (PNRA), Monsanto , Goldman Sachs (GS), and Ulta Salon (ULTA).
Chart courtesy of finviz.com.
Disclosure: I am long JWN.