Wall Street may not have taken well to Altria's planned split into separate domestic and international tobacco companies, but Barron's believes it will be a profitable move for shareholders. Among the potential positive developments will be large share repurchases, substantial cost cuts, better pricing and stronger execution. After spinning off the international business, Altria will be left with Philip Morris USA and an $11B equity stake in London-based brewer SABMiller. While Altria's P/E ratio is in-line with other tobacco companies, Barron's notes that the stock, at $67, is trading at about 16 times 2007 estimates -- a discount to the 20 times average of most major food and household products companies. One analyst believes the stock could reach $87 12 months out. Meanwhile, Barron's says both Altria and Philip Morris International are likely to make aggressive stock repurchases after the break up, estimating that Altria could buy back some $10B of stock and Philip Morris International $25B within 18 months. It also expects the Altria will be a "dividend play," with a 5%-plus yield.
Sources: Barron's
Commentary: Altria: Hold Your Shares In The Spin • Expecting Upside in Altria Following PMI Spinoff News • Get Addicted to Altria Before Philip Morris Intl. Spinoff
Stocks/ETFs to watch: MO. Competitors: RAI, CG
Earnings call transcript: Altria Group Q2 2007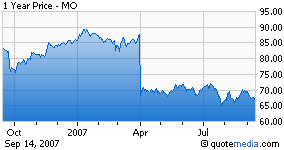 Seeking Alpha's news briefs are combined into a pre-market summary called Wall Street Breakfast. Get Wall Street Breakfast by email -- it's free and takes only seconds to sign up.