Addressing the "local" market has become the latest fad felt on Wall Street. Over the last few years, public IPOs for social internet companies have opened investment opportunities into the local flavor with much hyped names such as Groupon (GRPN), OpenTable (OPEN), Angie's List (ANGI), and Yelp (YELP). The introduction of ANGI and YELP bring about companies dedicated to monetize off of the "local review" business. Yet the outlook for this review listing sector remains yet to be determined.
As the most recent of these IPOs, Yelp's entrance into the public arena sustains the mystery over the sector's outlook and capitalizes upon the popularity it's received. Having completed an offering one month ago, Yelp enters the market renewed with a fresh round of capital at its disposal. Pricing its offering at $15/share, the company managed to price above the expected $12-14/sh marketing range that had originally been expected for the local review service. Now equipped with an additional $107 million from the offering, the popular internet company faces the challenge of being able to live up to the expectations pegged by the public measured by its lucrative valuation.
Indeed the question remains over how it is that these "review listing" companies will successfully monetize their operations in order to capitalize upon their energized followers. Conceptually, one begins to wonder how it is that these business models could evolve into sustainable platforms of accelerating profitability. Unlike Amazon (AMZN), neither ANGI nor YELP is able to directly sell the product being reviewed. Unlike OpenTable, Yelp's restaurant-focus is unable to directly profit off of the revenues attributed to the participating business.
Perhaps most alarmingly, unlike Google (GOOG), neither YELP nor ANGI are able to directly profit by influencing consumers towards particular businesses in terms of quality or volume. Google redirects meaningful traffic with a more refined focus through the use of keywords. Users are also assisted towards a business without expectations that can hinder the business. Google can also provide meaningful exposure by giving a global presence, thereby expanding the capacity for additional market space to the business.
Yet the business models for these local review listing services like ANGI and YELP restrict each of these value-added processes to a certain degree. I say this with a caveat: While undoubtedly these review listing companies thrive on ad revenues and by supporting the redirection of traffic to business, the business model itself is somewhat restrictive in regards to these two value-added characteristics. Consider the following two reasons:
Appealing to the "Local" audience is restrictive. Because businesses and services are confined to a local area, a listing service can not meaningfully increase the capacity of a market as much as it does redirect traffic. For example, a typical person in New York will not be interested in a restaurant or plumbing service in Los Angeles. Therefore the ceiling by which business exposure can be increased remains mostly limited to the area serviced by a particular locality. Therefore, without effectively increasing the size of the market space, there is an inherent restriction to the additional value being captured by the listing company.

A lack of reviewer control is restrictive. The quality value of a review listing service is found in the review itself. Yet because this review isn't provided or controlled by the listing company itself, there is significantly less marketable value able to be picked up by the listing company. A client highlighted by the services isn't going to translate into more sales revenue unless the user reviews are positively attributed. For both companies (although significantly more so with Yelp) there is also the issue of trusting the reviews given. Because of the possibility that they can be contributed out of spite, excessive enthusiasm, or through fraudulent means, a lack of reviewer control leads to a lack of revenue control. After all, the dissipation of trust can lead to the destruction of willing users or potential consumers. This simply isn't the case for an ad in the local paper or in a Google search term.
Now while each of these limitations may be unlikely to prevent overall profitability for these review listing companies, the business models themselves do put into question whether the hype surrounding each company is fairly warranted. As of March 31, 2012, the market capitalization for Angie's List and Yelp is $1.08 billion and $1.61 billion, respectively.
According to its S-1 Filing, as of September 2011, Yelp had $42 million in total assets and had a loss of $7.4 million from operations over the course of 9 months. This operating result was but a slow improvement over the year prior when the company had a loss of $8.5 million over the same time period. Ironically, this minor improvement comes off an already impressive top line growth rate of 80% as the company grew to $58.4 million from $32.5 million in revenues.
When it comes to Angie's List, the future of the business model appears even grimmer. From 2009 to 2010 the company reported revenues of $45.6 million and $59.0 million respectively, a revenue growth rate of 29.4%. From 2009 to 2010, the company reported revenues of $59.0 million and $90.0 million respectively, a top line growth rate of 52.5%. Yet in 2009-2010, the company's operating loss actually deepened from $8.6 million to $23.1 million. In 2010 to 2011, the company's operating loss worsened further from $23.1 million to $44.2 million. We see that the company's business actually regressed the further it expanded upon its ongoing operations.
Click to enlarge: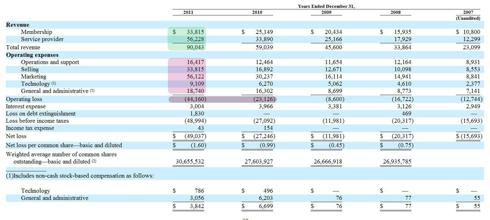 Click to enlarge
Nevertheless, the hype of these two listing companies continues to push the stocks higher. As of the time of writing, Angie's List trades at $18.89/share - an increase of 45.3% over its November 2011 IPO price. Yelp currently trades at $26.89/share - an increase of 79.3% over its IPO price set a month ago. Are investors giving this sector's outlook too much credit? It appears that only time will tell.
Disclosure: I am short ANGI.