The rig count in North Dakota has leveled off significantly in the past few weeks, hovering around 205 active drilling rigs. With thousands of more acres to protect and wells to drill, many are asking: "Why has the rising number of rigs stopped?" There are many schools of thought on this matter: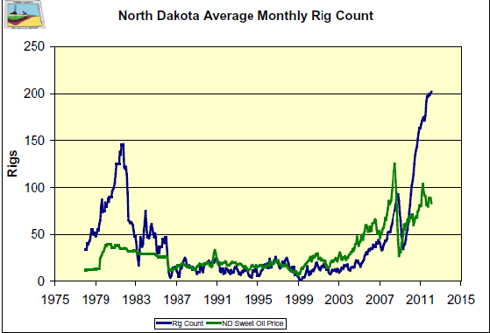 First, older rigs are being replaced with more efficient ones which is accelerating the amount of wells being drilled but holding the rig count flat. What that means is basically older rigs, which turned wells in 45 days, are now being replaced with more efficient rigs which can drill a well in less than 30 days. And, if drilling on a multi-well pad, can simply skid or "walk" to the next location a few hundred feet away, decreasing transport time.
Second, there is a large delay in fracturing services. The number of wells waiting to be fractured in North Dakota is around the 250 mark. This number, while still high, is significantly lower than 650+ plus wells waiting to be fracked during the Winter / Spring of 2011.
Third, the price for crude at the wellhead in North Dakota is at an extreme discount from the West Texas Intermediate Benchmark and even further discounted from North Sea Brent crude. The price at the wellhead in North Dakota, according to the North Dakota Department of Mineral Resources, is $75.50/bbl. WTI is approximately 30% higher and Brent 13% higher than WTI. In addition to escalating service and drilling costs in North Dakota, these factors significantly hurt the economics of drilling and production in The Bakken at this time. Having said that, many big players, which have the majority of their acreage held by production, are dialing back their rig counts. EOG (EOG), Oxy (OXY), and Newfield (NFX) have all publicly stated they plan to reduce their Bakken rig counts. It is interesting to note, however, that the biggest player, Continental Resources (CLR) has gobbled up several of the released rigs from the above mentioned E&Ps.
Although these large independents are reallocating capital resources, I would not take it as a sign the Bakken is on the downswing, nor that these companies are in trouble. Newfield has a significant acreage in Utah and just signed a large supply agreement with an oil refinery (Holly Frontier Corp (HFC)). Based on the supply agreement, there is no doubt Utah is a better return for the company to develop right now. Oxy has enough assets all over the world to keep it busy. If other projects provide a better return, the smart thing to do is move resources to concentrate on them. EOG has a significant position in the Eagle Ford. The Eagle Ford in Texas provides better economics at this time due to decreasing drilling and completion costs as well as fetching a gulf coast price for its crude.
What will it take for these companies to return to the Bakken full scale? One word - infrastructure. The price for crude at the Wellhead must increase in North Dakota and the cost for services must decrease to get the Bakken back on top. In order for this to happen, the supply chain needs to be smoothed in the form of crude takeaway. More pipelines or predictable rail takeaway options need to be built, which will help close the gap between North Dakota Sweet Crude, WTI, and Brent. Also, fracturing service companies will need to find a predictable and solid workforce (employee turnover is extremely high in ND for many companies) and a predictable supply of fracturing sand.
Once the infrastructure problem is reined in and crude and service prices stabilize, get ready for full scale Bakken development: rig counts north of 250, and more major oil companies moving into the State.
Disclosure: I have no positions in any stocks mentioned, and no plans to initiate any positions within the next 72 hours.