Taking advantage of the trend towards healthier eating, Smart Balance, maker of a trans-fat-free margarine and similar products, is making its way onto more and more tables and into more and more portfolios. According to Barron's, sales are growing at a 30%+ rate; as of the end of 2006, Smart balance had sales of $138M and an 11.4% share of the U.S. margarine market, up from $3M in 1997 when the first product was launched. The big boost came in January 2006, however, when the FDA began requiring the listing of trans-fat percentages on food labels and recommending that as little as possible be eaten. Yet, while the products have been gaining popularity for a decade, Barron's says investor interest has caught on only recently, after the shares moved to the Nasdaq in early August. Over the past few weeks, shares have jumped some 20% to $11.18 as management undertook a road show to introduce the company, which still has very little sell-side research coverage, to Wall Street. One portfolio manager claims the stock could reach $15-$22 over the next 12-18 months and could even be $30-$40 longer term -- a multiple that is in line with most food and beverage companies.
Sources: Barron's
Commentary: Milk Prices Expected To Fall: I Wouldn't Bet On It
Stocks/ETFs to watch: SMBL. Competitors: CAG, UN, KFT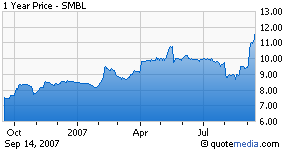 Seeking Alpha's news briefs are combined into a pre-market summary called Wall Street Breakfast. Get Wall Street Breakfast by email -- it's free and takes only seconds to sign up.