Is GameStop Corp. (GME) an undervalued solid performer or is it in a death spiral? There seems to be strong opinion on both sides of this argument. According to its 10K filing, GameStop is "the world's largest multichannel video game retailer." The company sells new and used video games, game consoles, software and accessories. As of January 28, 2012, the company claims to have 6,683 company-operated retail locations worldwide. The company operates primarily in the United States, Australia and Europe.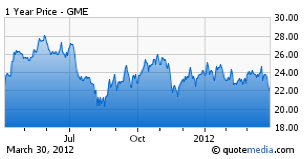 The death spiral argument centers on the new modes of delivering content to gamers. The digital delivery of games over the internet is the end of GameStop. This is a valid argument though we think premature. Future growth in the video game industry will be driven by the sale of video games in digital form. Critics of GameStop might liken the company to the last of the "buggy whip" manufacturers; an obsolete industry.
This writer prefers another analogy. We see a village blacksmith with a robust business shoeing hordes and repairing buggies. The smithy sees the first auto to appear in the village and hires a 16 year-old kid who likes to tinker with machinery and sets him up with a workshop in the back of the barn. The smithy takes care of the horses coming in the back door and the kid fixes the new Model Ts coming in the back door. Eventually, the kid takes over the business that is now an auto repair shop.
GameStop has a nascent digital delivery model. They sell products including, Xbox Live, PlayStation and Nintendo network point cards, prepaid digital and online timecards and digitally downloadable software. They now operate an online platform called Kongregate.com and they acquired a digital PC distribution platform, Impulse, and a streaming technology company called Spawn Labs.
In our opinion, a more immediate threat to GameStop comes from online retailers like Amazon.com (AMZN); companies that do not collect sales tax as brick and mortar retailers like GameStop are required to do today.
GameStop recently reported for the full fiscal year ending January 2012 and provided guidance for FY12.
click to enlarge

Sales for 4Q11 were $3,578.6 million, a decrease of 3.0% from the prior year quarter of $3,692.8 million. Sales for the year were $9,550.5 million, up slightly from the prior year's $9,473.8 million. The increase in sales can be largely attributed to favorable exchange rates. Same store sales actually declined 2.1% compared to fiscal year 2010. The company reports sales in four segments: New Video Game Hardware; New Video Game Software; Used Video Game Products; and, "Other." "Other" products include PC entertainment and other software, digital products and revenues associated with Game Informer magazine and the PowerUp Rewards program.
In FY11, new video game hardware declined to 16.9% of total sales as compared to 18.1% in FY10. New video game software, as a percentage of total sales, increased to 42.4% from 41.9%. Used video games also increased share of total sales by growing to 27.4% from 26.1%. The "Other" category declined to 13.3% from 13.9%. New video game hardware decreased by $108.4 million, or 6.3%. The decrease in sales is attributable to a decline in sales of Nintendo Wii and handheld devices. New video game sales increased by $79.5 million or 2.0% due to changes in currency exchange rates.
Used video game product sales increased $150.4 million, or 6.1%. A $44.7 million decrease in the "Other" category reflects a decrease in sales of new PC entertainment software titles and the shift in digital sales from product carried on inventory to non-inventory digitally downloadable content. In spite of these changes, gross profit increased by $141.9 million, or 5.6% to $2,679.5 million. The gross profit margin expanded to 28.1% in 2011 from 26.8% in 2010.
Earnings per share in the fourth quarter declined to $1.27 from $1.56 in the prior year. For the full fiscal year, EPS declined to $2.44 from $2.66. The operating margin declined to 6.0% from 6.9% and the net margin declined to 3.6% from 6.9%. On the plus side, free cash flow had strong growth.
During 4Q11 the company redeemed $125 million of its senior notes making it debt-free and it repurchased 2.0 million shares at an average price of $22.38, or $45.3 million. During the current quarter, the company repurchased an additional 3.3 million shares at a cost of $76.3 million. They paid an average price of $22.97 per share. We consider these share repurchases to be an unwise use of excess cash.
Companies that repurchase shares usually buy them at the wrong time. Share repurchases create the appearance of greater profitability when looking exclusively at per share values; they do nothing to enhance shareholder return. Fortunately, GameStop also announced the initiation of a quarterly dividend of $0.15 per share. At the current market price, the annualized dividend yields 2.75%. The company also announced a new $500 million share repurchase authorization plan.
GameStop provides guidance for 2012. They expect an increase in sales driven by an increase in digital sales, used video game products and initiatives related to the mobile gaming market. The company expects improvement in its operating margin and a decrease in capital expenditures. Guidance includes an expectation that sales will grow in the 1.0% to 5.0% range; operating margins, in the range of 7.0% to 7.3%, will exceed operating margins of the past five years and that earnings will grow to $3.10 to $3.30. These are very aggressive targets. The company also expects to close more stores than it plans to open.
GameStop is a company in transition. The video gaming industry is embracing new technologies and GameStop has started the process the embrace these changes. The company's consistent history of being profitable and cash flow positive should not be overlooked. See this strength as enabling GameStop to make the investment needed to make the transition. It is not burdened by debt.
The new dividend also provides a certain underpinning to the stock price as the yield is competitive in today's marketplace. We think that during this transition, GameStop should trade in the $30-$31 range. Our price target is not very aggressive and is within bounds of analyst estimates.