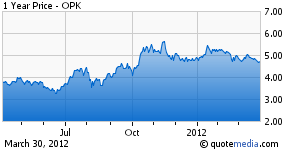 OPKO Health Inc. (OPK) is a pharmaceutical and diagnostics company headquartered in Miami, FL and run by Phillip Frost, M.D., chairman and chief executive officer, who is also happens to own an estimated 37% of the total shares outstanding of the company, via an aggressive stock purchase plan. It seems very clear that Frost is voting with his feet when it comes to confidence in this company as a recent 33,000 shares have been purchased.
OPKO develops and commercializes novel and proprietary technologies. Its technologies include molecular diagnostics tests and vaccines to diagnose, treat, and prevent neurological disorders, as well as infectious diseases. Most promising is current technology that the company now has under its roof by way of its acquisition of Claros, which is centered on point-of-care tests. The company is working on a software and hardware product that resembles a credit card device, and enables a patient to obtain almost immediate test results at the doctors office for a host of medical afflictions. A PSA and Alzheimer's may be first out of the box, but reportedly a total of 10 tests will potentially be able to be administered in this manner. With an immediate test result available, a patient can minimize their doctor visits and expense as a consult can be given in the same visit. The PSA test historically has controversy surrounding it as reportedly too many tests are conducted without significant benefit while also costing multiple expenses to insurers and patients. This product based on technology called Microfluidics was developed at MIT and Harvard and may not only deliver a value to patients in terms of early detection, but also could address the controversy associated with PSA's.
In essence, there appears to be multiple values delivered here by this product.
In terms of value from the company's economic point of view, reportedly there are 30 million PSA tests done every year in the United States, and the average reimbursement from insurers is $30 per test. Dr. Frost has an impressive track record that includes being the founder of pharma company IVAX which was sold to Israeli giant Teva (TEVA) for reportedly $7.4 Billion dollars. Jim Cramer from www.thestreet.com seems to believe there is value at OPKO as well as he recently ranked OPKO a Buy and has previously indicated that OPKO has good bloodlines, that of Dr. Frost.
OPKO is currently trading at $4.69 has a 52wk Range: of 3.15 - 5.85, a market cap of 1.39B.
Disclosure: I have no positions in any stocks mentioned, and no plans to initiate any positions within the next 72 hours.