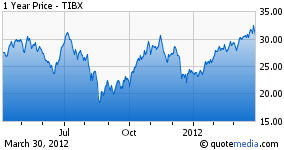 Shares of Tibco Software (TIBX) ended the week 2% lower despite the fact that its first quarter earnings release beat analyst expectations.
First Quarter Results
Non-GAAP earnings for the first quarter of 2012 rose 27% to $34.6 million. Revenues rose 22% to $225.7 million. Net income came in at $20.6 million, or $0.12 per share compared to $0.09 last year.
"We got off to a very strong start with 22% total revenue growth in the quarter" according to CEO Ranadive. The company's infrastructure software platform makes the company uniquely positioned for data, cloud, social and mobility trends. The company managed to attract 20 customers with an account over $1 million over the last quarter.
Outlook
Tibco is very confident about the future. Therefore its board of directors has authorized a new share repurchase program to repurchase $300 million in shares. The new plan will replace the old repurchase plan under which $38 million was remaining.
Management issued a second quarter outlook in line with analyst estimates. Tibco expects second quarter revenue between $240-$244 million and net earnings per share in the range of $0.13-$0.15.
The midpoint revenue outlook implies a revenue growth slowdown to 12% year-on-year.
Valuation
The company ended the quarter with $355 million in cash, with $135 million in debt, leaving a net cash position of $220 million. It is to be noticed that the company holds over $450 million in goodwill on its balance sheet.
Excluding the net cash position of $220 million, the market values the firm at $4.9 billion. This valuation implies a 5.3 times revenue multiple and 44 times earnings.
The company has seen two subsequent years of revenue growth of around 20%, a trend most likely to be continued in 2012. Net margins have steadily expanded from 8% in 2008 to 12% in 2011.
For the first quarter net margins came in at 9.1% which is a slight warning sign, although the first quarter is traditionally the weakest period for the company. The slightly disappointing margin development might be one of the key drivers behind the 6% loss on Friday.

Investment Thesis
Despite the high margins and attractive revenue growth rates, the company is not an obvious buy. Shares have moved in a consolidated range of $20-$30 per share over the last year and currently trade around the high end of this range as shares hit an 11-year high of $32.86 on Thursday. In a reaction to its first quarter earnings, investors have sold their shares and Tibco ended the week at $30.50 per share.
With a stretched valuation there are little triggers which could propel the shares to much higher levels in the short run and I think there is a greater chance for an immediate correction than an aggressive move towards the upside.
I am not a buyer of Tibco.
Disclosure: I have no positions in any stocks mentioned, and no plans to initiate any positions within the next 72 hours.