"Agnico-Eagle Mines (AEM) engages in exploration, development, and production of mineral properties in Canada, Finland, and Mexico. It primarily explores for gold. However, it also mines silver, copper, zinc, and lead" (Yahoo Finance)".
The company has been bringing several new developments online in recent years. This has hurt its earnings. It seemed ready to rally, and it attempted to do so in the last year. However, it has fallen back on declining earnings estimates. Most recently it had poor performance in Q4 2011. It produced fewer ounces of gold at 227,792 versus the year earlier quarter's 256,471. Plus production cash costs per ounce increased by 45.2% to $671 per ounce. This was due to higher costs (lower grades) at its LaRonde, Meadowbank, and Lapa mines. AEM also suspended mining at its Goldex mine in Quebec. Water inflow and ground stability concerns disrupted operations. It wrote off costs on this mine. Plus it revised estimates of mine life downward for the Meadowbank mine. Hence it wrote off some of the value of this property. It has also since revised its FY2012 outlook for the worst. Total cash costs per ounce of gold are expected to be in the $690 to $750 range per ounce. This is significantly higher than the $580 per ounce average production cost for all of 2011.
If all this was not enough, the Indian government decided to raise its import tax on gold bars and coins to 4% from 2% for its new year budget (April 2012 through March of 2013). India had only imposed the 2% import tax since January. India also put an excise duty of 1% on all jewelry. This includes sales of jewelry produced in India, not just imported jewelry. Trade groups are striking against these new taxes, but the taxes remain. A Reuters poll of retailers, jewelers, and brokers suggests that Indian gold imports (a world leading 930 tons in FY2011) may slide by more than 30% to about 600 tons this year. Effectively this amounts to dumping 300+ tons of unexpected gold on the world market this year. To put this in perspective, the total world demand for gold was 4067.1 tons in FY2011. The 300+ tons would amount to 7% to 8% of the total world demand for gold. It seems a sure bet that this will result in lower world gold prices in 2012.
Is there any chance the Indian government will change its mind about the gold tax? It seems unlikely in the near term. Indian inflation ramped up in Feb. to 7.57% (CPI-IW) from January's 5.32%. On top of that the Indian Trade Deficit grew from $14.7B in January 2012 to $15.2B for February 2012. The Indian Trade Deficit has racked up $166.8B in deficits from April of 2011 through February 2012. It stands to be over $180B for the full Indian fiscal year. A good part of this deficit was the 930 tons of gold that India imported for FY2011. If you use a ballpark average price of gold of $1650/oz. for the full year, this means India imported 49.1B in gold alone in FY2011. This is a non-negligible part of India's Trade Deficit. The government recognizes that the gold imports are a Catch-22 situation. Indian citizens buy gold to protect themselves from the dangers of inflation. However, they buy so much gold that they end up substantially contributing to inflation through a huge addition to India's Trade Deficit. This could easily degenerate into a death spiral. The Indian government will want to avoid that at all costs, no matter how fervent the protests are against these new taxes.
Unfortunately this is not the only headwind gold faces. The coming EU recession will add to gold's woes. If the EU recession leads to another recession in the US and a hard landing in China, those headwinds will turn into a class 5 hurricane. A quick look at the five year chart of the SPDR Gold Shares ETF (GLD) as a proxy for gold shows the downtrend in gold prices from when the US recession became an almost certainty in early 2008 until just after it was confirmed as a fact in the fall of 2008.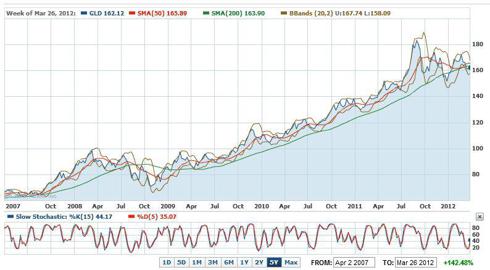 Click to enlarge
The EU recession has not yet been confirmed. We are still months away from the earliest date at which this can occur. We still do not know if the US will follow the EU into recession. We still do not know if China will have a hard landing. Its GDP growth rate has already slowed from 10.3% in 2010 to the latest forecast of 7.5% for 2012. It may slow further. As China's growth slows, an increasing number of loans made with expectations of 10%+ growth will sour. An increasing number of loans will have to be written off, and this does not just affect construction businesses and banks. Construction got so profitable in the last decade that a lot of businesses started up their own side businesses of construction. If their loans go bad, a whole line of dominoes could fall. It is hard to even estimate how bad the situation could get.
You don't really have to know how bad the world economic situation will get to address the situation with AEM. It is in a strong downward price trend. The most recent news from India certainly means lower than expected average gold prices. The FY2012 average analysts' earnings estimates have already been lowered in the last three months from $3.21 to $1.86. The FY2013 estimates have been lowered from $41.6 to $2.42. I would expect a substantial further lowering of these after the markets begin to realize the effects of the new India taxes. The above numbers could easily be cut in half again due to the Indian taxes. On top of this, the EU recession , a possible US recession, and a possible China hard landing could push gold prices down an as yet uncertain further amount. On fundamentals alone AEM is a stock you should sell, even if you have already lost gobs of money on it. You are only likely to lose more if you keep it over the next few months to one year. If you are an aggressive investor you can consider shorting AEM. The overall market is over due for a pull back in the near term. In the longer term, the various recession scenarios could cause the overall markets to move further downward. AEM itself is showing nothing but weakness.
The five year chart of AEM gives some technical direction to this trade.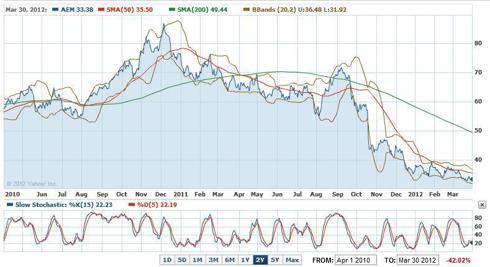 Click to enlarge
The slow stochastic sub chart shows that AEM is oversold. This is not the best situation if you wish to short it. After the better than expected Chinese PMI of 53.1 for March 2012, markets worldwide could get a lift. It might be best to wait a day or two (or even a week) before shorting. If you are just selling, you could leg out instead of selling all at once. The main chart shows that AEM is still in a strong down trend. At $33.38 it is getting near the longer term support at approximately $26. If you are lucky enough to get an up tick on the better than expected Chinese PMI news, you could short AEM for an even better profit. It should be fairly safe to do this down to the $26 level. Gold may get a short term lift from the Chinese news; but with all of the fundamentals mentioned above lined up against it, it should still fall further over time. AEM does have a 2.40% dividend, but that is not enough of a reason not to short it. The NonFarms Payrolls data, if good, could also tend to support the price of gold short term. Decide for yourself when or if you want to get short AEM. Selling in the current situation should not take as much daring.
A couple of the other gold stocks that are already looking weak are Kinross Gold (KGC) and Newmont Mining (NEM).
Disclosure: I have no positions in any stocks mentioned, but may initiate a short position in AEM, GLD over the next 72 hours.