The stock market had a stellar first quarter with returns in the double digits. The second quarter should be more challenging for investors and defensive stocks with high dividends should come back into favor. One very unusual stock with a 9% plus dividend looks intriguing here.
PDL BioPharma (PDLI) - "PDL BioPharma, Inc. engages in the management of antibody humanization patents and royalty assets, which consist of Queen et al. patents and license agreements with various biotechnology and pharmaceutical companies. Its Queen et al. patents primarily cover humanized antibodies, methods for humanizing antibodies, polynucleotide encoding in humanized antibodies, and methods of producing humanized antibodies". (Business description from Yahoo Finance)
7 reasons PDL BioPharma is a great pick up for just over $6 a share:
It provides a huge 9.4% yield with just over a 50% payout ratio.
It looks to have an impressive earning growth path. The company made $1.17 in FY2011 and analysts project it to make $1.35 in FY2012 and a large bump up to $1.65 a share in FY2013.
It sells for just 5 times operating cash flow and a dirt low five-year projected PEG (.34).
Revenue growth looks solid with more than 8% sales growth in FY2012 and 13% revenue growth in FY2013.
Institutions are becoming bigger buyers of the stock. They picked up 8% of the float of PDL BioPharma in the first quarter.
It is the only stock I know of that yields more than 9% and sells for a forward PE of less than 4.
The stock has long-term technical support at these levels (See Chart)
(Click to enlarge)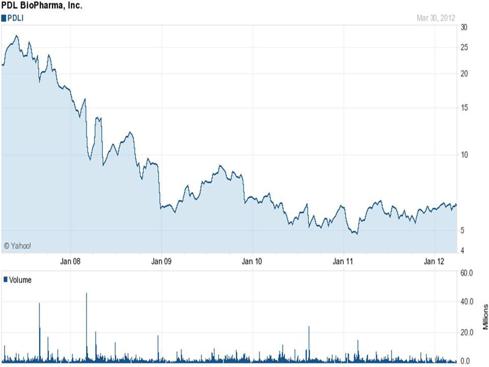 Disclosure: I have no positions in any stocks mentioned, but may initiate a long position in PDLI over the next 72 hours.