How do we position the company so we're where our customers need us to be? ...We're clearly going to have more doors and less square footage

- Brian Dunn, CEO of Best Buy
On Thursday, March 29, big-box store owner Best Buy (BBY) announced that it would be closing 50 of its U.S. big box stores, cutting 400 corporate jobs, and reducing $800 million in costs. In addition to the cost-saving measures, the company announced it would be opening 100 more manageable and specialized locations. For the $8.3 Billion company, this latest restructuring attempt appears to be the latest experiment at changing with the times.
Thanks to the Internet, the world has become more interconnected. Instead of going to the store and facing their terms, consumers are proving to major retailers they they want the store to come to them and to compete over their business. Consumers also want their goods cheaper and shipped to them. Yet they also want their products faster and to inspect them first. Unfortunately for specialty electronics retailer Best Buy, the former two characteristics take greater precedence for its target audience.
Electronic goods tend to be bigger purchases worthy of a search, and consumers can often afford to be more patient in receiving them. This bodes well for online market giant Amazon (AMZN), which in the age of mobile devices, is always in the hands of the consumer. This should also sound warning bells of caution for the likes of hhgreg (HGG) and southern-based Conns (CONN), with a large-store electronics retail theme that falls much in line with Best Buy's model.
Yet in the same breath, large retail variety stores like Wal-mart (WMT) and Target (TGT) may prosper in the decline of the big box store model. These companies often sell discounted merchandise and are often associated with the more daily needs of the consumer. Such stores continue to attract its consumer base because most purchases are small items shopped with greater immediacy. Should Best Buy falter in its endeavor to reform its business plan, these mega stores can expect to pick up much of the diverted traffic through their own electronics divisions.
(Click chart to enlarge)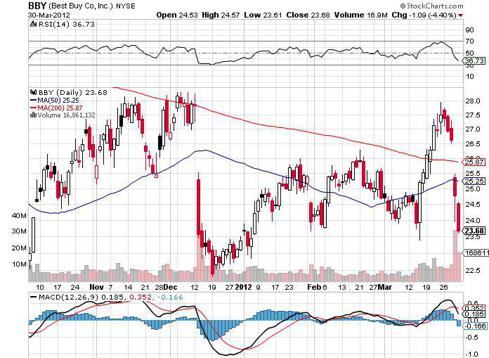 As for Best Buy, investors should be wise not to fearfully give into the negative hype surrounding this current restructuring. The company remains a fundamental store chain capable of sustaining itself through its own earnings. The company is profitable from an operational standpoint having earned an adjusted net income of $2.47 for the last quarter. Just as the office supply store chains such as Office Max (OMX) and Staples (SPLS) continue to operate sufficiently in light of a deteriorating business model, so too will Best Buy. With Best Buy's attempt to leverage its brand name into smaller retail locations and into its specialized services, it's still much too early to dismiss the strategy altogether.
Disclosure: I have no positions in any stocks mentioned, and no plans to initiate any positions within the next 72 hours.