Apple (AAPL) is the largest publicly traded company in the world and has completely transformed every industry it operates in. Steve Jobs' focus on innovation has permeated the company and created a commitment to consumers that has handsomely rewarded shareholders throughout the years. I have recommended option strategies for Apple since 2010 with tremendous results (remember past results do not guarantee future results). For reference, please view the first and other articles in the series to fully understand the strategy and its strong potential returns. In essence the investment objective is to capitalize on Apple's volatility by selling out-of-the-money options to generate weekly income without sacrificing long-term returns.
(Click charts to enlarge)

Click to enlarge
(Source: Yahoo Finance)
A brief recap of this week in Apple [Down $0.24 (-0.0%)]:
New iPad U.S. Traffic as Percent of Total iPad Traffic: 7.9%
Apple has been a technical analyst's dream recently with sharp rises and falls despite being relatively unchanged over the past two weeks. With Apple now trading at $599 you can either buy one share of stock or the 32GB new iPad. I posed this question to my readers almost exactly one year ago when Apple was trading at $350. That $350 investment has nearly doubled and it is clear that Apple stock might be the only better purchase than an iPad. There is no arguing against buying the iPad for enjoyment but there is no denying that purchasing Apple is the more prudent decision. The general rule that I have been following recently is that Apple is a buy when it dips below $600 because there is enough momentum for the company to rebound from any temporary dips.
The major news this week deals more with Apple's competitors and partners rather than the company itself. The biggest headline was that Research in Motion reportedly a quarterly loss and had a slew of negative announcements, most alarming that the company had to take write-downs on its slow moving newest BlackBerry 7s. No major phone manufacturers currently are writing off inventory for slow sales and this brings back memories of Microsoft (MSFT) and its failed Kin. Factor in that the former RIMM co-CEO Jim Balsillie has stepped down from the board of directors and that the company has suspended guidance, it is clear that the company has raised the white flag. While it is difficult for RIMM to surprise to the downside I did not anticipate the fourth-quarter 2011 earnings to be so abysmal. Apple's position as the leader in the mobile market is becoming more and more solidified as competitors weaken. Google's news that the vast majority of its mobile earnings come from Apple devices was quite a revelation as there is almost a fifty/fifty split between Android and iOS devices. Apple has already shown signs of reducing its reliance on Google's services and that could only harm Google more going forward.
Another victim of Apple's dominance is partner Best Buy (BBY). Best Buy is both benefiting from selling Apple products but as a reseller, Best Buy only generates low margins on those sales. Best Buy recently announced plans to shutter up to 50 stores and the slide will only continue if the company fails to adapt. Here is the predicament. Apple's continued success will only harm Best Buy but Apple relies on its partners to sell iOS devices. This is one of the more important situations to monitor because Apple will not be able to continue its unrelenting success without partners such as Best Buy and Samsung.
Below I present three possible scenarios and the potential returns for the Apple options. The first scenario represents a negative outlook for Apple while the final two scenarios are more reasonable. These scenarios are just projections and there is no guarantee that they will come to fruition. Even if you are optimistic it is important to generate both positive and negative circumstances in order to stress your assumptions. As a general rule, selling calls with higher strike prices has greater potential return but additional risk of loss due to the lower (or lack of) downside protection. For more information on the fundamentals of covered calls, consult Investopedia.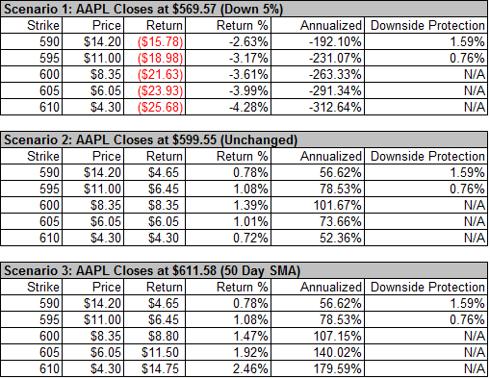 Click to enlarge
Additionally, if you would like even more information, I have prepared a sensitivity analysis for absolute return and percent returns, respectively. After studying the information above, these two charts make it easy to pick a strike price based on where you believe Apple will close at the end of the week. Estimate where you believe Apple will close and select the strike price with the highest return.

Click to enlarge
With this information, executing a buy-write on AAPL April 5 (Weekly) 600s is the optimal risk-return strategy. This makes for an excellent trade if you are currently not long Apple; however, if you are a long-term Apple investor I would exercise restraint because Apple was down over $10 alone on Friday. It would make more sense to wait for Apple to rebound some before selling calls. Please consult with your accountant or personal financial planner. If you are uncomfortable with this strategy I suggest a buy-write in the range of 590-610s. Even if you are extremely bullish you can still profitably sell covered calls; Apple is volatile enough that you will have opportunities to repurchase on dips. An alternative approach is to sell out-of-the-money 595 puts and collect the premium without having to purchase the stock outright. Note that if the stock declines to the strike price, you are obligated to buy the stock (or closeout the position).