Gold and silver markets both closed out an impressive first quarter with gains of 6.5 percent and 15.9 percent, respectively, however, interest in precious metals continues to be subdued amid an improving U.S. economy that makes more money printing by the Federal Reserve less likely over the near-term, fading fears of a currency collapse in Europe, rising import taxes in India, and bearish price forecasts from some analysts.
A reminder of how markets react to monetary policy was offered up on Monday when Fed Chairman Ben Bernanke noted that a weak U.S. recovery may require more help from the central bank, after which the gold price surged nearly $40 an ounce. But, the buying mood soon gave way to bearish sentiment in the days that followed and precious metals ended little changed.
For the week, the gold price rose 0.4 percent, from $1,662.80 an ounce to $1,668.70, and is now down 13.2 percent from its high last year, while silver rose just four cents, from $32.24 an ounce to $32.28, now down 34.8 percent from its peak of last spring.
Low real interest rates around the world and expectations of ongoing loose monetary policy will continue to be the key drivers for higher metal prices and I'm in agreement with the view from investment bank HSBC last week when they noted that additional quantitative easing in the U.S. is not required.
In a report at Commodity Online, HSBC said that Western central banks simply keeping in place ongoing policies will result in higher gold prices, noting "We believe that the gold rally can continue, as monetary policy already is very accommodative. As long as the Fed maintains its dovish stance, gold is likely to be well-supported, and a third round of QE is not required for further gains. If sentiment were to shift toward expectations of QE3, the gold rally could accelerate".
As for emerging market central banks, there was some concern last week over new IMF data indicating they were net sellers of gold during February as Mexico, Tajikistan, Turkey, and Russia collectively reduced their holdings by 5.4 tonnes, more than offsetting an increase of 2.2 tonnes by Kazakhstan.
Recall that, after decades of net gold outflows from European central banks, emerging market central banks have become a key demand driver in recent years, buying upwards of 400 tonnes in 2011 alone.
Like most other analysts, I consider the February data to be a minor one-off event as central banks in developing nations should continue to swap Western paper money for gold reserves.
Demand in India over the short-term has become a new source of anxiety for gold investors as the jewelers' strike over the doubling of the gold import duty entered its 15th day on Saturday.
click to enlarge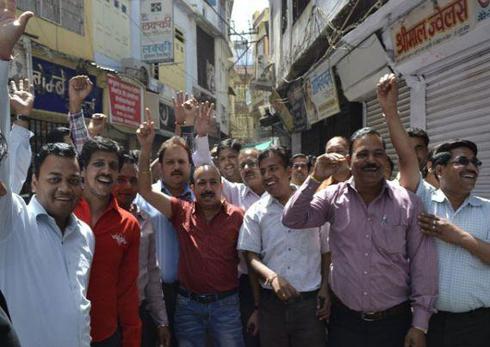 Some reports indicate the action could end on Monday as the Indian government appears ready to make related concessions, though they are said to be standing firm on raising the import duty from two percent to four percent, a move that could push retail prices higher by as much as six percent.
According to preliminary data, Indian gold imports have tumbled during the first quarter to about 100 tonnes, down from 283 tonnes in the same period in 2011. Last year saw record gold demand of 969 tonnes but, this year, analysts are expecting only about half that amount, making it all but certain that China will overtake them as the world's biggest source of gold demand in 2012.
Unfortunately, the old maxim of "if you want less of something, tax it" is in play here as a doubling of the duty based on half the gold imports will result in unchanged revenue but a soaring black market in gold, one that is already developing rapidly.
Whether the Indian import duty will have a big impact on prices remains to be seen, however, investment bank Goldman Sachs certainly doesn't think so as they reiterated their call for sharply higher gold prices in the year ahead due to a weak U.S. economy and more Fed money printing. While citing a stronger economy as a risk to their forecast, Goldman predicted the gold price will rise to $1,785 an ounce in three months, $1,840 in six months, and $1,940 a year from now.
A less bullish forecast was offered up by CPM Group in their Gold Yearbook 2012 released on Tuesday in which analysts said gold prices should remain well supported, but are unlikely to rise above the record highs reached in September of last year. Nonetheless, the group predicted another year of higher average gold prices in 2012, up from an average of $1,279 in 2010 and $1,572 in 2011.
Disclosure: I am long GLD, SLV.
Additional disclosure: I also own gold and silver bars and coins