By Jeffrey Stafford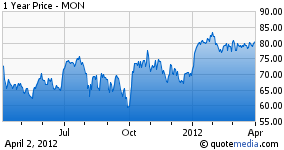 With the North American market nearing saturation, Monsanto (NYSE:MON) has increasingly looked outside the United States for growth. Currently, Brazil and Argentina are the major international markets driving gains in the company's top and bottom lines. In fact, for the first time in its history, the company expects that more than half of gross profit growth in fiscal 2012 will come from international markets. There are still substantial opportunities for sales and margin growth in South American markets (biotech trait penetration and moving farmers up the technology adoption curve). However, we see a massive opportunity in China, since Monsanto currently generates very little of its revenue from the seed market there. While the market is indeed intriguing, many questions remain.
According to data from the U.S. Department of Agriculture, China is the second-largest corn grower in the world, with 2010-11 crop year production of 177 million metric tons. That compares with estimated U.S. production of 316 million metric tons. Monsanto projects that about 70 million acres are planted to hybrid corn each year in China, compared with about 90 million acres in the United States. Corn yields per acre are far lower in China than in the U.S., giving Monsanto the opportunity to entice growers with higher-yielding seed technology; corn yields in China are equivalent to what U.S. farmers experienced in the 1970s. We don't think seed technology is the sole contributor to yield variations between China and the U.S., however. Chinese farmers do not apply as much potash fertilizer per corn acre as their U.S. counterparts, and they often plant corn in more extreme conditions, leaving more-fertile land to crops such as rice and vegetables. As the world's fourth-largest producer of soybeans, China also presents an intriguing opportunity for Monsanto's oil seed business, but we think the firm will initially focus more on corn as it looks to develop the Chinese seed market.
As far as potential ramp-up is concerned, Rob Fraley, Monsanto's chief technology officer, has compared the Chinese market today with Brazil seven or eight years ago and said that it will take that much time for China to develop to the point where we see Brazil today. Over the past five fiscal years (the period for which management has specifically broken out Brazil sales), Monsanto's Brazil sales have grown at a compound annual rate of 18.5%. We believe this figure would be even higher if crop chemical sales were backed out of Brazil revenue. Monsanto invested heavily in South America to get where it is today, and it will have to do the same in the Chinese market by building breeding stations, testing capability, and other infrastructure.
In our opinion, one key difference between the Chinese and Brazilian seed markets is farm size. The average farm in Brazil is much larger than in China, as super farms have come to dominate the agricultural landscape in South America. In fact, farms in Brazil are generally larger than those in the United States. In China, most corn farmers only have a few acres of land and much of the work is still done by hand. We think the ability of Monsanto to target fewer individual farmers in South America has led to accelerated penetration. In China, Monsanto's rate of market penetration could be lower as the firm tries to change the seed-buying decisions of many more farmers.
Seed Companies Need to Partner with a Local Firm to Enter the Chinese Market
To enter the Chinese seed market for field crops, international companies are required to partner with a local firm, usually in the form of a joint venture with the Chinese partner owning 51% of the assets. In 2001, Monsanto formed a joint venture with China National Seed Group Corporation (now owned by Sinochem Group); in 2008, Monsanto and CNSGC increased their investment in the joint venture, allowing the entity to expand its product offerings to all four of China's corn-growing regions. Today, CNSGC is the largest corn seed company in China, according to Monsanto. While we think Monsanto's joint venture provides a solid base for expansion in China, main competitors DuPont (NYSE:DD) and Syngenta (NYSE:SYT) have also formed joint ventures with Chinese seed companies. Similar to the U.S., DuPont's Pioneer brand will be Monsanto's most formidable competitor, in our opinion.
The Chinese corn seed market is very fragmented, with more than 8,000 local and regional players. However, the Chinese government has made efforts to encourage consolidation in the industry, in hopes of forming large agribusiness companies that could compete with Monsanto and other international players. Further, counterfeit seeds are an issue for Monsanto in China, with small local seed enterprises copying Monsanto's packaging. We think Monsanto and its joint venture partner will roll up seed share as the industry consolidates. As smaller players are absorbed, the pressure from counterfeit seeds will decrease, in our opinion.
Intellectual Property Concerns and the Chinese Government
The Chinese government has yet to approve large-scale commercialization of genetically modified crops, but some have speculated that it is a matter of when, not if. China is under considerable pressure to increase its food supply, but it also wants to retain control of that supply. Allowing genetically modified seeds to enter the market at this point could give a significant advantage to Monsanto, Pioneer, and Syngenta. In an effort to catch up on the biotechnology front, Chinese scientists have been developing their own biotech traits. While we don't know the specifics of China's advances in seed biotechnology, it's safe to say that the country's companies and institutions remain well behind technologies held by Monsanto and others.
While Chinese officials aren't quick to let international companies dominate the genetically modified seed market, Monsanto and its competitors have also had lingering concerns about intellectual property protection in China. Some of Monsanto's concerns have been assuaged by what management considers a more favorable stance on intellectual property protection by the Chinese government. Last year, the China State Council released new guidelines to develop China's seed industry, emphasizing the importance of independent intellectual property rights and the introduction of international seed germplasm resources by foreign-funded enterprises. While the new guidelines aren't meant to specifically benefit Monsanto and its rivals, we view the policy stance as a positive for the joint ventures in the industry, including Monsanto's relationship with Sinochem. Along with the new guidelines, Monsanto's top executives have spent a lot of time in China meeting with ministries and officials to become more comfortable competing on a larger scale in the country.
Despite the more accommodative stance of the Chinese government, we note Monsanto's experience in Argentina as a cautionary tale of government involvement in international markets. The Argentine biotech soybean market is currently a black hole for Monsanto. While about 95% of the soybeans grown in Argentina contain the Roundup Ready trait, a change in patent law after the introduction of Roundup Ready soybeans disallowed Monsanto's patent and prevented the company from collecting royalties in the country. Currently, farmers in Argentina reuse Monsanto's soybeans each year, a practice that is forbidden in the U.S. Recently, Monsanto has made efforts to work directly with farmers to get agreements in place so the company can get paid for its newest soybean technology, and management may be on the verge of a breakthrough on this front.
How Will the Chinese Seed Market Play Out?
We don't see the Chinese government relaxing its requirement that international seed companies must enter the country through a minority join venture stake. Thus, we don't think it's a stretch to say that Monsanto may only be able to participate in half of the total market. However, we expect the efforts by the Chinese government to consolidate the industry will take hold, giving the Monsanto-CNSGC joint venture a much larger piece of the growing pie. We think the ramp-up of growth for Monsanto could be more difficult than Brazil, because of relative farm size and the number of purchasers.
In our opinion, mass commercialization of biotech corn is still several years away, as the Chinese government tries to play biotech catch-up by investing millions in research and development. Over the medium term, Monsanto will work to sell more of its conventional hybrids in the country by setting up the necessary infrastructure and deepening ties with its joint venture partner. However, we expect the enticement of higher-yielding biotech traits will be too attractive for the Chinese government to ignore forever, as the country grapples with more mouths to feed. If biotech traits do come to the Chinese market, we think Monsanto will share in the value created for farmers, but at a lower level than in the U.S., based on varying intellectual property protection; whatever the outcome, meaningful contribution from China is still years away for Monsanto.
Disclosure: Morningstar licenses its indexes to certain ETF and ETN providers, including BlackRock, Invesco, Merrill Lynch, Northern Trust, and Scottrade for use in exchange-traded funds and notes. These ETFs and ETNs are not sponsored, issued, or sold by Morningstar. Morningstar does not make any representation regarding the advisability of investing in ETFs or ETNs that are based on Morningstar indexes.