Sina Corporation (SINA), often referred to as the "twitter" of China, is facing significant headwinds.
Government Regulation
Recently, China announced it was closing 16 websites and detaining six people for spreading rumors for "fabricating or disseminating online rumors." Government pressure led SINA to shut down comments on its microblogging service for a period of 72 hours. This comes after China recently tightened regulations on social networks by forcing users to register with their real names. So far, China has shown a willingness to limit the power of social media companies like SINA.
Bank of America Downgrade
BAC downgraded SINA to a neutral based on a few factors:
Slow down in advertising due to decline in auto and ecommerce advertisements.
Moderation of Sina's Weibo user growth and a slight decrease in active user rates.
Difficulty monetizing Weibo.
Chart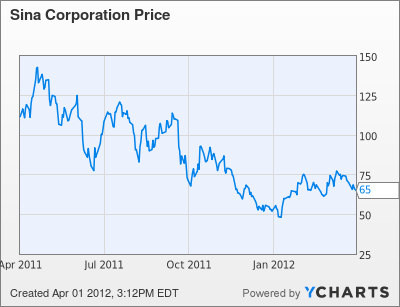 SINA is has been in a steady downward trend over the past year. SINA continues to make lower lows and lower highs. Until SINA starts to make higher highs and higher lows, investors should avoid buying.
Conclusion
Investors should consider avoiding SINA right now because of government regulation, declining business fundamentals, and a ominous chart.
Disclosure: I have no positions in any stocks mentioned, and no plans to initiate any positions within the next 72 hours.