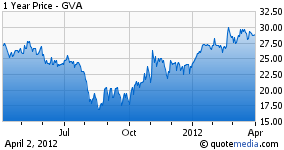 Investing in Granite Construction Inc. (GVA) is one of the best ways to directly trade off of stimulus related infrastructure spending. They work as a contractor for private clients, the federal government, state governments and local municipalities in infrastructure projects and civic public works. All of Granite Construction's business is U.S.-based with a primary focus in regions west of the Mississippi River (especially California and Texas). Current projects by GVA include the expansion of the San Jose International Airport, construction of the Houston Light Rail Transit system, constructing tunnels in Queens, New York, and several other renovations of highways, train stations, and bridges.
Due to the nature of its business, Granite Construction is extremely sensitive to the growth of the U.S. economy and government. Buying this stock is a play on a better than expected economic recovery and a continuing of historically high government spending. Both of these sentiments hold in the short term, but I believe are unlikely to hold beyond the 2012 elections.
Growth Drivers:
Outdated American Infrastructure: Outside of a few minor updates and expansion into newer suburbs, modern U.S. infrastructure is still rooted in the Eisenhower era Interstate Highway Act. Natural erosion and deterioration along with the changes in modern society have made a large portion of American infrastructure obsolete or in a state of repair.
Growth of the U.S. Economy: The U.S. economy will need to grow above economists' expectations in order for tax revenues to increase fast enough to reduce the current trillion dollar federal deficit. If this can be the case, the Federal government can afford to be more willing to expand further infrastructure projects. In addition, this will also help reduce the budgetary short falls of state and local governments. Outside of political fiscal issues economic growth will increase the expansion of cities and therefore the infrastructure that holds them together.
Population and Housing Growth: Unlike other developed nations, the U.S. population is still growing at a pace of over 3% annually. Population growth drives growth in housing and the need to build new roads or widen existing highways to cater to new residents of major metropolitan areas. Higher population growth drives expansion of other projects such as power plants, airports, and train systems.
Government Spending: With the vast majority of its revenues coming from government spending, Granite Construction's growth is driven by the lax spending patterns of Congress. Betting on the fiscal irresponsibility of politicians has been a good bet in the past, but will the threat of Greek-like insolvency change the tune in Washington?
Risk Factors:
The main risk that can derail the success of Granite Construction is its reliance of government spending. All twelve of its current projects are at least partially government financed at 83% of revenues come from government at either the federal, state and local level. With the current political environment and fiscal realities pointing toward spending cuts, infrastructure investment will be cut and adversely affect GVA's earnings. As mentioned in the next section, competition is fierce. Firms with larger resources can undercut GVA's contracting offers. The struggle for contracts will only grow fiercer as governments begin to scale back on stimulus related infrastructure spending.
Competition:
The heavy construction business is well established and filled with companies that have been industry leaders for over fifty years. Unlike many other industries, however, most of the biggest players in contracting are privately held by either founding families or employees. The main leading competitors are Betchel Group, Kiewit Corporation, and the Shaw Group (SHAW). Revenues of Betchel ($50 billion) and Kiewit (9.9 billion) dwarf the revenues of Granite Construction ($2 billion) and have the resources to undercut Granite's bids on future public works.
Other publicly traded competitors include Foster Wheeler (FWLT), McDermott, and Fluor Corporation (FLR) have most of their business in the oil services business. As a result these companies financial statements cannot be directly compared to GVA. Unlike competitors, GVA lacks international business, and thus is very sensitive to the U.S. economy.
Due to the length of this report, I have split this analysis into two part. Part two will cover GVA's valuation, technical outlook, and my final conclusions about the company.
Disclosure: I have no positions in any stocks mentioned, and no plans to initiate any positions within the next 72 hours.