At the start of 2007, many people probably surmised that financial stocks would do well. After all, the Fed was likely to lower rates by year-end. The banks pay steady dividends. And the words "liquidity," "subprime" and "credit" had yet to infiltrate the exuberant investing public.
In early March, subprime worked its way into the vocabulary of casual observers... as did the word, "contained." The next four months witnessed a bullish ride for every economic segment, including the financial sector. (Financials weren't as strong, but they did gain ground.)
At the mid-July market peak, we find that the Technology Select Sector SPDR (NYSEARCA:XLK) had picked up 14% over the Financial Select Sector Spider (NYSEARCA:XLF) in just 4 months. Technology Select (XLK) also had significant gains up and above areas with exposure to financial stocks, including a 12% jump on the iShares Dow Jones Select Dividend Index (NYSEARCA:DVY) and a 5% lead on the broad market S&P 500 SPDR (NYSEARCA:SPY).
Why is this significant? In essence, with all of the talk of the markets recovering and the markets responding to upcoming Fed stimulus, the trend is only growing; that is, technology is closing in on highs whereas financial exposure is representing hardship.
You will recall that the 4-month spread between the Technology Select Sector SPDR (XLK) and the Financial Select Sector Spider (XLF) was 14%; The 6-month spread is 22%.
Similarly, XLK had a 4-month up-n-over on the Dow Jones Dividend Index (DVY) and the S&P 500 SPDR (SPY) of 12% and 5% respectively. The 6-month lead is a more potent 16% and 9% respectively.
One might be inclined to look at these results in two distinct ways. In the immediate term, it makes little sense to have one's portfolio exposed to financial companies of any kind. Subrpime/liquidity/credit crunch is going to be around for a good 6 months, and it'll be hard for financial companies to get investors excited today. In essence, you could playing with fire or trying to catch the proverbial falling knife.
At the same time, deep value investors who have a genuine ability to wait for years for a payoff could pick through the wreckage. The big banks in the KBW Bank Fund (NYSEARCA:KBE) such as Bank of America (NYSE:BAC), Wells Fargo (NYSE:WFC), Citigroup (NYSE:C) and Wachovia (NASDAQ:WB) are the likely survivors of the future. Not to mention... a 5.25% dividend!
It may take a while... and it may even take a long while... but KBE may be quite the opportunistic exchange-traded investment down the road.
[click to enlarge]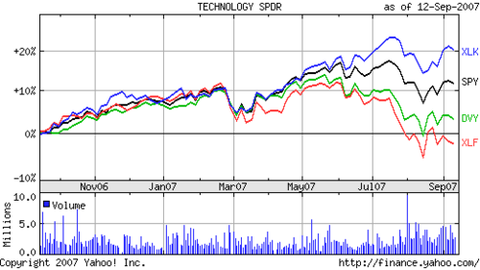 Click to enlarge