Lifetime Fitness (NYSE:LTM) (57.82) flexed its muscles at the Oppenheimer Consumer Conference earlier last week. Showing strong growth across the board in center openings, memberships, and revenue, LTM appears to have a solid foothold in a growing $17 billion fitness and health club market.
One important takeaway was that LTM is growing its business fastest in in-center revenue (spending increases by club members). Its compounded annual growth rate from 2002 to 2006 was 38%. The company is doing this by driving its spa, cafe, personal training and member activities businesses. From 2005 to 2006, LTM saw its member spending jump from $300 on average to $351 annually. The success is due to the company providing a spa-like atmosphere at a local fitness facility. This experience includes various member classes and children care centers ensuring the facility is opened to the entire family.
LTM also pointed out that it is building 9 new centers next year to bring the overall center total to 78. The company is focused in Texas, Michigan and Illinois, while only having one club in Florida and no centers in potential high growth fitness markets such as California and the Northeast.
During the presentation, management pointed out that LTM is not just another gym. It is a high quality fitness facility with its success dependent on the consumer experience. LTM is in a competitive market. There are fitness centers and gyms in every town and the barriers to entry are low. Despite this, management made it clear that there is no direct competitor because of the diverse product offerings and high quality experience it offers its members.
After hearing the presentation, I think there remains a positive growth story with LTM, but it will not be straight up. I believe other fitness clubs will continue to pose challenges to LTM's growth simply because people join gyms and fitness centers for various reasons, ranging from proximity to cost. Also, the company's projections for the first half of 07 did not highlight booming YOY growth. EBITDA margins stayed at 28% and net income margins only rose a puny .1%. The stock remains expensive to its peers trading at a 36 PE and business may be affected if the U.S. experiences a swooning economy.
The stock is resting here and I would not put new money to work at these levels. In the mid 40s, the stock would become more attractive. Long term the company could see a double with the aging of the baby boomers. They loved to be pampered and if LTM continues to promote its high quality experience and distinguishes its product from other competitors it could capitalize on this growing market.
My outlook is short term hold and long term buy.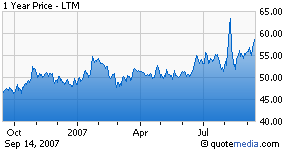 Disclosure: none